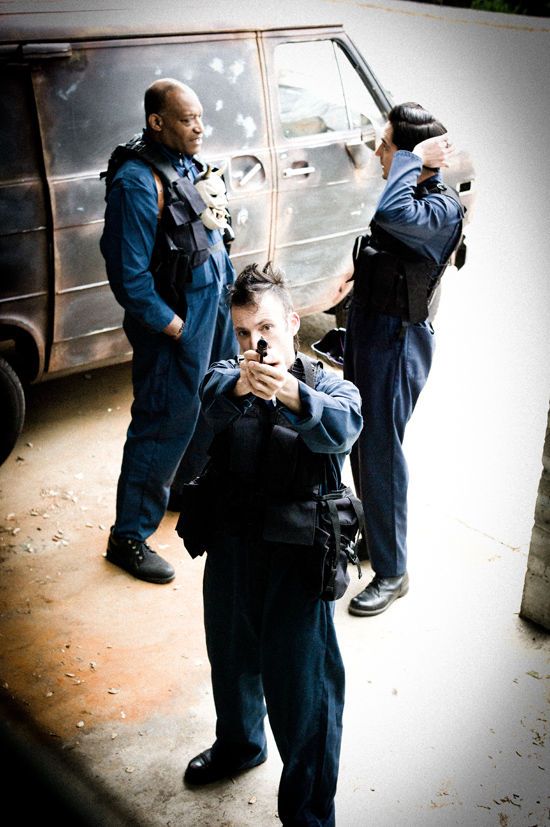 "I like dangerous stuff."
– Noah Hathaway
Noah Hathaway is one of the nicest people you'll ever have the pleasure of seeing tortured – but a least he's only suffering for his art. In Sushi Girl, a bloody stylish homage to '70s Grindhouse, he plays Fish, a participant in a diamond heist gone bad. For his trouble he gets six years inside, while his partners in crime remain free thanks to his silence. On the night of his release, they lay on a special dinner, which involves more pain than pleasure for Hathaway's intriguing character.
Hathaway is perhaps best known for his role as Atreyu in the 1984 fantasy film Neverending Story. He spent his formative years within the Hollywood system – most notably playing Boxey at the tender ages of 6 in the original Battlestar Galactica TV series – however he's refreshingly unaffected by it. This might be because, unlike other child stars of his generation, he quit while he was ahead and got out of dodge, at least for a while. Sushi Girl marks Hathaway's return to Hollywood. Aside from an appearance in To Die, To Sleep, which filmed in 1992, it's his first major film roll since Troll in 1986.
I meet Hathaway in an elaborate looking, but musty smelling defunct Chinese restaurant near Universal CityWalk, which serves as the location for much of the Sushi Girl action. The film was co-written and produced by longtime friend of SG Destin Pfaff, which is why this special all-access set visit is on the menu. Despite its shoestring budget, the project has an incredibly high caliber of cast, which includes Mark Hamill (Star Wars), Tony Todd (Candyman), James Duval (Donnie Darko), and martial arts legend Sonny Chiba (Street Fighter). It also features smokin' hot newcomer Cortney Palm in the title role.
Having already chatted with Pfaff, Chiba and Palm, I sit down for my final interview of the day with Hathaway as he's munching on a craft service chicken dinner between scenes. Our conversation quickly takes us to places one might not expect to go with the wide-eyed kid from Neverending Story. We chat about his own street fighting skills, his love of chopper bikes, his apprenticeship in the art of tattooing, and his passion for women with ink.
Read our interview with Noah Hathaway on SuicideGirls.com.
***
Sushi Girl premieres at Mann's Chinese Theater on Tuesday, November 27th, and is available on VOD. For more info visit: sushigirlmovie.com.