The weekend leading up to Occupy LA's October 1st anniversary featured a packed schedule of activities, which included panel discussions, educational events, and a Really, Really Free Market. In anticipation of the big day, several protesters reoccupied City Hall on the Sunday night, erecting tents on the sidewalk surrounding the now restored South Lawn. Though the LAPD harassed campers under the premise of minor infractions, occupiers ensured they stayed within the bounds of local bylaws and codes, and were allowed to stay in their temporary encampment overnight. Despite the fact that two arrests were made – after those suspected of "crimes" such as first degree jaywalking and possession of a bike with no light were found to have outstanding warrants – the symbolic victory set a distinctly upbeat tone for Occupy LA's first birthday celebrations, which featured a rally at Pershing Square at noon (where OLA kicked off exactly one year ago), an afternoon of marches and direct actions, and a special evening GA. Though anti-Occupy propaganda and general burnout had taken its toll on numbers, a hardcore group of protesters, who through shared goals have forged strong bonds over the past year, came out to celebrate their numerous tangible achievements (most notably in the realm of foreclosure) and their new American Dream: that another – fairer – world is possible.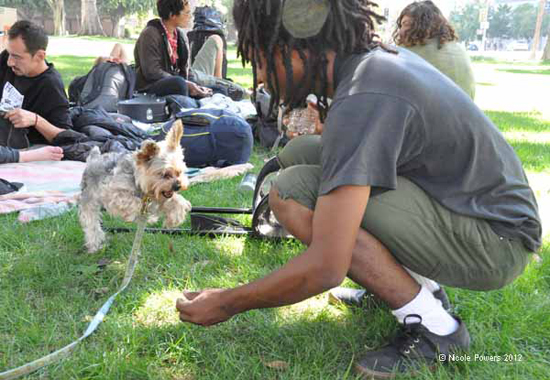 [Occu-puppy springs into action on the restored South Lawn of City Hall.]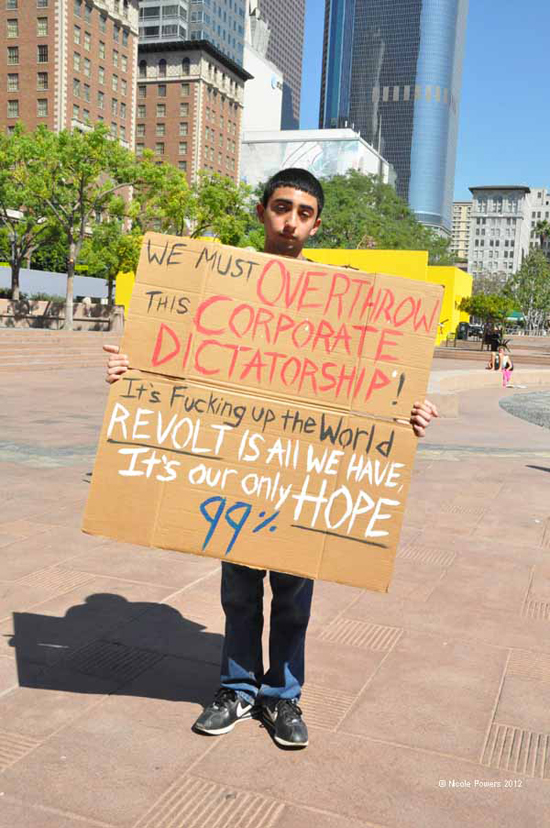 [Agreed: "Revolt Is All We Have – We Must Overthrow This Corporate Dictatorship."]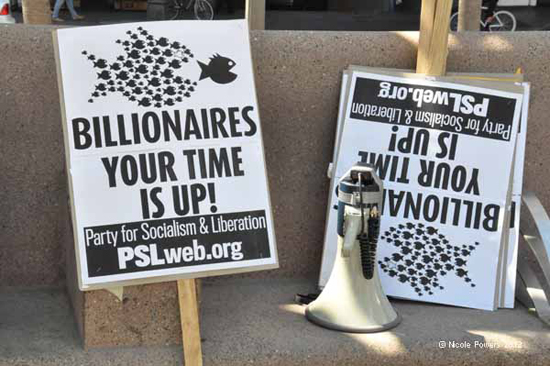 [End the Koch party: "Billionaires Your Time Is Up."]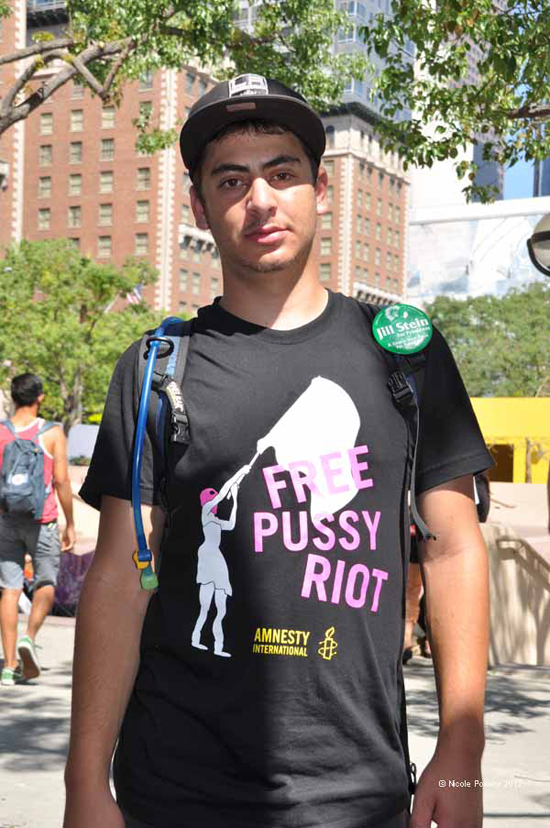 [Yep: "Free Pussy Riot."]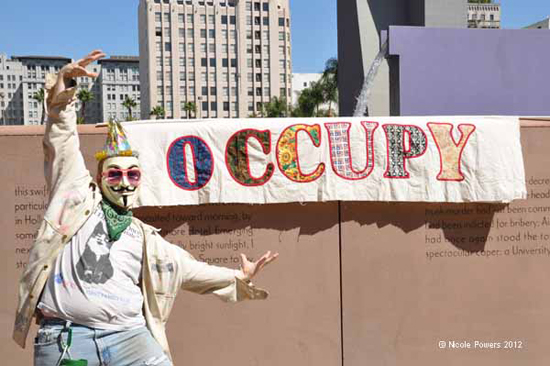 [Clowning around…]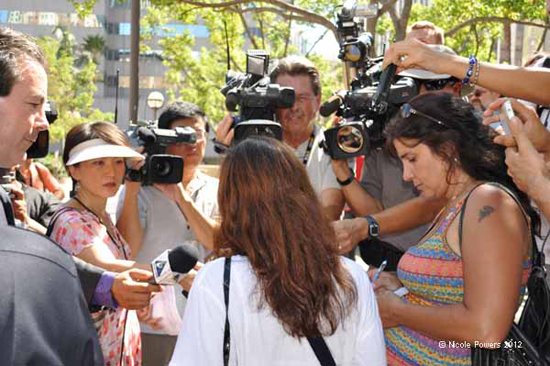 […As the media circus comes to Downtown.]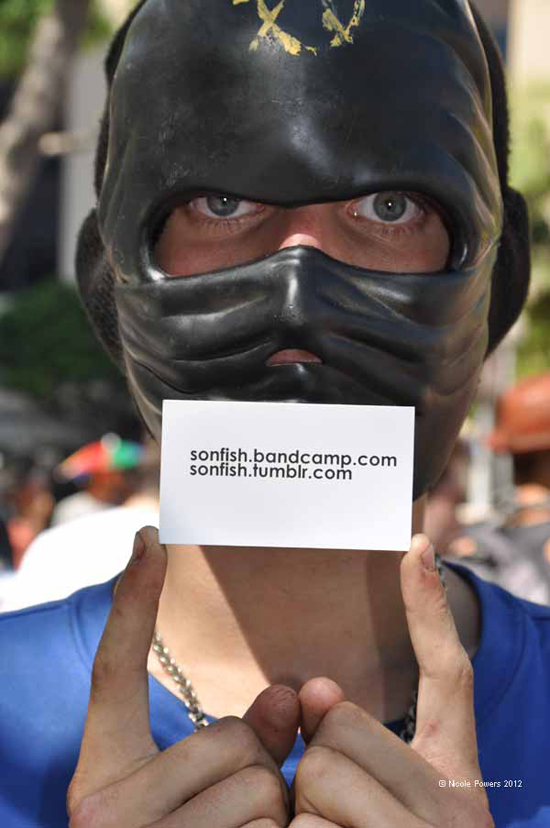 [Son Fish gets carded.]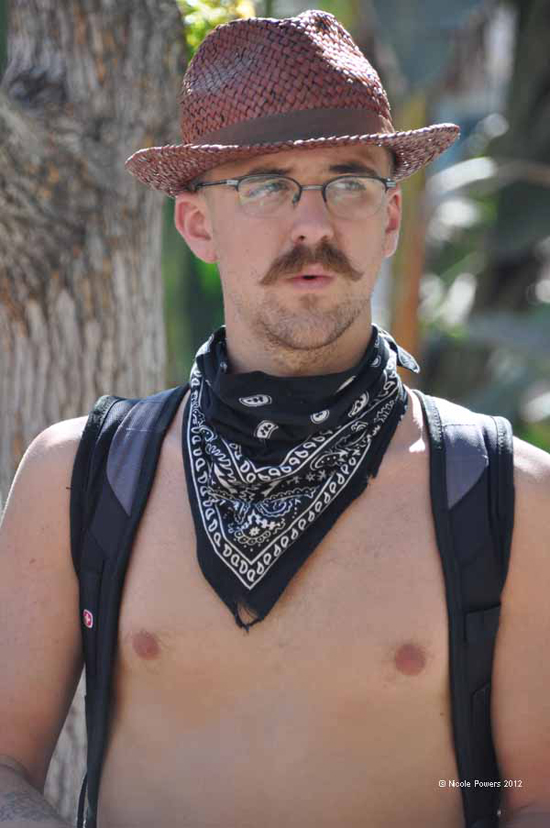 [As temperatures soared well above 100 we wanted to get our nipples out too – but the sexist law in LA doesn't allow women to bare their breasts in public.]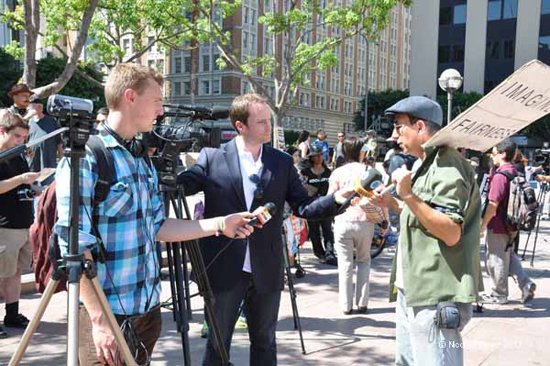 ["Imagine Fairness" – Nowhere Man gets everywhere; We've occupied with him in LA, Chicago, and New York.]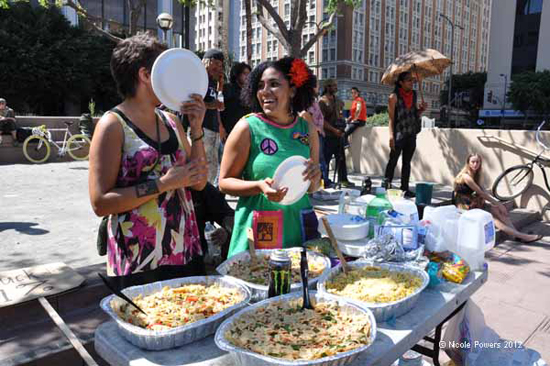 [A couple of dishy and delish ladies!]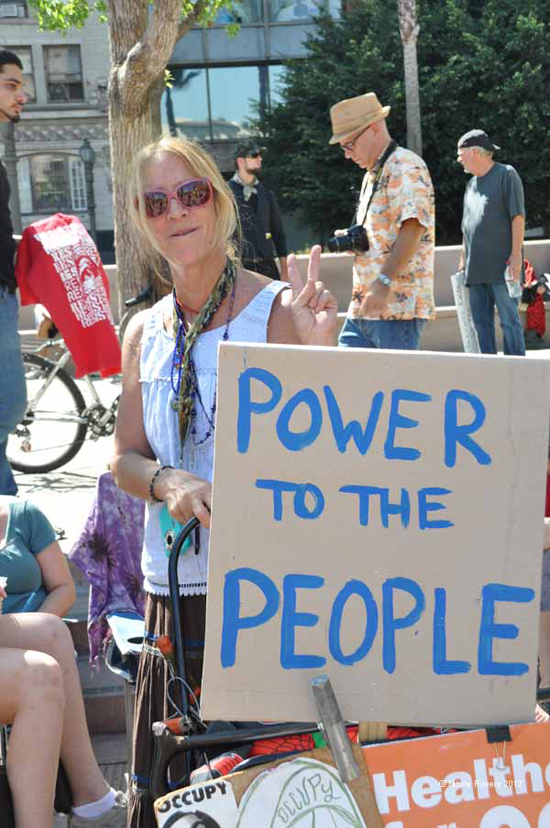 ["Power To The People" – Problem is corporations are apparently people too!]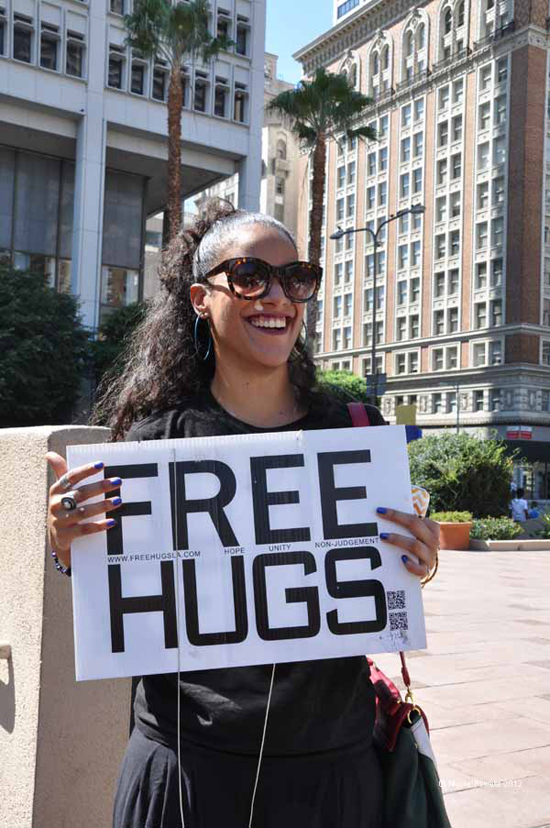 ["Free Hugs" make us happy 😀 ]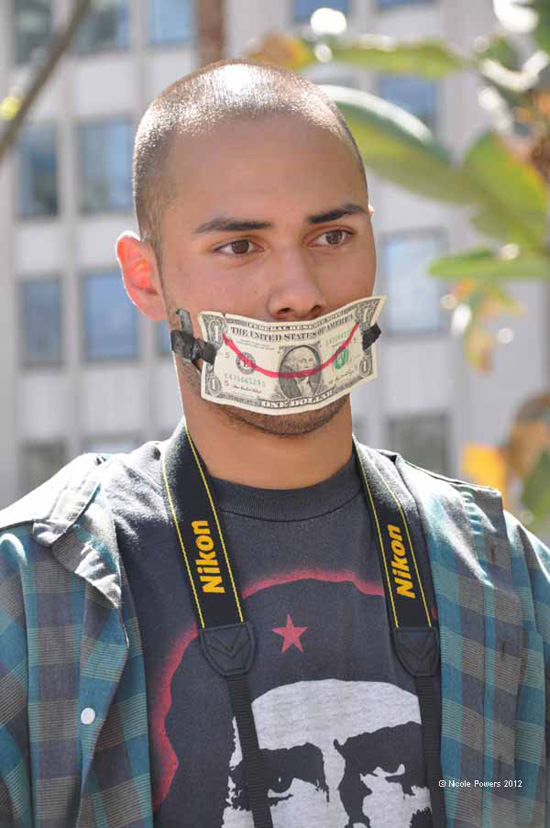 [Money talks…and corporations walk..over everyone and everything.]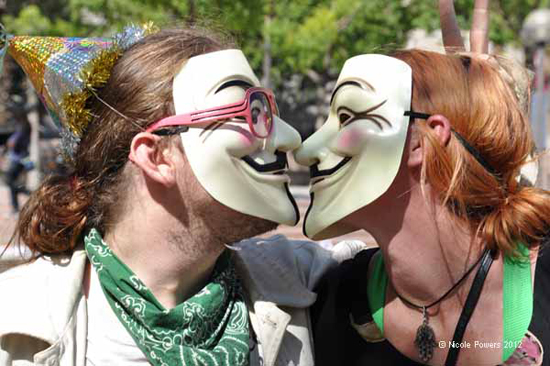 [Anon love…]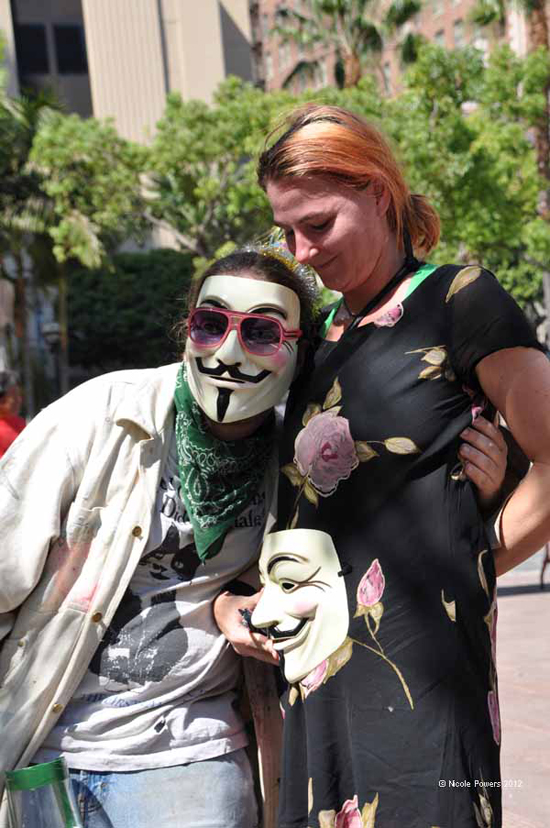 […Can lead to Anon babies.]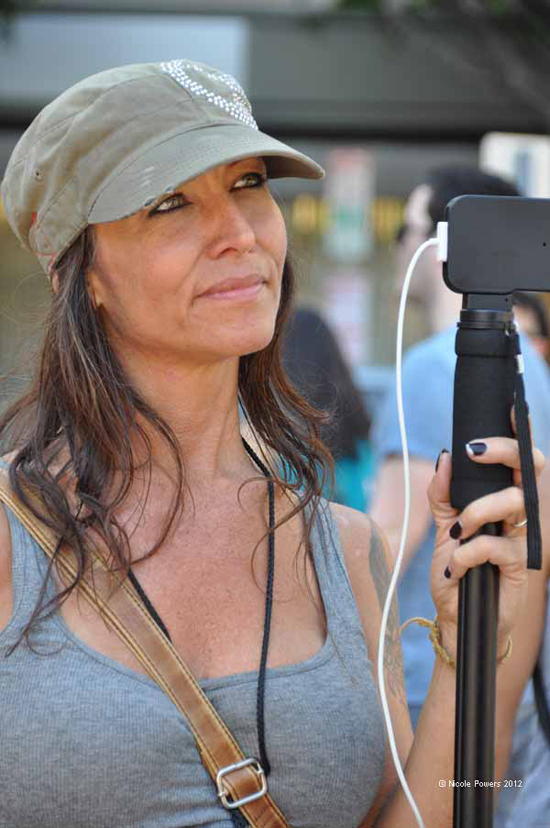 [Love it when OccupyFreedomLA gets that faraway look in her eyes.]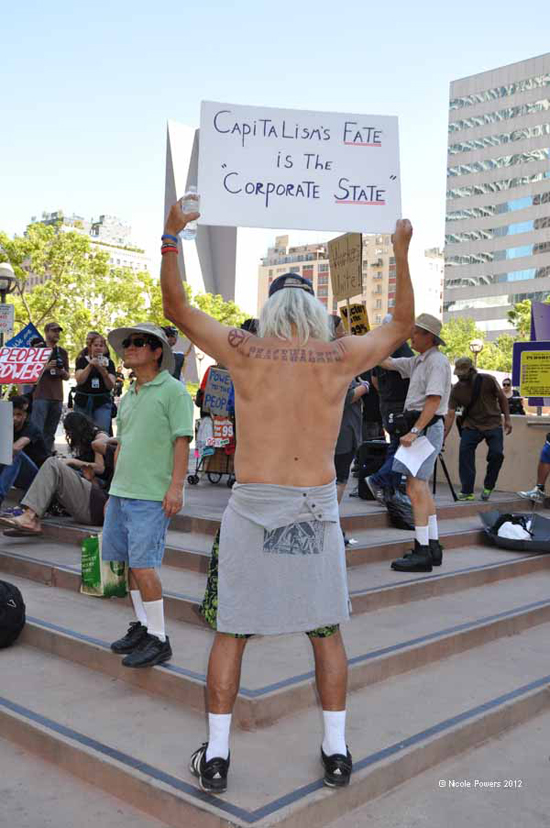 ["Capitalism's Fate Is The Corporate State."]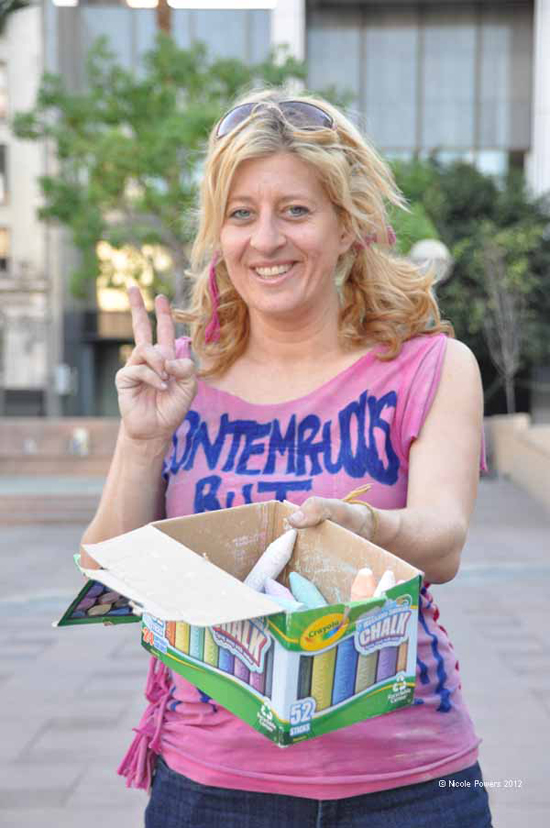 [Beware of this chalk pusher – she could get you arrested with her wares. #Chalkupy]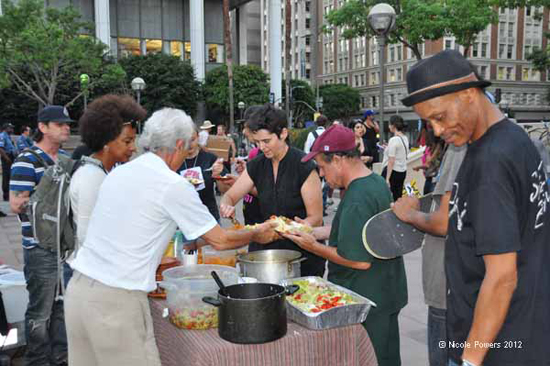 [Yummy family dinner.]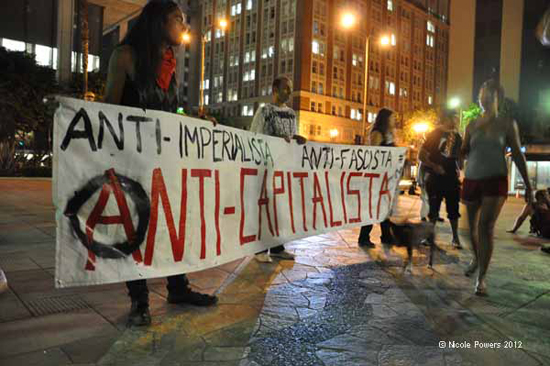 ["Anti-Imperialista ~ Anti-Fascista."]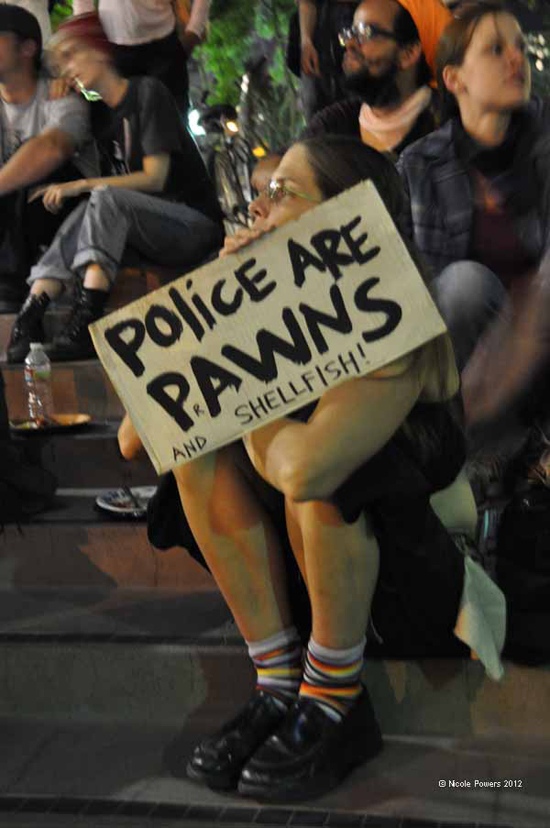 ["Police Are Pawns…And Shellfish."]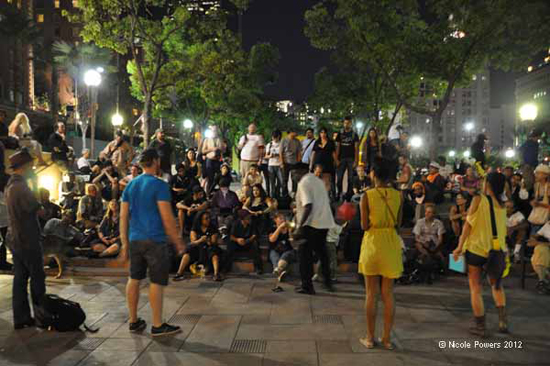 [The best kind of birthday party.]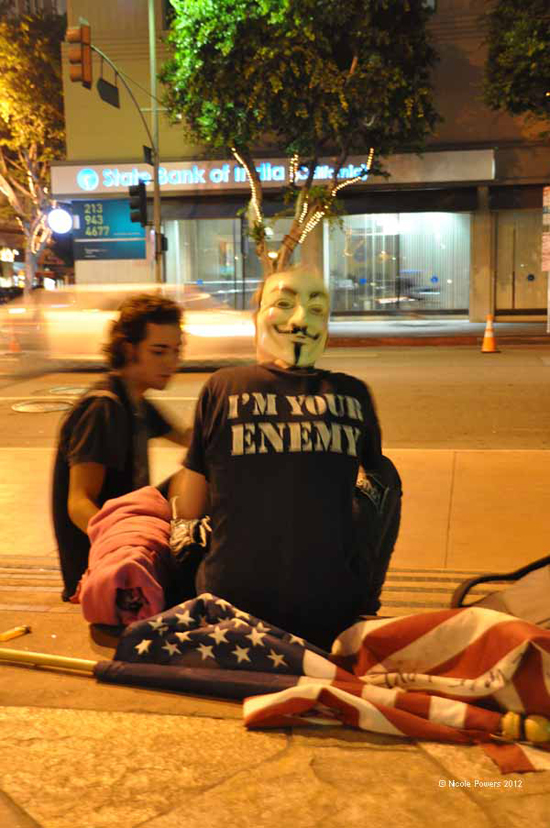 [Who Is Your Enemy?]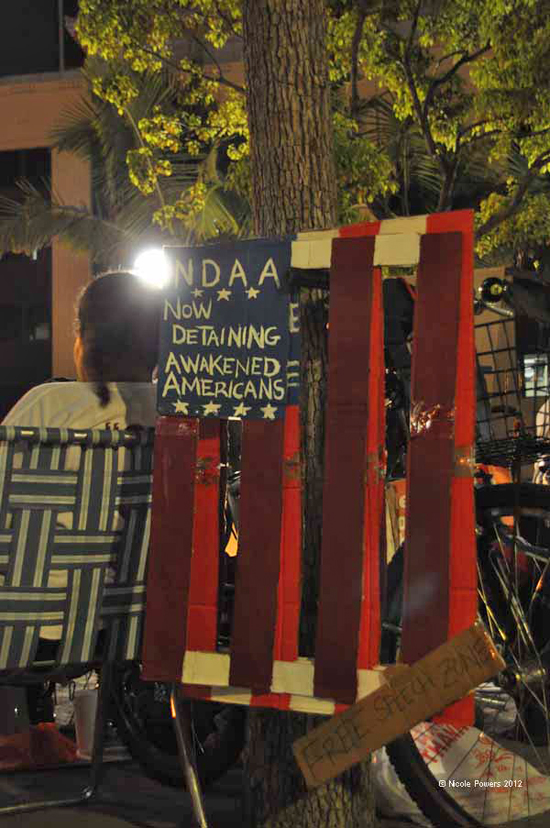 [The US Government "Now Detaining Awakened Americans" under unlimited detention without trial provisions of the NDAA.]
Visit our gallery for more pictures of OccupyLA's first anniversary.

Related Posts
The Story Of My #S17 Arrest by Occupy Photojournalist Julia Reinhart
Happy Anniversary Occupy
Moment of Clarity: Why The Occupy Anniversary On September 17th Matters
Illuminating The Donald's Unsporting Modus Operandi: Trump vs. The 99%
99Solidarity Occu-Bus: Day 1 Of Our Epic Coast-To-Coast Road Trip From Los Angeles To New York By Way Of Chicago
99Solidarity Occu-Bus: Day 2 Of Our Epic Coast-To-Coast Road Trip From Los Angeles To New York By Way Of Chicago
99Solidarity Occu-Bus: Day 3 Of Our Epic Coast-To-Coast Road Trip From Los Angeles To New York By Way Of Chicago
99Solidarity Occu-Bus: Day 4 (Pt. 1) Of Our Epic Coast-To-Coast Road Trip From Los Angeles To New York By Way Of Chicago
99Solidarity Occu-Bus: Day 4 (Pt. 2) Of Our Epic Coast-To-Coast Road Trip From Los Angeles To New York By Way Of Chicago
99Solidarity Occu-Bus: Day 5 Of Our Epic Coast-To-Coast Road Trip From Los Angeles To New York By Way Of Chicago
99Solidarity Occu-Bus: Day 6 Of Our Epic Coast-To-Coast Road Trip From Los Angeles To New York By Way Of Chicago
99Solidarity Occu-Bus: Day 7 Of Our Epic Coast-To-Coast Road Trip From Los Angeles To New York By Way Of Chicago
Occupy, Black Bloc, And The Need For Diversity In The Tactics of Dissent
May Day General Strike: SG Live Blog
SuicideGirls To Participate In 'Media For The 99 Percent' Indie Team Coverage Of May Day Protests Nationwide
Preparing For May Day And Prioritizing Activism With A Busy Academic Schedule
SG Interview with Anthony Baxter on You've Been Trumped
SG Interview with Bill Ayers: On Obama, Occupy, Education and Dissent
SG Interview with John Cooper QC: Legal Advisor To Occupy London
SG Interview with Cory Doctorow: On Little And Big Brother
SG Interview with Greg Palast: Vultures' Picnic
SG Interview with Harry Markopolos: From Chasing Madoff To Fixing Our Economy
SG Interview with Robert F Kennedy Jr: It's Not Democracy Anymore
Occupy Wall Street Sleep-In Gets Rude Awakening From NYPD
The Occupy American Spring Arrives In NYC's Central Park
Wannabe SG Brickette Is Among The First To Re-Occupy Union Square After Another Night Of Eviction Theater
Occupy Rising: The American Spring Is Here
Things I Like That You Might Like Too: #EtherSec
The Essential Gear Guide For The Occupy Journalist
#OccupyLA – Images Of The Morning After The Raid
Freedom Of The Press Is The Biggest Casualty Of Last Night's #OccupyLA Raid
Occupy Wall Street: The Cleansing of Zuccotti Park
Putting A Human Face On The Reasons To Support Bank Transfer Day
#OccupyDenver: Authorities Use Weather As A Weapon and Hope To Freeze #OWS Protesters Out
#OccupyLA — A Remarkably Civilized Society
#Occupy You Must
The Start of OccupyLA
Why Aren't We Seeing More Prominent People Coming Out In Support of #OCUPPYWALLSTREET?
Things I Like That You Might Like Too: #OCCUPYWALLSTREET