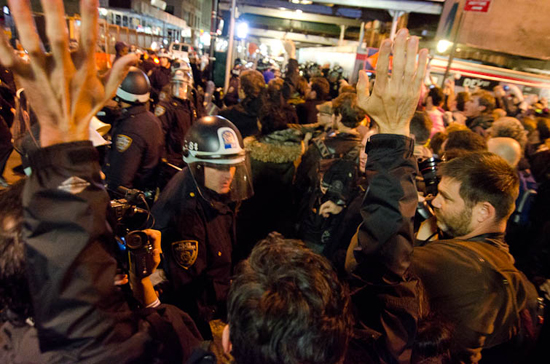 [Above: OWS protestors hold the line and refuse to move.]
It's likely no coincidence that Mayor Bloomberg and the NYPD took undeniably brutal action against #OccupyWallStreet protesters at Zuccotti Park just two days before the encampment will celebrate its two month anniversary. The cowardly raid, no doubt designed to intimidate (but ultimately resolve-strengthening), started around 1.30 AM EST on the morning of Tuesday, November 15, long after news crews had knocked off for the evening, under the cover of night as protesters slept in their tents. Photographer, videographer, journalist, and friend of SuicideGirls, Zach D. Roberts was on the scene to report. – Nicole Powers, Ed
[Above: Police move protestors with extreme brute force.]
The Cleansing of Zuccotti Park by Zach D. Roberts
Fuck. My lens is busted – a goddamn cop hit it with a night stick. Then he hit me. Then he shoved me backwards – I nearly fell backward into the crowd, tripping over the edge of the sidewalk. I would have been trampled.
That's when it got a bit scary.
He was yelling, "GET BACK!!! GET BACK!!!"
There was the road and moving traffic behind us, but he didn't seem to care – so the choice was keep walking backward and filming, possibly backing into moving traffic or dart between the taxis – I made the decision to turn and dart, keeping my camera facing back just shooting wide and point in the cops general direction.
Some kids got plastered into and over the cab, which luckily at this point had stopped. Others fell, and while trying to get up were whacked with night sticks, "MOVE, MOVE!"
The fact that they were on the ground, on their back getting hit and held down didn't really matter to the NYPD. Eventually the cops allowed other protestors to drag the kids away and out of the street.
This night wasn't about making arrests, it was about beating heads and making a point. The 17th was only 48 hours away and the police wanted to make sure that everyone knew they were the law (to be read in a Judge Dredd voice)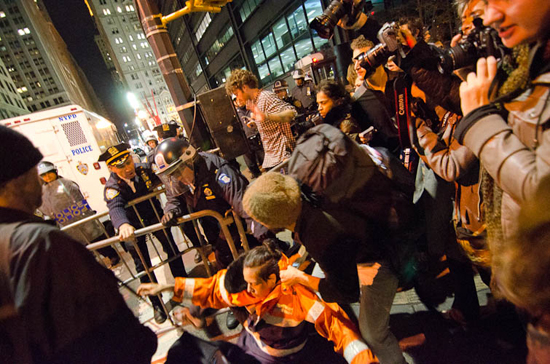 [Above: Police push back protestors away from Zucotti Square, pushing one woman to the ground.]
Ok, so here's what happened in Lower Manhattan early Tuesday morning.
Fuck. That's what happened.
Free speech, the right to assemble peacefully, and some well meaning kids were pissed upon by a 3-term mayor who is also a billionaire and owner of a media empire.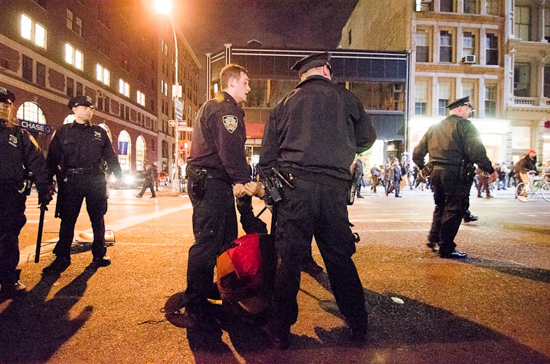 [Above: Police arrest protestor for jaywalking.]
I'm sorry for the expletives, but if you were there you'd know they were needed. I haven't seen this sort of police madness since the years of the Bush admin when dirty hippies and the press were fair game. Also watching a kid get slammed repeatedly in the face with a police shield has it's effect on your bias. I'll admit it here – I'm with the kids, the protestors, with the occupiers. If we have any hope for this nation it will be from the ones at the business end of a baton – not the one swinging it.
After the initial confrontation with the NYPD, protestors were bottle necked and then split up so their numbers would be too small to take on the masses of over-timed police that were standing, waiting with pepper spray, helmets, shields and batons. I saw all of the aforementioned used as weapons that night in a way that you knew that their supervisors weren't watching.
NOTE: This was the first time the uniformed NYPD (the blue shirts) were not directly supervised by the white shirts (Leuitenants and up in rank).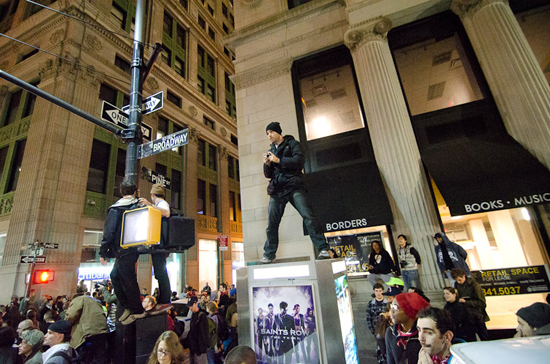 Word got around that everyone was reconvening at Union Square to figure out what exactly to do. Foley square was also mentioned, but the group that I decided to go with was going with Union. The group started out with about a dozen then attached itself to a larger contingent of about 50, this metastasizing went on for a while until we were in the East Village (about 15 blocks from Zuccotti) and our numbers were 150-200.
Unfortunately these numbers included a contingent of what might be called black bloc. These are the people you see on the news – the only ones that the mainstream cameras usually go with. Garbage cans being thrown in the street make for much sexier footage than a protestor explaining the intricacies of why they are marching. I understand why they do. Personally I'll take the shots and let my editors decide. Luckily I usually work for smart editors – I don't work for The Post.
Somehow we lose the police. I can't tell if it's because they gave up chasing us (your average protestor is in better shape than your average cop, it's a fact – I'm sorry) or if our quick and flowing changes in direction made them lose us. Either way, there's 150 protestors running down the middle of Broadway with only 5 members of the press (counting me) to cover it. This. Is. Awesome.
Full disclosure, I used to be a protestor, a community organizer (gasp!) but then I got sick and tired of losing and not getting anything covered by the news so I decided to switch allegiances and start covering the events.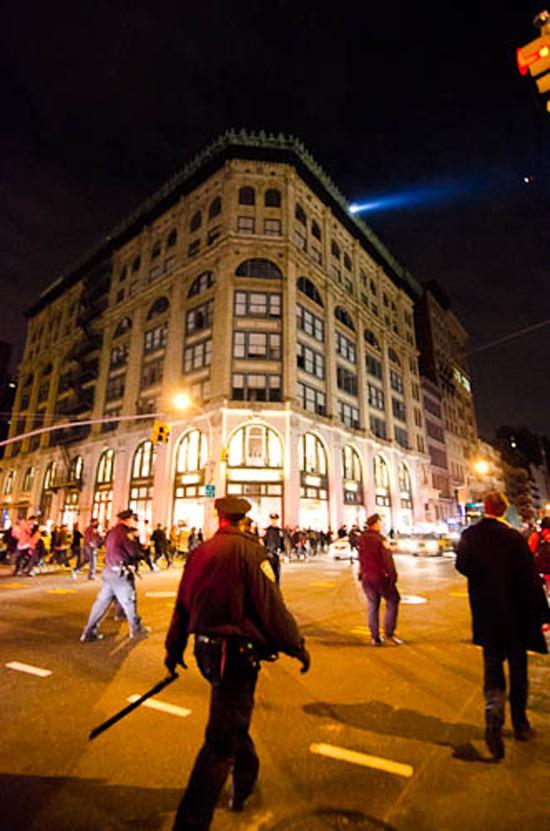 [Above: Protestors make it up to Houston St. – many blocks from Zucotti Park – on their way to Union Square.]
Ah shit. Lights, and they're coming up quick. Holy shit they're coming up quick. Really quick. People are yelling, "Watch out! Watch out!" I grab one of my friends, another freelance shooter out of the way from a cop car flying by. That was close, waayyy too close. The cop drives the car into the crowd of protestors up ahead nearly hitting about 10 that couldn't jump out of the way quick enough. He's immediately out of the car, baton ready, and grabs the first kid he sees and slams him face down into the hood of the car.
Fucking brilliant! AP shooter John Minchillo and I are the first ones there. The kids are sprinting ahead now, while others stay behind chanting "SHAME! SHAME! SHAME!" One gets hauled away in the cop car.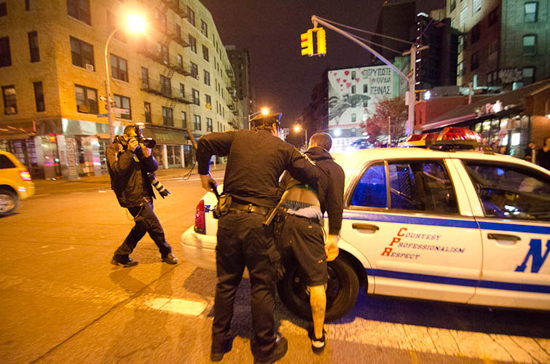 We're off again, this time back towards Zuccotti – or at least I think so. The cops are very outnumbered, so they stay behind and let us retake Broadway and then Houston. Some of the black bloc protestors run up the front of taxis waiting at the stop light to the surprise of the tourists inside. The driver actually looks somewhat bored.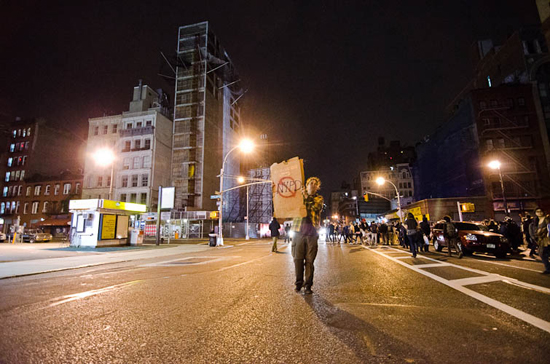 [Above: Protestors take the street in the East Village.]
Stand off at Zuccotti.
Five hours later and probably about five miles of cat and mouse games with the police we're back at where this all started – standing near the closest entrance to Wall St. Well not on the street; My best friend since grade school, CS Muncy (another brilliant shooter), is standing with me on top of a police car. We're exhausted. CS was sleeping comfortably when I called him screaming, "They're clearing the fucking park!" He lucked out and made it in the Zuccotti Park to shoot the actual cleanup while I was stuck on the outside. He jumped the police barricades and ignored the cops yells to stop, getting some front page shots before being thrown out. Press were not allowed. No photos for the history books – except for the ones that he got. That's what he does.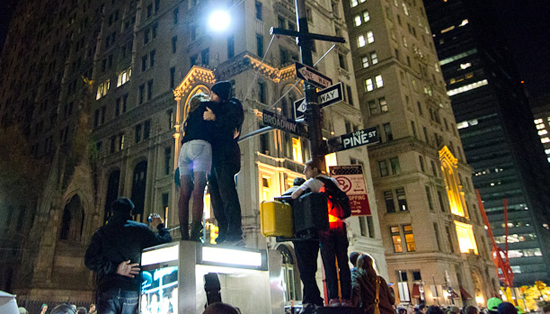 It's 6am. There is now a general feeling of victory in the air. People are playing music and dancing. A couple makes out for a solid 15 mins on top of a phone booth. Half for the pleasure, half for the photographers. This is their moment in the sun, their 15mins – what better way of spending it than making out with your girlfriend. I've got my injured camera.
Black bloc starts letting the air out of the tires of the police cars that we are currently occupying.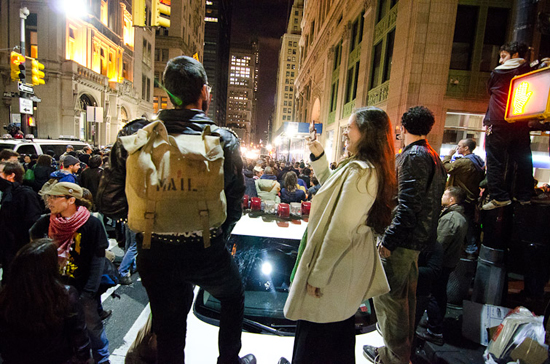 I'm wondering though as the police start pushing forward to clear this part of the street, to push us again away from Zuccotti, is this the crest of the wave? Will this be remembered 20 years from now by anyone other than a handful of protestors and journo's as they reminisce over beers? Will I write about this like Hunter Thompson wrote about the middle '60s?
To steal a better ending than I could write I'll use Hunter's words.
There was madness in any direction, at any hour. If not across the Hudson, then up the Brooklyn Bridge or down Broadway to Zuccotti. . . . You could strike sparks anywhere. There was a fantastic universal sense that whatever we were doing was right, that we were winning. . . .
And that, I think, was the handle — that sense of inevitable victory over the forces of Old and Evil. Not in any mean or military sense; we didn't need that. Our energy would simply prevail. There was no point in fighting — on our side or theirs. We had all the momentum; we were riding the crest of a high and beautiful wave. . . .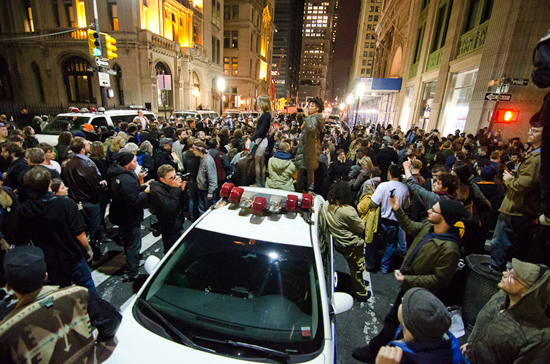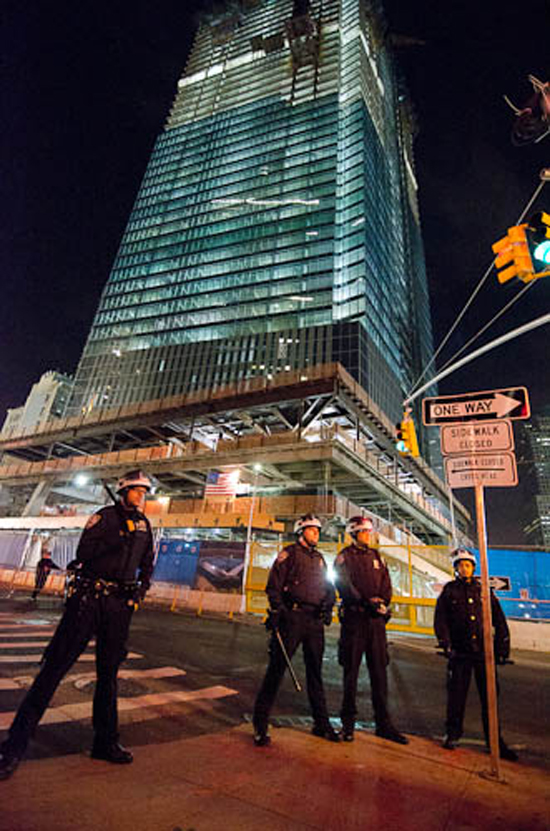 [Above: NYPD in front of the new World Trade Center building near Zucotti Park]
[Below: Zucotti Park being sanitized.]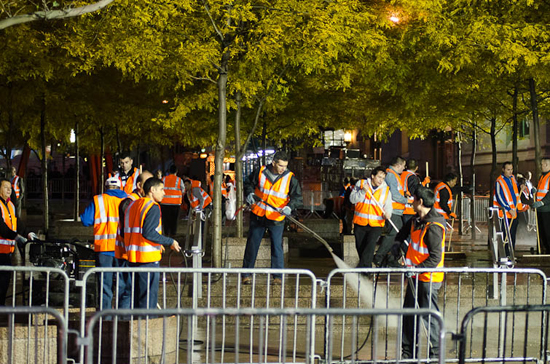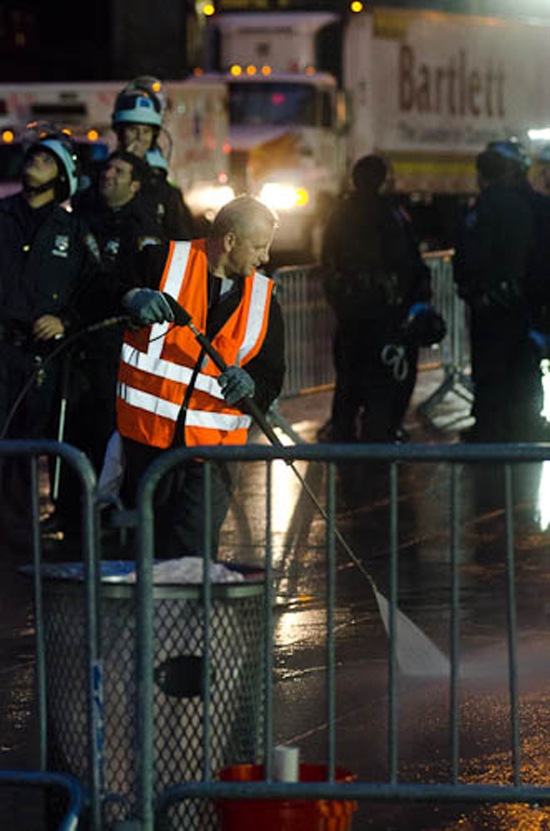 ***
Zach D. Roberts is a photo/video journalist who's work has been seen in the Observer, The Guardian Online, TheNation.com, The Minnesota Independent, among others. For the past 5 years he's been working as a researcher/producer for Greg Palast. He produced several DVD's and news pieces for the BBC's Newsnight show. Zach edited Palast and RFK Jr's Steal Back Your Vote comic – which had nearly 100,000 downloads and print copies distributed throughout the world). Currently he works regularly as a video producer for Jamie Kilstein and Allison Kilkenny's CitizenRadio.
Zach has been detained in New Orleans by Exxon Mobil security, threatened with arrest over three dozen times but has never been arrested. In 2010 he met Sarah Palin while working on his soon to be released first feature length documentary 'The Rogue Candidate: Sarah Palin's Real Alaska.' While in Alaska he broke several stories via TheMudflats.net. For more visit his website, Facebook, and Twitter.