by A.J. Focht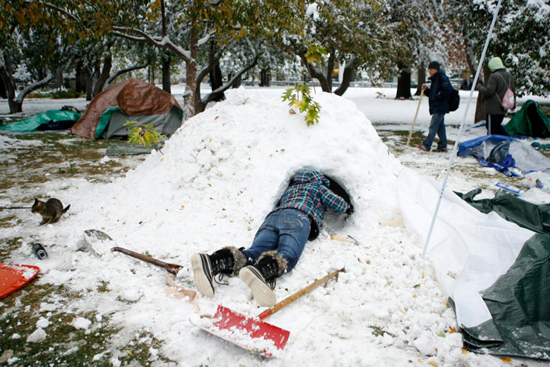 #Occupy protestors across the US are standing their ground as police and politicians do their best to drive them out. Out at the #OccupyDenver protest, the demonstrators remain unwavering despite the efforts of law enforcement agencies and Colorado's bitter fall cold.
Following Denver's first winter storm of the year on Wednesday, daily nighttime temperatures are consistently below freezing. The six inches of snow that accumulated wasn't enough to defeat the #OccupyDenver crowd however. After a few protestors were admitted to the hospital for hypothermia, the group found a nearby indoor location where many of them can stay. Only a handful of steadfast activists are remaining in the park through freezing nights.
The cold isn't the only adversary #OccupyDenver has faced. Local law enforcement refuses to allow the group to erect shelters, even going as far as to tear down an igloo that was made as a last attempt at protection against arctic weather. The food service station, dubbed the "Thunderdome" has been torn down several times; last time I checked they were on Thunderdome 4. With increasing aggressiveness on each raid, fears rise that the next police action will mirror what happened in Oakland.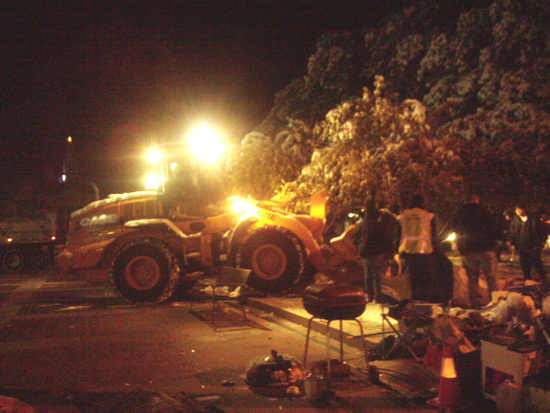 [Police use weather as a weapon and pull down #OccupyDenver's IGLOO!!]
The #OccupyDenver crowd has held several rallies. The last one was held on Saturday October 22, 2011 and attracted between 2,000 and 2,500 according to the police. The resistance continues, and more events are planned for this weekend. The cold has caused their general numbers to dwindle, but the consistent and persistent rallies ensure that they won't be defeated.
#Occupy protests across the nation are accepting donations to help keep the movement strong. #OccupyDenver has sent out an urgent call to everyone who can help by bringing warm clothes, gear (including sleeping bags and tarps), and anything else that will help them combat the elements (hot drinks, hand warmers, etc.). The group keeps an up-to-date list of needs and requests at OccupyDenver.org, along with any updates on the event. If you want to join them, they are currently occupying Civic Center Park, in front of the Capitol Building. Finally, if you can't make it down to support them, you can always call Denver Mayor Hancock at 720-865-9000 and add your voice to the collective.
No matter the brutal police violence in Oakland or the harsh nights of Colorado, the #Occupy movement is here to stay. Until the voice of the 99% is heard, and the 1% stop using their money to corrupt our government, the #Occupy movement will stand strong.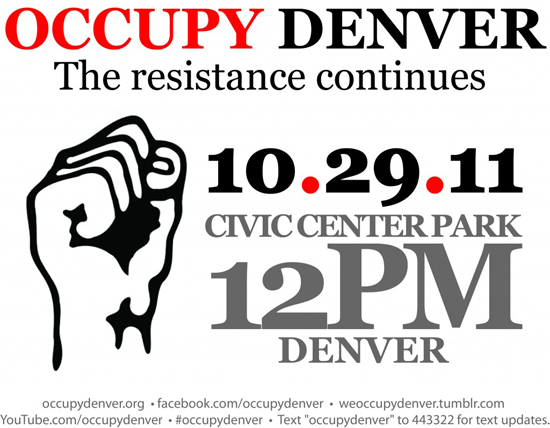 Images courtesy of OccupyDenver.org/
Huge gratitude to EisMC2 for her assistance with this post.