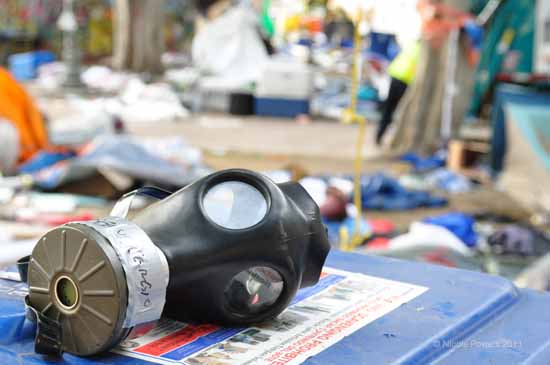 Just over 24 hours before #OccupyLA would have celebrated its 2-month anniversary, the encampment at City Hall in DTLA was raided. The operation involved 1400 police officers and resulted in 200+ arrests (update: LAPD have confirmed a total of 292). After staging and loading into buses at Dodger Stadium earlier in the evening, police swarmed Solidarity Park from the outside in, and from the inside out – with officers in riot gear and hazmat suits pouring out of the South Doors of City Hall. The LAPD claim that there were only 3 violent incidents resulting in injury. The last of the protesters – 4 people and a dog – that had been holding out in a tree house, were removed from their tree top fort with the help of a cherry picking mobile platform and rifles firing bean bag rounds just before dawn. Clean up crews quickly moved in to dismantle the camp. These images were shot between 7 and 8 AM today.
RIP #OccupyLA at #Solidarity Park. Long live #Occupy. You can't remove, arrest, destroy, bulldoze, or dispose of an idea.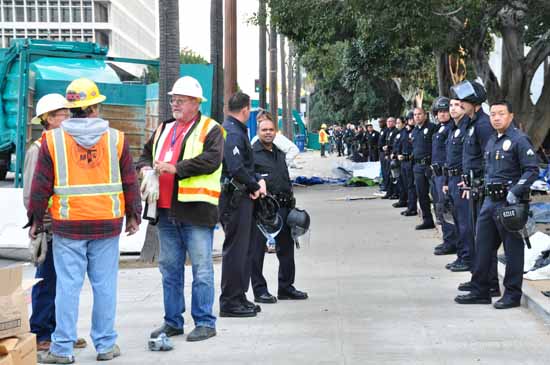 We sidestep some of LA's finest to shoot what's left of Solidarity Park.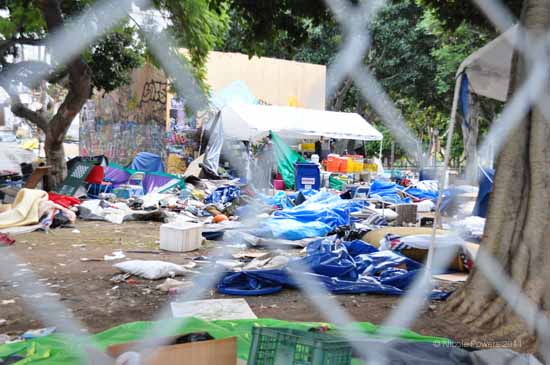 As we shoot through the fence in one area an officer tells us "the sidewalk is closed."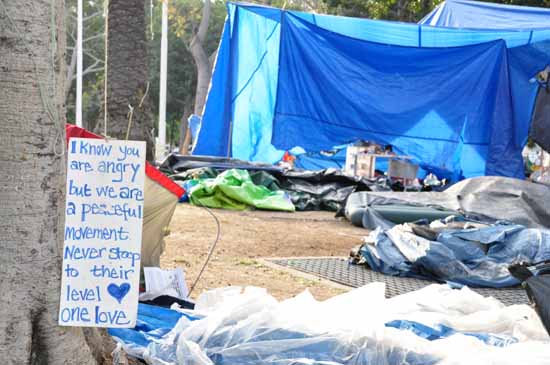 We are a peaceful movement. Never stoop to their level. One love.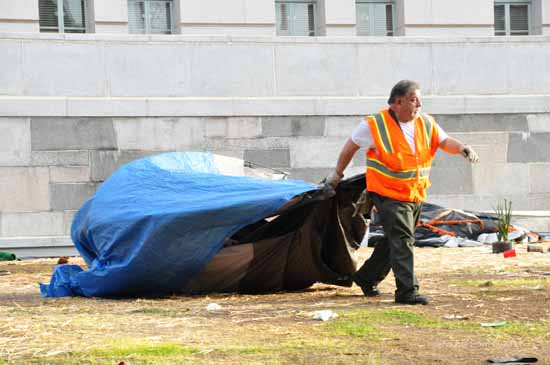 A tent is dragged to a dumpster by a member of the cleanup crew.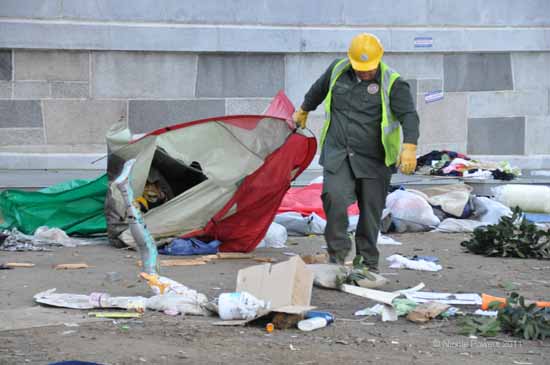 And another one.

Wishes written by children from the #OccupyLA creche are still attached to a tree.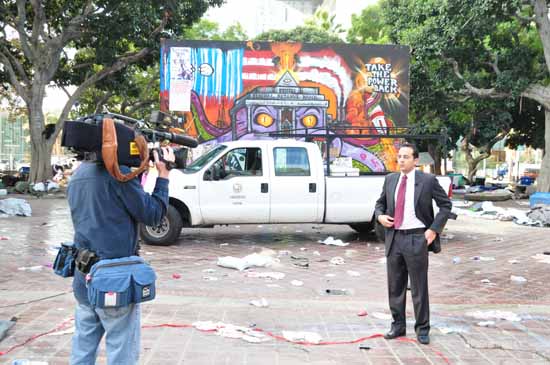 A news crew reporting on the aftermath amidst the rubble.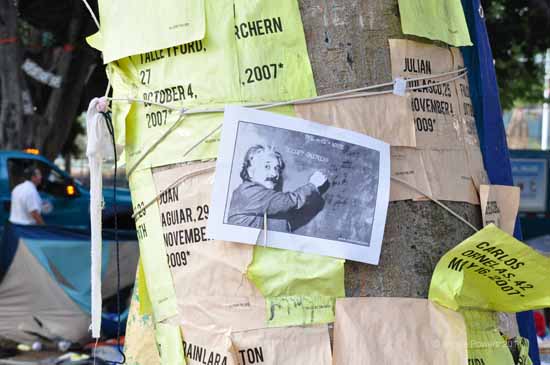 #OccupyScience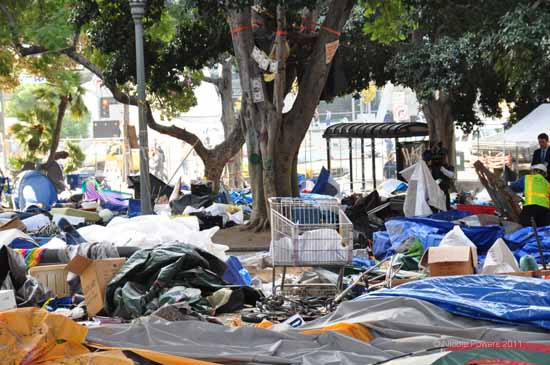 Here's to the death of mindless consumerism.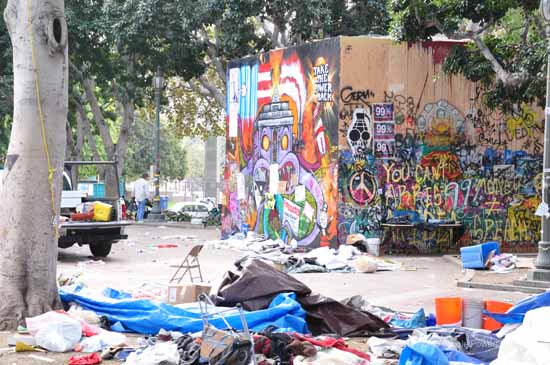 Camp life sure was colorful.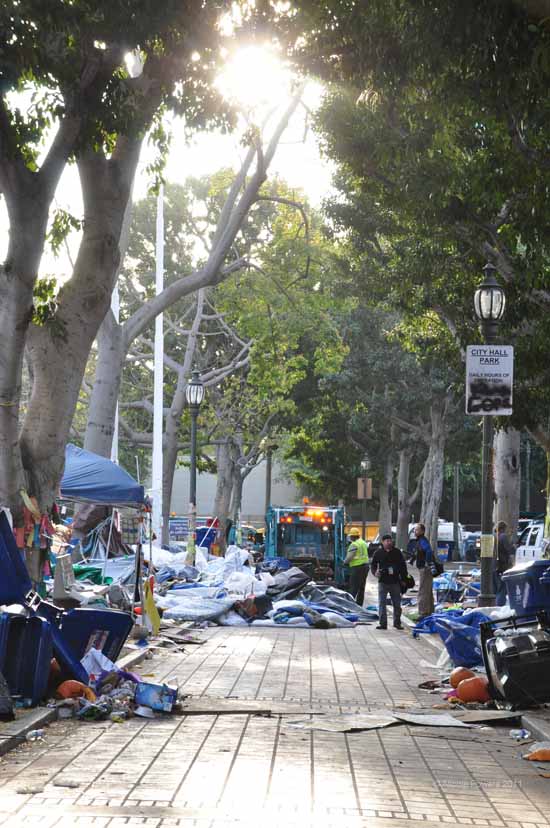 A trash truck moves into the heart of Solidarity Park.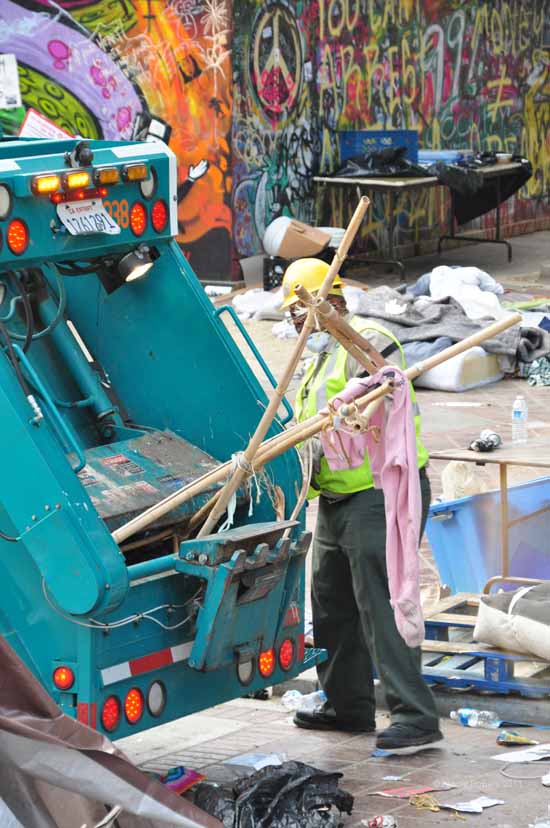 A bamboo sculpture gets trashed and compacted.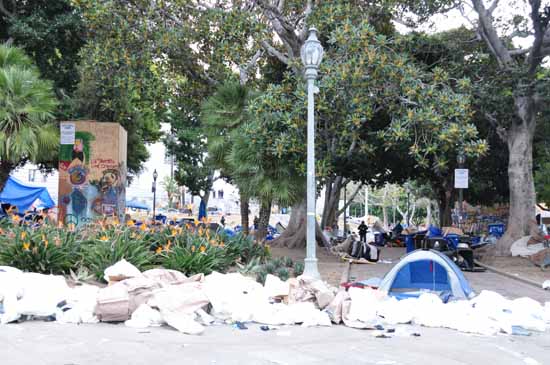 The white stuff piled up in the foreground is discarded disposable hazmat suits.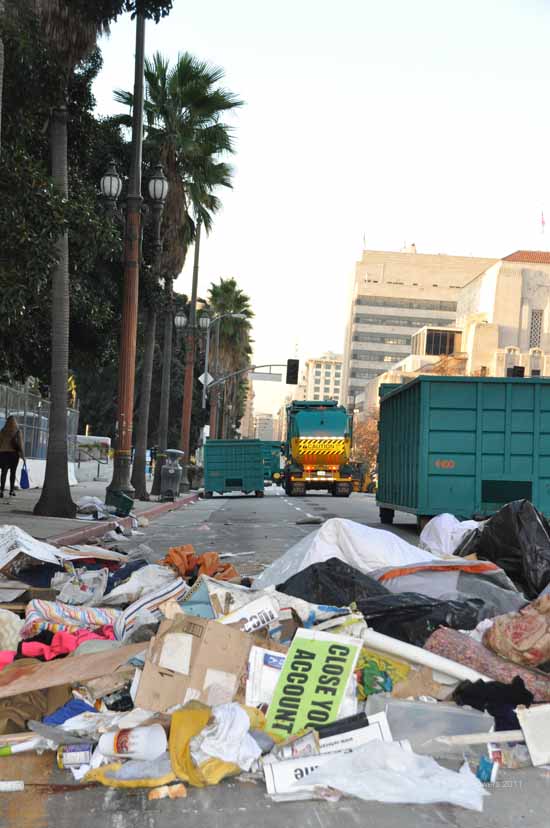 Remember: Close your account.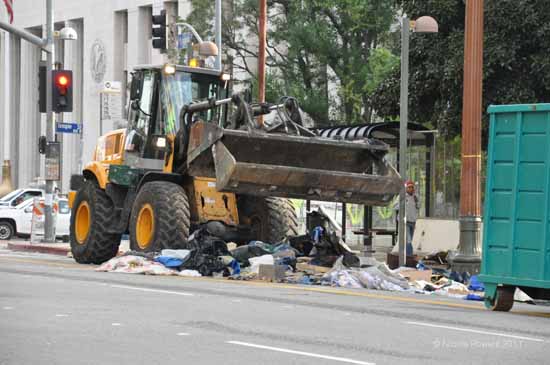 The bulldozers move in.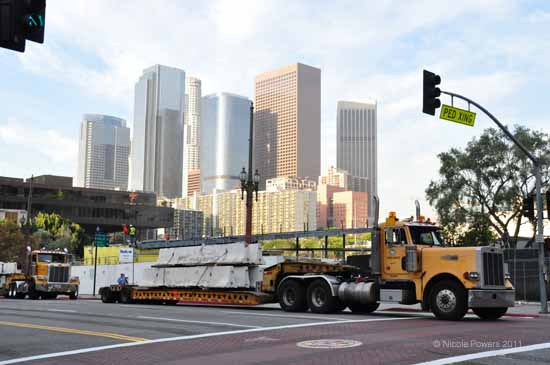 Concrete barriers are transported to City Hall.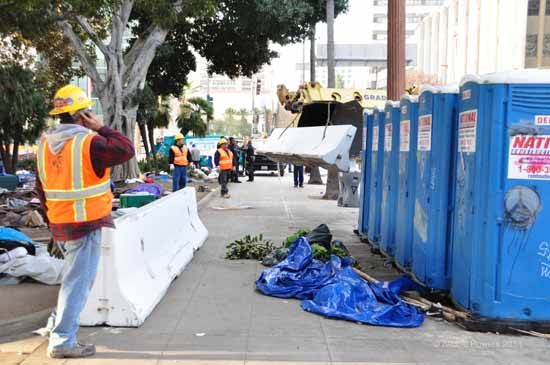 A bulldozer moves a concrete barrier into place.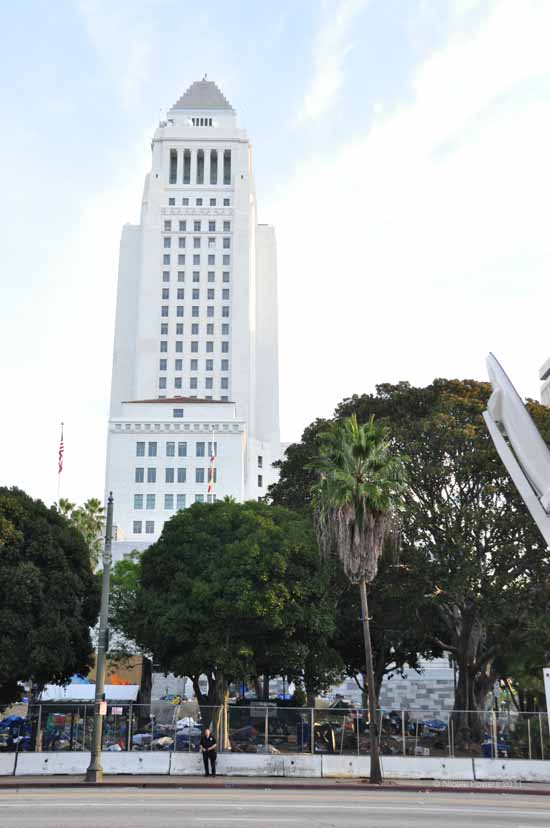 City Hall is now a fortress surrounded by concrete barriers and wire fencing.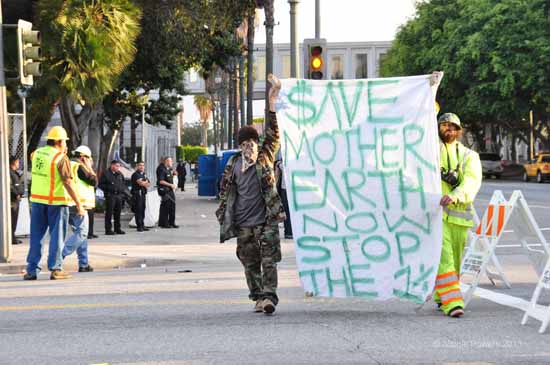 But the protesting don't stop.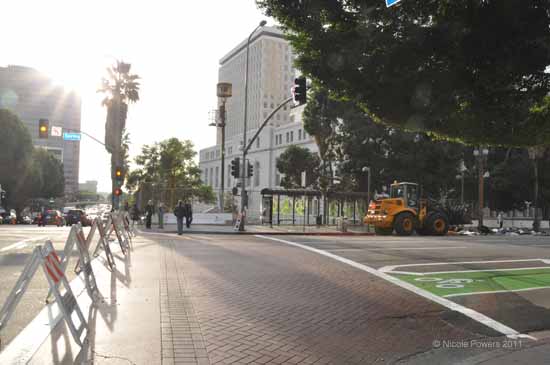 Waiting for peace at a bus stop as the sun rises.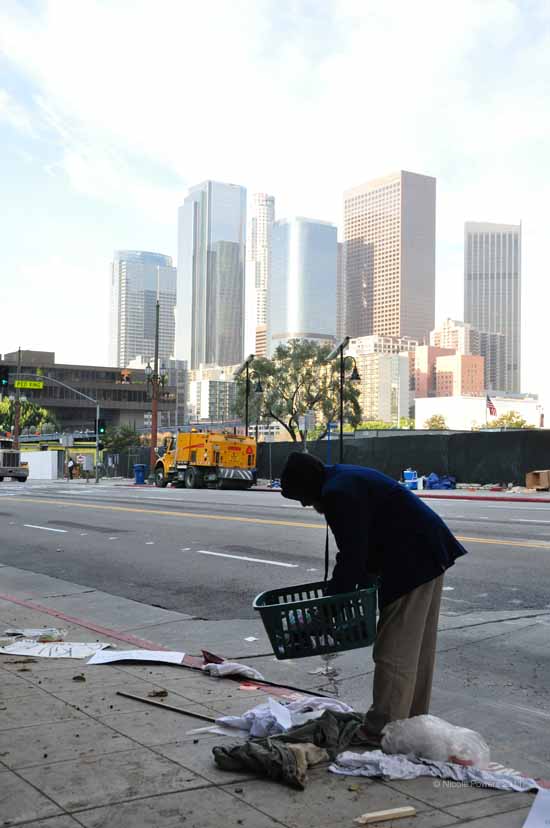 Picking through the rubble. Just after I took this picture, this chap found a pair of socks!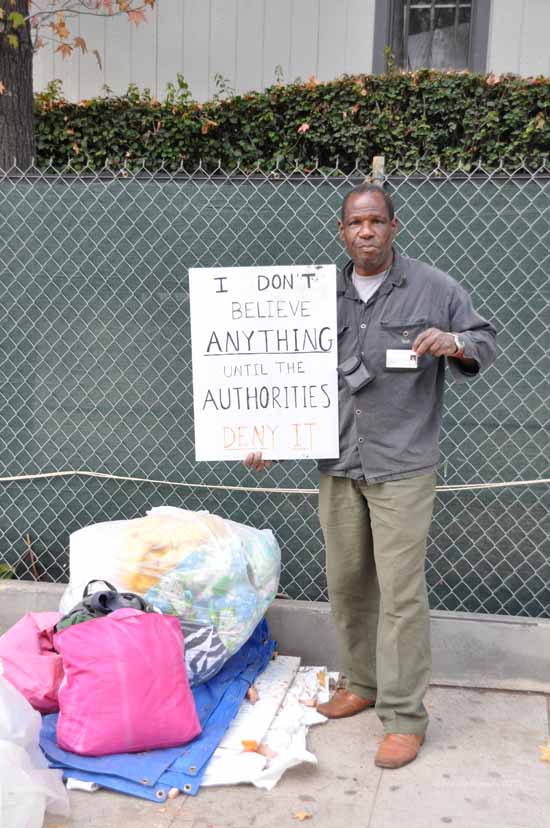 A displaced member of the #OccupyLA community is happy to have rescued his belongings.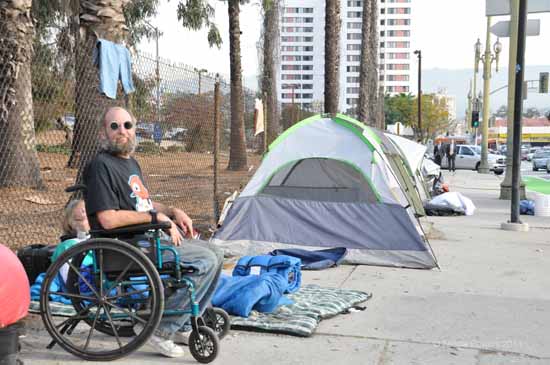 More displaced set up home a few blocks away.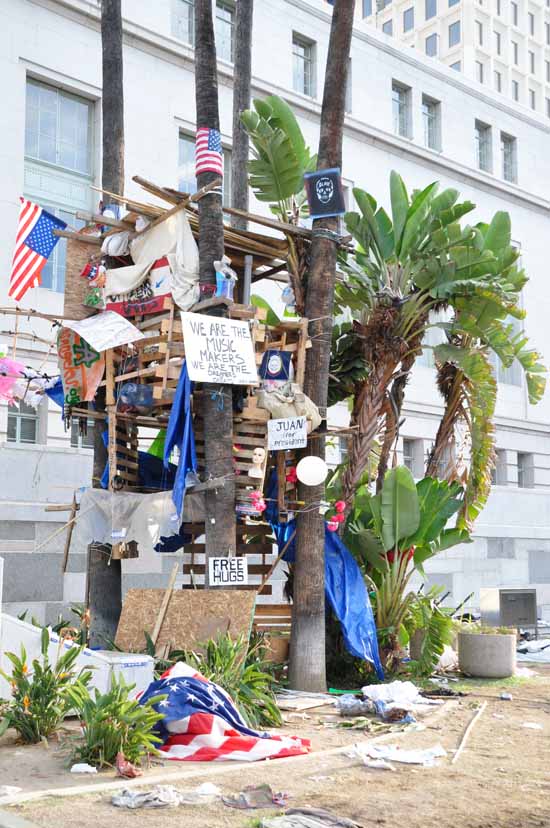 The site of #OccupyLA's last stand. The Freedom Fort occupied by Manny, Chad, Shane, Lucky, and a dog – who was technically the last occupier to leave the park!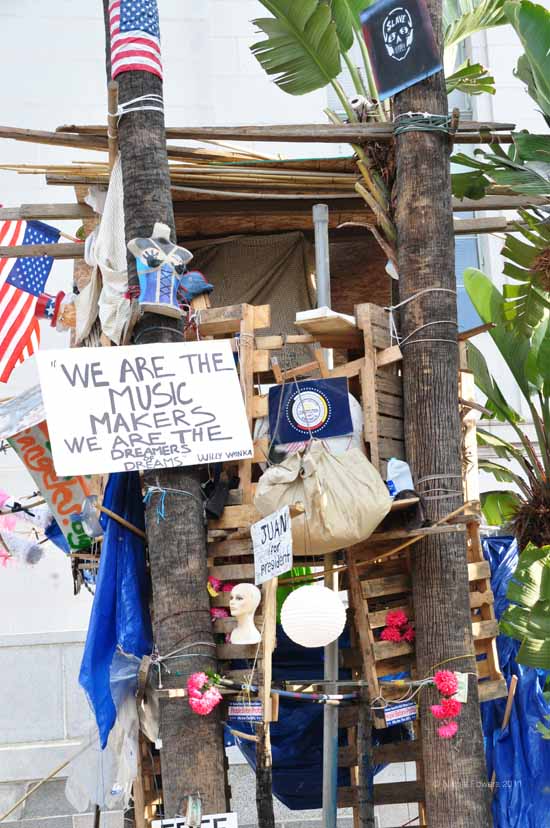 They were the dreamers – indeed a friend told a livestreamer that Manny had wanted to build a tree house ever since he was a kid. Not sure getting arrested was on his wish list though.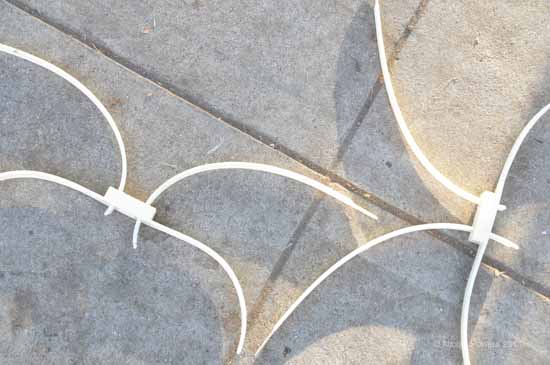 No prizes for guessing what these are!