by Blogbot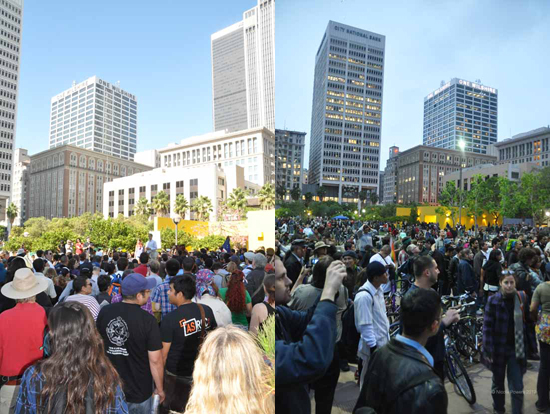 Above: (Left) OccupyLA's First GA, October 1, 2011 / (Right) their special May Day GA, May 1, 2012. Both were at Pershing Square in Downtown LA.
We last had the folks from OccupyLA in the SG Radio studio on October 6th, 2011. Since then, a lot has happened for them – and the Occupy movement as a whole.
Back then, OccupyLA's occupation of the grounds outside City Hall was barely a week old, and no one had much idea of what the future might hold. Certainly few outsiders would have predicted they'd be alive and kicking seven months on.
Though they lost their permanent encampment in early December, 2011, after a brutal police raid, you can't evict an idea – and OccupyLA had a big one – to mark International Workers' Day with a massive day of action.
The resolution, which was first tabled by members of OccupyLA in a General Assembly (GA) held in November 2011, was taken up by other occupations nationwide, and on May 1st thousands of people in well over 100 cities participated in the May Day General Strike.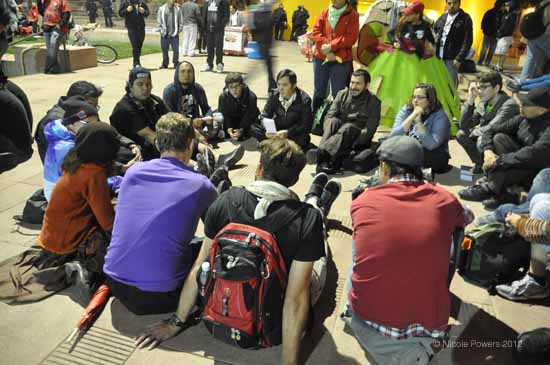 Above: Many experience their first GA on May Day in DTLA.
In Los Angels, the day was marked with marches from the 4 Winds in the North, South, East, and West corners of the sprawling metropolis, which converged with other immigrant/workers rights protests in Downtown LA. A special OccupyLA May Day GA was then held in the evening in Pershing Square, where it all began.
By sundown, Pershing Square was packed, with many new and perspective occupiers experiencing a GA for the first time. The overwhelming sense of camaraderie emitted by the large crowd was palpable, as strangers were quickly united by a common goal and the process of radical and truly representative democracy.
The momentum of the movement (that most in the mainstream seriously underestimate) continues as the focus shifts to Chicago, with large gatherings and protests planned in honor of the People's Summit, NATO, and the (hastily relocated) G8.
On Sunday, as OccupyLA encamps in the SuicideGirls Radio studio, we'll be reflecting on May Day, celebrating the many triumphs of the movement, and talking about its future hopes, dreams, and grounded, pragmatic and attainable goals.
For more on OccupyLA visit their website, Facebook and Twitter.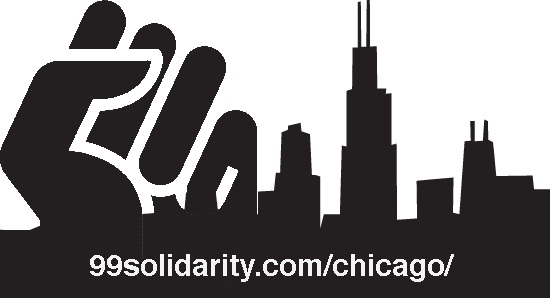 We'll also be hearing from our good friend George from Occupy affinity group 99% Solidarity. He'll be calling in from NYC to give us the skinny on the FREE Chicago bus trips the group is organizing to coincide with the various planned protests there later this month. For more details visit: 99solidarity.com/chicago/
Tune in to SuicideGirls Radio live on Sunday May 6 from 10 PM til Midnight PST at: suicidegirlsradio.indie1031.com/
(hit the top right "listen Live" button)
For updates on all things SG Radio-related, "like" us on Facebook and follow us on Twitter.
Related Posts:
Occupy, Black Bloc, And The Need For Diversity In The Tactics of Dissent
May Day General Strike: SG Live Blog
Final Occupy LA Pre-May Day GA In DTLA
SuicideGirls To Participate In 'Media For The 99 Percent' Indie Team Coverage Of May Day Protests Nationwide
Preparing For May Day And Prioritizing Activism With A Busy Academic Schedule
SG Interview with Bill Ayers: On Obama, Occupy, Education and Dissent
SG Interview with John Cooper QC: Legal Advisor To Occupy London
SG Interview with Cory Doctorow: On Little And Big Brother
SG Interview with Greg Palast: Vultures' Picnic
SG Interview with Harry Markopolos: From Chasing Madoff To Fixing Our Economy
SG Interview with Robert F Kennedy Jr: It's Not Democracy Anymore
Occupy Wall Street Sleep-In Gets Rude Awakening From NYPD
The Occupy American Spring Arrives In NYC's Central Park
Wannabe SG Brickette Is Among The First To Re-Occupy Union Square After Another Night Of Eviction Theater
Occupy Rising: The American Spring Is Here
Things I Like That You Might Like Too: #EtherSec
The Essential Gear Guide For The Occupy Journalist
#OccupyLA – Images Of The Morning After The Raid
Freedom Of The Press Is The Biggest Casualty Of Last Night's #OccupyLA Raid
Occupy Wall Street: The Cleansing of Zuccotti Park
Putting A Human Face On The Reasons To Support Bank Transfer Day
#OccupyDenver: Authorities Use Weather As A Weapon and Hope To Freeze #OWS Protesters Out
#OccupyLA — A Remarkably Civilized Society
#Occupy You Must
The Start of OccupyLA
Why Aren't We Seeing More Prominent People Coming Out In Support of #OCUPPYWALLSTREET?
This Sunday #OccupyLA Will #OccupySGRadio For A Very Special Show
Things I Like That You Might Like Too: #OCCUPYWALLSTREET