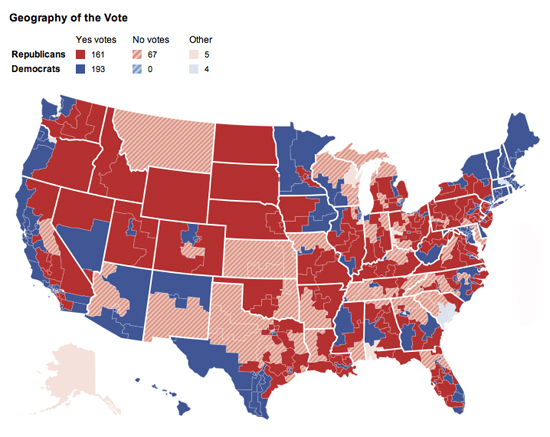 Last week, the House of Representatives voted on Bill HR-41, finally funding disaster relief for all the towns, cities, and states that Sandy devastated just over ten weeks ago.
Why it took so long for the bill to reach the floor and why it approves only 16% of the total Senate disaster package has still to be credibly explained.
Led by the inimitable Paul Ryan, 67 Republicans voted against the bill, stern in the belief that the millions of Americans who were ravaged by the storm of the century could pull themselves up by their soaked bootstraps and rebuild without the government's meddlesome intervention. Or perhaps they hope that concerts by McCartney, Springsteen, Bon Jovi, Clapton and the rest of the rock community can eventually pay for all the damage, one concert at a time – over the next 50 or 150 years.
Actually, Republicans have been very clear about how relief from catastrophic calamities that befall others should be administered.
First, they don't want to spend one dollar on assistance unless it is taken (or stolen) by equal cuts from so-called "entitlement" programs like Medicare, Social Security, Title X, and anything else that benefits underprivileged Americans. To get $10 billion in relief, how about a $10 billion in spending cuts on breast and uterine exams? You want $10 billion more? All right, let's cut food stamps and starve the poorest among us. You want another $40 billion? Okay, we'll just confiscate everyone's social security accounts and let the old geezers fend for themselves.
The idea here is to pick the pocket of poor Americans to provide aid to other devastated Americans. Just as long as anyone who actually has money – maybe even a nest egg – doesn't have to pay an extra penny.
Secondly, Republicans have long wanted to completely privatize disaster relief so corporations can make a 20% (or more) profit on providing aid to the needy. Really, you can't make this stuff up. And I'd bet a dime to a dollar that, following the Dick Cheney playbook, Halliburton has already done an internal study on how to reap maximum profits from the misfortune of others.
The Marine Corps, perhaps the proudest of all our institutions, lives by the maxim that no one is left behind. No one. Ever. It not only defines their extraordinary code of honor, it is the foundation of ethics and morality by which most Americans live.
I say "most" because these 67 Republicans apparently want nothing to do with ethics, morality, or a code of honor.
You don't have to have a liberal bias to confirm the facts. Every single Democrat voted to help their fellow citizens in a time of dire need. And these 67 Republicans – with their state and district numbers – voted for leaving millions of their fellow Americans behind:
Justin Amash R MI-3
Andy Barr R KY-6
Dan Benishek R MI-1
Kerry Bentivolio R MI-11
Marsha Blackburn R TN-7
Jim Bridenstine R OK-1
Mo Brooks R AL-5
Paul Broun R GA-10
Steven J. Chabot R OH-1
Doug Collins R GA-9
K. Michael Conaway R TX-11
Tom Cotton R AR-4
Steve Daines R MT-1
Ron DeSantis R FL-6
Scott DesJarlais R TN-4
Sean Duffy R WI-7
Jeffrey Duncan R SC-3
John J. Duncan Jr. R TN-2
Stephen Fincher R TN-8
John Fleming R LA-4
Bill Flores R TX-17
Virginia Foxx R NC-5
Trent Franks R AZ-8
Louie Gohmert R TX-1
Robert W. Goodlatte R VA-6
Paul Gosar R AZ-4
Trey Gowdy R SC-4
Sam Graves R MO-6
Tom Graves R GA-14
Andy Harris R MD-1
George Holding R NC-13
Richard Hudson R NC-8
Tim Huelskamp R KS-1
Randy Hultgren R IL-14
Lynn Jenkins R KS-2
Jim Jordan R OH-4
Doug Lamborn R CO-5
Kenny Marchant R TX-24
Thomas Massie R KY-4
Tom McClintock R CA-4
Mark Meadows R NC-11
Markwayne Mullin R OK-2
Mick Mulvaney R SC-5
Randy Neugebauer R TX-19
Steven Palazzo R MS-4
Steve Pearce R NM-2
Scott Perry R PA-4
Tom Petri R WI-6
Mike Pompeo R KS-4
Tom Price R GA-6
Phil Roe R TN-1
Todd Rokita R IN-4
Keith Rothfus R PA-12
Ed Royce R CA-39
Paul D. Ryan R WI-1
Matt Salmon R AZ-5
David Schweikert R AZ-6
F. James Sensenbrenner R WI-5
Marlin Stutzman R IN-3
William M. Thornberry R TX-13
Randy Weber R TX-14
Brad Wenstrup R OH-2
Roger Williams R TX-25
Joe Wilson R SC-2
Rob Woodall R GA-7
Kevin Yoder R KS-3
Ted Yoho R FL-3
Those who criticize Republicans have a misguided belief that they can listen and change if the right argument is put to them. But that assumes reasonable people and these fools are anything but reasonable – they don't listen to common sense or possess any human morality and have no concept of the common good of a nation and its people. So let's all stop criticizing these court jesters and just ridicule them.
And no more trying to convince them to "do the right thing." These Republicans need to be punished. So take action! If you see on this list any Representative from your state, immediately start a Petition of Impeachment and get the signatures of every person of voting age in your state. And join with those from disaster areas like New York and New Jersey and March on Washington – let's say 30 million strong. Then surround the Capitol Building until these 67 jerks surrender en masse to the mercy of those they would leave behind.
May a swarm of locusts invade their houses…and frogs inhabit their borders…and lice crawl on the endless boils of their skin…and their sightless eyes see the darkness of their ways…and a pox settle on all their houses.
That is less admonishment than they deserve.
It's time to punish the 67!
Related Posts:
Election 2012: The Choice
Mitt Romney: The Invisible Man
The War on Women: A Father's Perspective
The Rich Get Richer
Interview: Greg Palast – Billionaires And Ballot Bandits
Non-Chemical Dependency
Political Ramblings And Random Thoughts
From Death And Despair. . . Dreams Can Soar
Modest Solutions To Voter Suppression
Character. . . And The RNC
The Do-Damage Congress: Who's Responsible?
Worse Than A Do Nothing Congress
Forget The Barbeque On Labor Day – It's Time To Take Care Of Business
Chicken Shits: The Slippery Slopes of Chick-fil-A
The Vagina Solution
Fighting Back Part 4: The Big Liar, Intimidation And Revenge
Fighting Back Part 3: Fighting Fire With Fire
When The Past Is Prologue
Fighting Back Part 2: Defining Rovian Politics
Fighting Back
The Electoral Scam
Being Fair
Occupy Reality
Giving. . . And Taking Back
A Tale Of Two Grovers
A Last Pitch For Truth
America: Forget it, Jake. It's Chinatown.
Gotcha!