by Blogbot
[Above: SG Radio host Sam Doumit has a cosy couch-based chat with Street Drum Corps, which ChinaShopMag's camera crew captured for posterity.]
SuicideGirls Radio host Sam Doumit spent some quality couch time with Adam Alt, Bobby Alt and Frank Zummo of the Mad-Max-meets-punk-rock performance art/percussion troupe Street Drum Crops backstage on the first night of their month long Tuesday night Roxy residency. ChinaShopMag's fab camera crew captured their cosy conversation for posterity (see vid above). The show on November 16th, which was pretty damn spectacular, featured Deadmau5 vocalist Sofi alongside special guest drummers Tommy Lee (Methods of Mayhem / Mötley Crüe), Chris Hesse (Hoobastank), John Sawicki ("Stomp"), and Adrian Young (No Doubt).
Street Drum Corps have two more performances left on this current Sunset Strip run, and, since no two are the same, it's worth catching both. Tonight's show features Dan Whitesides (The Used), Jack Irons (Pearl Jam, Red Hot Chili Peppers), Atom Willard (Angels & Airwaves), Tony Hajjar (At The Drive-In, Sparta) and Caroline D'Amore, who'll likely share the stage with an assortment of power tools, trash receptacles and random household objects which the SDC boys regularly beat the shit out of while doing their thing. Details of the final December 7th show will be forthcoming.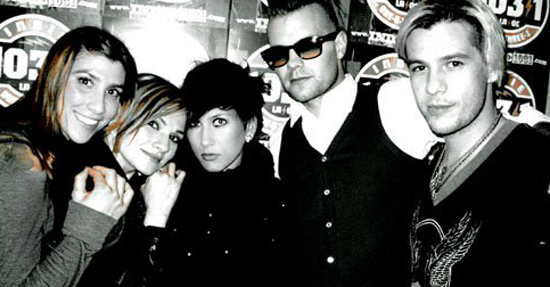 [photo: Kristen Woo]
SDC's Bobby and Adam Alt also paid a visit to the SG Radio studio on Sunday November 21st. Sofi, who'd been recording a track with the band for their 2011 Interscope release earlier in the day, also stopped by. Catch up with the silliness that ensued via our Blip.TV podcast.
For more images from the November 16th show, visit the SucideGirlsBlog archive and ChanaShopMag.com/.