by Blogbot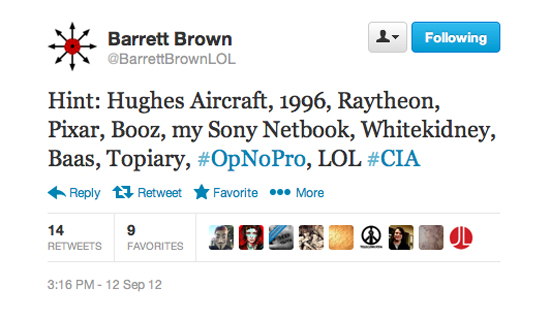 This Thursday June 27th on SuicideGirls Radio hosts Nicole Powers and Juturna Suicide will be joined by activist Kevin M. Gallagher (Free Barrett Brown), academic and author Gabriella Coleman, and journalist Dell Cameron (VICE). We'll be talking about the strange case of writer and security researcher Barrett Brown and the connections between his "ProjectPM" research and the more recent NSA surveillance revelations exposed by Edward Snowden.
You can listen – and watch – the world's leading naked radio show live on Thursday nights from 6 til 8 PM at our new state-of-the-art all digital home: TradioV.com/LA.
You'll also be able to listen to our podcasts via Stitcher – download the app now!
If you have questions for the SG Radio crew or our guests, you can call in during the live broadcast at: 1-855-TRV-inLA (1-855-878-4652)
For updates on all things SG Radio-related, like us on Facebook and follow us on Twitter.
About Dell Cameron (@DellCam)
Dell Cameron contributes articles to VICE.com on national security, human rights and online activism. He is also project manager of the upcoming news website Muckraker.com. Some of his recent articles have followed the rise and expansion of the U.S. government's surveillance programs, such as PRISM and CALEA (the Communications Assistance for Law Enforcement Act).
About Kevin M. Gallagher (@FreeBarrett_ & @ageis)
Kevin M. Gallagher is a writer, musician and systems administrator based in western Massachusetts. He graduated with a B.A. in English from the University of Massachusetts, Amherst. He's currently pursuing activism on issues related to digital rights: freedom of information, privacy, and copyright; while also taking an interest in information security. He is the director of Free Barrett Brown, which is a support network, non-profit advocacy organization and legal defense fund formed for the purpose of assisting a prominent journalist and internet activist, for which he is in charge of all fundraising, public relations, social media and outreach.You can contribute to Barrett Brown's defense fund here.
About Gabriella Coleman (@biellaColeman)
Gabriella (Biella) Coleman is the Wolfe Chair in Scientific and Technological Literacy in the Art History and Communication Studies Department at McGill University. Trained as an anthropologist, she researches, writes, and teaches on hackers and digital activism. Her first book on Free Software, Coding Freedom: The Aesthetics and the Ethics of Hacking has been published with Princeton University Press. She is currently working on a new book on Anonymous and digital media under contract with Verso. She has given numerous talks on hackers, digital activism, open source production and intellectual property law. For more info visit gabriellacoleman.org/.
**UPDATE**
ICYMI: This week's show on the surveillance state and the criminalization of those who report on it featuring activist Kevin M. Gallagher (Free Barrett Brown), academic and author Gabriella Coleman, and journalist Dell Cameron (VICE).