by Blogbot
This Thursday, September 19th on SuicideGirls Radio, hosts Nicole Powers and Juturna Suicide will be joined in studio by the gorgeous, sexy and super talented Lacey Conner. Perhaps best known for her wild and wicked ways on VH1's Rock of Love and Charm School, when not in front of the reality TV show cameras Lacey is a total darling – something we know for a fact since she did a stint as a co-host on this very radio show. We're therefore excited to have her back in the SG Radio studio to catch up, and will be spinning tracks from her latest project Halo, and her recently released new album, Something Evil This Way Comes.
You can listen – and watch – the world's leading naked radio show live on Thursday nights from 6 til 8 PM at our new state-of-the-art all digital home: TradioV.com/LA.
You'll also be able to listen to our podcasts via Stitcher – download the app now!
If you have questions for the SG Radio crew or our guests, you can call in during the live broadcast at: 1-855-TRV-inLA (1-855-878-4652)
For updates on all things SG Radio-related, like us on Facebook and follow us on Twitter.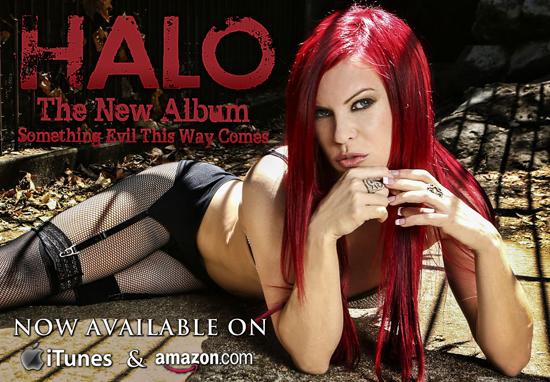 About Lacey Conner
Reality star Lacey Conner has been a major player in the music world for over a decade. But in spite of Lacey's extensive music career, she is best known for her villainous ways on Vh1's Rock of Love with Bret Michaels, and on Vh1's Charm School with Sharon Osbourne – both shows which were aired in many countries across the world. Lacey was one of the primary characters on both shows, and Rock of Love was the highest rated show in Vh1 history at the time of its airing.
Although Lacey has been successful in television, her passion is in music. Most recently, Lacey completed her solo record, HALO. HALO has been compared to Shirley Manson/Garbage and Linkin Park. It has a rock vibe with a slightly dark edge. Even though Lacey has generally been involved in bands with cult followings, HALO is Lacey's most mainstream project to date. On this project, Lacey is the sole writer of all of the songs, including all music and lyrics. During the recording process of HALO, Lacey worked in the studio with producer "Tadpole" (who has worked with bands such as Disturbed, Staind, and Avenged Sevenfold), as well as producer Marc Jordan (who has worked with Slash, The Cult, and Velvet Revolver, among others). The music video for HALO's song "The Stranger", features Aaron Rossi of Ministry, Brent Ashley from Static-X and Orgy, and Meegs Rascon from Coal Chamber as her band members.
Prior to HALO, Lacey sang for Lords of Acid on their 2010 US "Sextreme Ball Tour." Lords of Acid is a band that has been critically acclaimed within the electronic music and dance music communities, and have sold over 2.5 million albums over the course of their career. During the time that Lacey was the primary singer for Lords of Acid, the tour hit every major market in the country and consisted mostly of sold-out shows.
Before Lords of Acid, Lacey fronted her own band that she wrote and sang for: Nocturne. Nocturne was an industrial-rock band that performed with major acts such as Ministry and Thrill Kill Kult, and toured the U.S. extensively with other major acts such as Mushroomhead, Dope, Bile, King Diamond, and many others.
Lacey also was a guest vocalist for the band Pigface, the industrial "super group" that was formed by Martin Atkins [a long time friend of SG!]. Pigface has a revolving door of members. Along with major icons such as Trent Reznor from Nine Inch Nails, Danny Carey from Tool, Flea from the Red Hot Chili Peppers, Ogre from Skinny Puppy, Paul Barker from Ministry, Wayne Static from Static X, and many others, Lacey also was an integral part of Pigface. She completed two U.S. tours with Pigface, and sang on one of their albums.
2013 was off to a big start for Lacey as well; She was asked to star as the lead role in the new music video for Escape The Fate, a band who's previous Youtube videos have combined views that exceed 90 million.
In addition to her passion for music, Lacey also has a passion for activism. She is an advocate of animals, a promoter of human rights and equality for the gay and lesbian community, and she is a protector of the environment. Lacey even founded her own dog rescue organization "Heroes K9 Rescue" five years ago where she rescues, fosters, and re-homes shelter dogs that otherwise would have been euthanized. Lacey is a member of PETA as well as several other animal-rights groups, and is involved in human-rights / gay-rights / pro-equality as well.
For more info on Lacey visit her Facebook and Twitter pages.