By Blogbot
This Wednesday, March 29 on SuicideGirls Radio, hosts Nicole Powers and Bradley Suicide will be joined by Minnesota hip-hop artist Mod Sun, who'll be giving us the behind-the-scenes gossip on his new album, Movie.
You can listen – and watch – SuicideGirls Radio live on Wednesday nights from 8 til 9 PM at our state-of-the-art, all digital home on zinna.tv or on our Facebook page via Facebook LIVE!
For updates on all things SG Radio-related, like us on Facebook and follow us on Twitter and Instagram.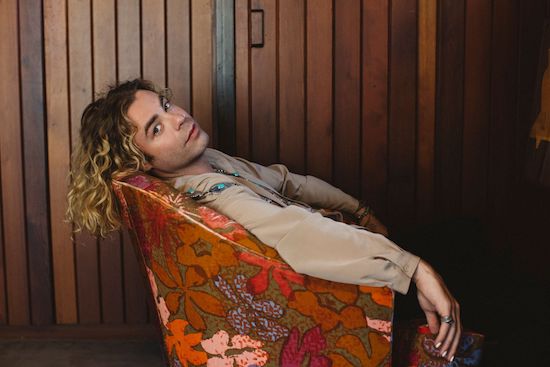 About Mod Sun
29-year-old Mod Sun is emerging as a pillar in the hip hop scene of Minnesota. With an uncanny ability to tinker with the boundaries of creativity, Sun has emerged as a rising star in the congested world of rap.
Born in Bloomington, Mod Sun developed a strong adoration for everything music related. At a young age, he clung to The Allman Brothers, Bob Dylan, Blink 182, and Charles Hamilton as his sources of inspiration. With two supportive parents sprinkling huge doses of hope and love, Mod grew increasingly obsessed with the idea of one day chasing his dreams.
With an expansive musical palette that consisted of rock and hip hop, Mod Sun became a multi-faceted star in both arenas. At 17, he dipped his hands in the rock world when he joined the local band Four Letter Lie. His journey with the group allowed him to experience tour life for the very first time. Then, at 20, the precocious musician flexed his talent on the drums when he joined his next band Scary Kids Scaring Kids.
Due to his ability to wow the crowd as a drummer, the group allowed him to serve as an opener for their tour. Despite a few rough performances, Sun realized his potential to shine as a solo act. The high of performing in places like Australia and New Zealand was too much for him to overlook. Because of that, he drifted away from the rock world and pursued rap full-time. With no help on the production front, he released his first mixtape, I'll Buy Myself in 2009.
"The reason I didn't start putting out Mod Sun music earlier is because I always wanted to step away from the drums. The only reason I didn't earlier is because I knew no one in Minnesota that made beats. I knew nothing about making beats. So, I had to figure out the program and learn how to make my own beats. The first song I ever recorded rapping is on that album."
With a voracious appetite for success, Mod churned out five more mixtapes and three EPs before releasing his first album Look Up in 2015 with Rostrum Records. Laced with refreshing, mood quenching songs like "Free Love", "Goddess", and "My Hippy", it was easy to see why Mod won over Benjy Grinberg – the President of Rostrum Records.
The day I signed to Rostrum, I threw a pool party at my house in North Hollywood – the original Hippy Hideout. That's where we were at when I signed my contract. I had the whole team over. It all started a month prior to that day when I signed the contract at my house, as well. Benjy – the owner of Rostrum – came over to my house in North Hollywood. We sat down and listened to Look Up . Out of all of the songs I played, Benjy stopped me at 'My Favorite Shirt Is My Skin' and he made run it back. That's what did it for me."
After showcasing his artistry with some of Billboard's biggest darlings in G. Eazy and Machine Gun Kelly on his debut album, Mod realized for his second go-around that evolution would be essential. With the world becoming a drearier place, his sophomore album Movie will be the project to not only re-instill that much needed happiness to smile again, but to illustrate his growth as an artist.
With Bobby Johnson, Arthur McArthur, and Don Cannon playing instrumental roles in crafting Mod's new sound for Movie , the Minnesota star will be swimming in new waters creatively for his second album.
"The shit we did together is something totally brand new for me. That's kind of the basis of the new album. It's kind of in a way a reinvention of what I've been doing with a concept I've been working with this whole time," says Sun.
He adds, "I have a new song on this album called "Beautiful Problems" with Maty Noyes and Gnash. We have a song together that's seriously going to be on every radio station. It is really going to be. The reason all of that is possible is because I've stepped out and took a risk on trying new things."
Mod Sun will be heading out on a national tour on April 4 to support the album. Dates can be found here: bandsintown.com/modsun
For more on Mod Sun visit:
modsunmusic.com
facebook.com/modsun/
twitter.com/MODSUN
instagram.com/modsun/
soundcloud.com/modsun

The World's Leading BYOB Radio Show Is Sponsored By Mangria
"As a nightly consumer of red wine, I was shocked one evening to find I had just half a glass left in the bottle. So I did what any decent alcoholic, ex-con, American would do… I went to the fridge and the liquor cabinet, then poured, mixed and measured. Thus Mangria was born." — Adam Carolla
For more info visit Carolla Drink's website, Facebook, Twitter, and Instagram.