by Blogbot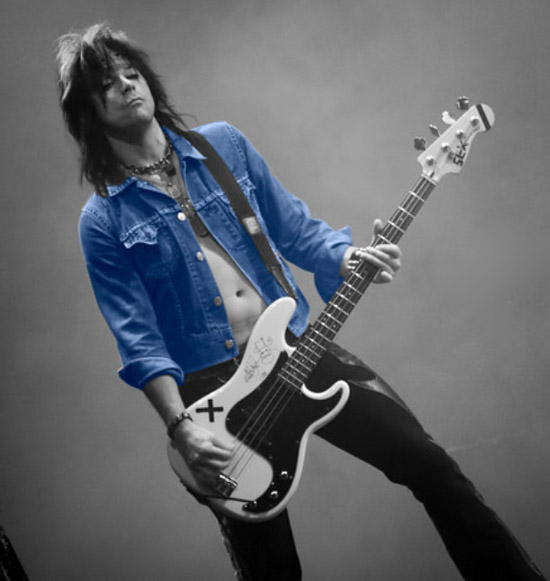 This Thursday April 4th on SuicideGirls Radio hosts Nicole Powers and Moxi Suicide will be joined in studio by Scott Griffin of the legendary LA Guns.
You can listen – and watch – the world's leading naked radio show live on Thursday nights from 6 til 8 PM at our new state-of-the-art all digital home: TradioV.com/LA.
You'll also be able to listen to our podcasts via Stitcher – download the app now!
If you have questions for the SG Radio crew or our guests, you can call in during the live broadcast at: 1-855-TRV-inLA (1-855-878-4652)
For updates on all things SG Radio-related, like us on Facebook and follow us on Twitter.
About Scott Griffin
Born in Los Angeles, CA on February 21st, Scotty accepts all sorts of gifts and is currently setting up a PO Box for just that! Just make sure it's not a shirt with guitars all over it. Or a tie with music notes all over it. Or some other tacky shit like that. Scotty has very fine tastes. And besides, would you wear that crap? If you're a doctor or a nurse, would you want Scotty to send you a tennis headband with stethoscopes all over it? I didn't think so.
Scotty was born into a completely non-musical family, and it shows in his playing (hahaha!). He played drums as a 13-year old, until his Junior High music teacher had a stroke. He then tried singing, but gave up after he recorded himself performing "Runnin' With The Devil" on a Radio Shack portable tape recorder. Scotty turned to the guitar next, after inviting a friend over to "jam" and hearing his friend play "Iron Man" by Black Sabbath. Scotty was blown away. "Wow! You can play actual SONGS on that thing!" He was hooked. He HAD to get one of those things with the strings and knobs and stuff.
Puberty helped spur on Scotty's musical ambitions. He observed that playing an instrument was a big help in attracting the opposite sex, and found it more practical to strum a guitar during recess than to lug out a two-up/one-down 5-piece Sonor drum kit with hi-hat, crash, ride and gong!
But even though Scotty felt in his heart of hearts that he had found his true calling as a lead guitarist, he would soon find out that a career in music was not going to be bowl of cherries for him. Realizing that the other lead guitarists of the day were now playing their instruments at a level worthy of Beethoven, Mozart and Mario Andretti, Scotty secretly dreamed of being able to get on-stage and "see a million faces and rock them all" without having to worry about inconvenient and stupid things like "talent."
Quoted in his High School newspaper in an article regarding the local music scene, Scotty once said, "Well, being born and raised out here in Los Angeles, there are a lot of unbelievably talented kids in this school right now. And they've been playing since they were like 5-years old, taught by their parents who decorate their houses with gold records, and mentored by people like Jimmy Page who just happen to be their Godfather. And that really sucks, because I ain't got none of that!"
But Scotty persevered, with nothing more than the drive to write a hit song that would make any girl he desired drop to their knees and offer him whatever he wanted to take of them…But fate always adds an interesting twist. The bad news was, the hit song was never written. The good news was, Scotty soon learned that alcohol and a little flirting was all that was needed to accomplish the same exact thing with most chicks!
Years passed and Scotty learned to live with the fact that he probably would never write that hit song, and never be able to "see a million faces and rock them all." Nevertheless, he was able to flirt up enough girls to keep him happy in the meanwhile. But alas, sometimes even the least talented, most musically hopeless person might still have a muse assigned to them by The Big Guy In The Sky. And Scotty's muse reared its self-abusing head and showed Scotty an alternate possibility.
Enter Guns N' Roses keyboardist Dizzy Reed. Being introduced to each other by a local promoter/entrepreneur/snake oil salesman, and bonding through a shared love of Jägermeister, Scotty was soon asked by Dizzy to play bass guitar for his GNR side project, called Hookers N' Blow.
Although most guitarists find the bass "beneath them," Scotty jumped at the chance. He was very happy to find that this new instrument only had four strings, as opposed to the lead guitar's mind-boggling six. And you were generally only expected to play one string at a time, rather than four, or five, or six (which Scotty had always found extremely confusing?!?!?).
From that point on there was no looking back. Hookers N' Blow soon led into other dubious, often delicious and always debauched ventures such as The Dick Pistols, Kiss My Ass and recurring subbing dates for the world infamous StarFuckers!
Soon, word got out about this "dude who plays bass, don't know if he sings, I think he's got his own equipment, yeah, he'll do" man about town, and before you could say "Sid Vicious meets Vanilla Ice," Scotty Griffin landed the coveted position of bass player/25th member for Sunset Strip legends LA Guns!
Since then, things have started looking up for Scotty. Being lauded by critics as "the best bass player at this moment on stage with LA Guns" and by fans as "that guy with the cool signature with the star," Scotty is on the verge of making one more of his long lost but not forgotten dreams come true. Because as of now, Scotty can proudly say: "So far I've seen about 723,962 faces and I've rocked them all!"
The ladies are encouraged to stalk him on Facebook and Twitter.