By Blogbot
This Wednesday, October 5 on SuicideGirls Radio, hosts Nicole Powers and Bradley Suicide will be joined by LA riot-duo WASI.
**UPDATE**
ICYMI: Watch last night's show feat. WASI here or via the player below!
You can listen – and watch – SuicideGirls Radio live on Wednesday nights from 8 til 9 PM at our state-of-the-art, all digital home: zinna.tv
If you have questions for the SG Radio crew or our guests, you can call in during the live broadcast at: 1-855-TRV-inLA (1-855-878-4652)
For updates on all things SG Radio-related, like us on Facebook and follow us on Twitter and Instagram.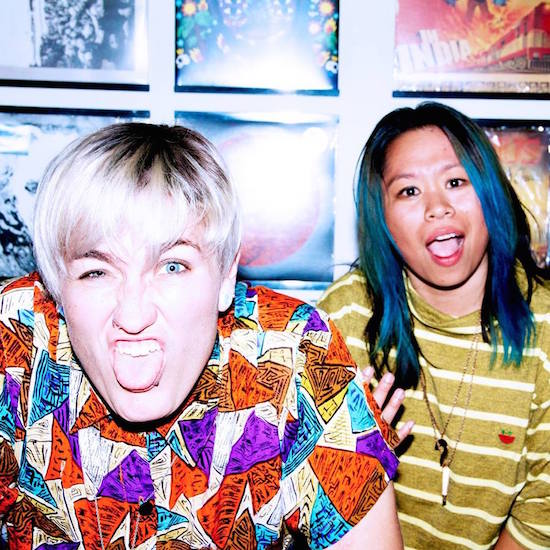 About WASI
Merilou and Jessie teamed up in high school after Merilou booked a show with a non-existent band. Under the moniker The Midol Poppers, they learned their instruments and wrote 30 minutes worth of punk songs that stemmed from the stories of their broken homes and outsider attitude. After their first show, they started writing and rehearsing just to play as often as they could — from high school themed parties to acoustic sets at the park. Without a plan but with a craving to create their own space away from teenage social structures and the norm, the duo recorded their songs at the Fullerton College recording studio and then self-promoted themselves by approaching bystanders with a pair of headphones and their music in hand.
Their debut EP, Bleed Pop, was released May 2015. They have shared the stage with artists such as Shiny Toy Guns, The Mowgli's and K. Flay, have played select dates on the Vans Warped Tour, have performed at several LGBTQ Pride Festivals throughout the West coast and have been listed as She Wired's "Top 10 Queer and Female Fronted Bands You Need to Know Right Now." Live, they are joined by drummer Max Szullozi and guitarist/vocalist Charlie Moon.  
Their latest tracks, "Mama's Gonna Get You" and "Superhero," were produced by Shelby Archer, Paul Laliberte and Jeff Laliberte from Red Bull Records' New Beat Fund. WASI continues to garner a loyal following in the LGBTQ and feminist music scenes as they contagiously spread their DIY work ethic, enthusiastic attitude and uplifting melodies, touching those are trying to be understood in their own tender time.
For more on WASI visit:
isawwasi.com
twitter.com/wasimusic
instagram.com/wasimusic
facebook.com/wasimusic

The World's Leading BYOB Radio Show Is Sponsored By Mangria
"As a nightly consumer of red wine, I was shocked one evening to find I had just half a glass left in the bottle. So I did what any decent alcoholic, ex-con, American would do… I went to the fridge and the liquor cabinet, then poured, mixed and measured. Thus Mangria was born." — Adam Carolla
For more info visit Carolla Drink's website, Facebook, Twitter, and Instagram.