by Blogbot
This Thursday June 20th on SuicideGirls Radio hosts Nicole Powers and Juturna Suicide will be joined in studio by producers DJ Muggs and Andrew Kline, and uber geek and Safecast co-founder Sean Bonner, who with vocalist Brevi comprise the avant-garde band Cross My Heart Hope to Die. Journalist, podcaster, and SG Blog contributor David Seaman will also be in-studio to give us his take on the recent NSA surveillance revelations.
You can listen – and watch – the world's leading naked radio show live on Thursday nights from 6 til 8 PM at our new state-of-the-art all digital home: TradioV.com/LA.
You'll also be able to listen to our podcasts via Stitcher – download the app now!
If you have questions for the SG Radio crew or our guests, you can call in during the live broadcast at: 1-855-TRV-inLA (1-855-878-4652)
For updates on all things SG Radio-related, like us on Facebook and follow us on Twitter.
About Cross My Heart Hope to Die
Cross My Heart Hope to Die (@cmhxhtd) will change your perceptions of art and challenge your expectations of music. CMHHTD transcends musical boundaries – the music exists as just one part of a larger project, ever evolving. At its foundation, this collective balances tangible art with striking visuals and an all encompassing soundtrack to create a total experience – each element as important as the other.
The sound system is the spark caused by the collision of producers DJ Muggs (@DJ_Muggs) and Andrew Kline. DJ Muggs is best known as a founding member of the multi platinum rap group, Cypress Hill, as well as the producer of such hits as Ice Cube's "Check Yo Self" and House of Pain's "Jump Around." The Grammy nominated producer has created remixes for U2 and Depeche Mode, and collaborated with UK trip hop artist, Tricky, on the album Juxtapose. Andrew Kline is a founding member and main songwriter of the Los Angeles based hardcore band, Strife. With a career spanning more than 20 years, Strife is heralded to be one of the most influential and defining hardcore bands of the 90's. As a music producer, Andrew has worked with artists over a wide range of genres and has recently added video directing to his repertoire. Muggs and Kline, though from different musical backgrounds, share a love of a dark, cinematic music and the fusion of their talents creates something you would not expect.
This sound is complemented by the ethereal songstress, Brevi, who elevates the tracks with her sexy and hauntingly beautiful vocals. The attentive listener may recognize her from tracks with such musical veterans as 50 Cent, Wiz Khalifa, Xzibit, Raekwon from the Wu Tang Clan, and more – though CMHHTD puts her in a spotlight like never before.
Sean Bonner (@seanbonner) adds an additional, indefinable piece to what is already a bit of an enigma. Sean is a hacker and curator who commands a noteworthy online network. With a history in both fine art and music, he helps to shape the public face and feel of this project, and his involvement is sure to blur the lines between fans and collaborators, audience and participant.
The first traditional release from Cross My Heart Hope To Die, a self titled EP, was released on April 2nd on Alpha Pup Records. The interactive art side of this collective, however, has been prolific and manifesting itself on the streets for close to a year. Unsuspecting pedestrians around the world have been enjoying and participating in this project – sometimes without even knowing it. Inconspicuous art installations and street music boxes have been hidden in such cities as Los Angeles, New York, Tokyo, Rome, Belfast, Prague, and Vienna. CMHHTD wants to manipulate the way people find music; to bring back the thrill of discovery. Something sorely needed in a digital age where we are constantly bombarded with aural stimulation.
Upcoming gallery exhibitions and a series of videos shot all over the world make it obvious that Cross My Heart Hope To Die is much more than just another musical project. Their actual scope escapes clear definition.
For more visit cmhhtd.com and Soundcloud.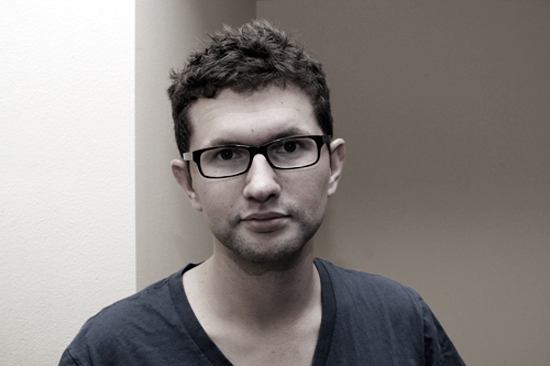 About David Seaman
David Seaman (@d_seaman) is an independent journalist. He has been a lively guest on CNN Headline News, FOX News, ABC News Digital, among others, and on his humble YouTube channel, DavidSeamanOnline. Some say he was recently censored by a certain large media corporation for posting a little too much truth… For more, find him on G+ and Twitter.

**UPDATE**
ICYMI: Here's the video-pod of last night's show. We explore the intersection of music, art and technology with Andrew Kline and Sean Bonner of the innovative LA band Cross My Heart Hope to Die. Sean also measures our radiation levels with a Geiger gadget he made earlier and explains how his crowd-sourced Safecast project helps empower people with critical data about their environments. Plus SG's Political Correspondent David Seaman explains to someone who gets naked on the internet – ie SG Radio co-host Juturna Suicide – why she should care about the fact that the NSA is spying on her.