By Blogbot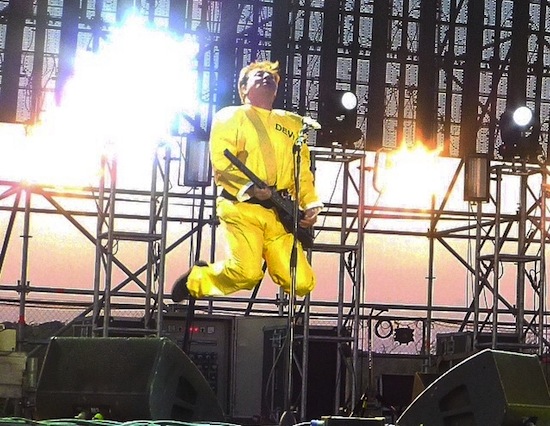 This Wednesday, May 20th on SuicideGirls Radio, hosts Moxi Suicide and Nicole Powers will be joined by music legend Gerald V. Casale of Devo. The ladies will be sampling his latest hits — the "2013 Sonoma Coast Pinot Noir" and the "2014 Sonoma Coast Rosé of Pinot Noir" — from his rockin' The 50 By 50 wine label.
You can listen – and watch – the world's leading BYOB radio show live on Wednesday nights from 8 til 9 PM [note new day/time] at our state-of-the-art all digital home: TradioV.com.
If you have questions for the SG Radio crew or our guests, you can call in during the live broadcast at: 1-855-TRV-inLA (1-855-878-4652)
For updates on all things SG Radio-related, like us on Facebook and follow us on Twitter.
About Gerald V. Casale
Gerald V. Casale, legendary musician and co-founder of the band Devo, has announced the launch of his new vintages for The 50 By 50 wine brand. The new vintages: the "2013 Sonoma Coast Pinot Noir" and the "2014 Sonoma Coast Rosé of Pinot Noir," were debuted at a spring tasting party on Saturday, May 16 at Wally's Beverly Hills.
Last year, Casale successfully launched his celebrated and now sold-out debut vintages the "2012 Pinot Noir" which Virginie Boone from Wine Enthusiast magazine awarded a 94 point rating and described as, "an ethereal, feminine Pinot, sublime in color and texture, bright in tart cherry. Brisk in acidity, it offers an undercurrent of dried herbes de Provence, cinnamon and exotic spice, evolving in the glass as it goes." His "2013 Rosé of Pinot Noir" was described by Phil Gallo of Billboard as "a nose of strawberry, peach and lychee nut and an appealing weightiness."
The 2013 growing season on the Sonoma Coast has proved to match if not exceed the lauded 2012 harvest. Casale's new "2013 Pinot Noir" hits the winning notes of his debut bottling and beyond with its 50/50 blend of Dijon and Pommard clones from Rodger's Creek. Possessing the palate-pleasing flavors of Cherry and Blackberry the "2013 Pinot Noir" gives way to a smoky, silky finish tinged with hints of Cinnamon. The "2014 Rosé of Pinot Noir" hits the mark. Crisp and dry, pink and bright it delivers the full, lush finish expected from the varietal.
The 50 By 50 estate marks the evolution of Casale's longtime passion for wine which started in 1978 when Devo — the iconic new wave, art punk group Casale co-founded with Mark Mothersbaugh — left Ohio for the promise of California which delivered an explosive wake-up call to food and wine.
"Commensurate with our 'new wave' music revolution, there was a gang of new wave chefs inventing culinary dreams in Los Angeles. I met restaurateurs Michael McCarty (Michael's), Bruce Marder (Brentwood Restaurant, House Café), Wolfgang Puck (Spago, Wolfgang Punk, Chinois on Main, WP24), Piero Selvaggio (Valentino) and Jeremiah Tower (Stars) among others," explains Casale. "I became a disciple of the new California cuisine and the California wines with which it was often paired. After attending an endless array of California winemaker dinners, meeting many of the best, I drank my way to knowledge."
By 1990, Devo had toured the world seven times over. Casale became enamored with Italian and Spanish wines including Barbaresco, Barolo, Brunello, the Super Tuscans (Italy) and Vega Sicilia from Spain. One fateful night before a show in Paris, a French promoter started opening some legendary Domaine de la Romanée Conti (DRC) wines and Casale fell in love with Pinot Noir. After returning to the states a short period later, Casale gave California Pinot Noirs — which were reasonably priced and in low demand — another try. After enjoying a bottle of 1989 Williams Selyem Pinot Noir with breast of duck, he never looked back as Pinot Noir varietals remain the focus of The 50 By 50.
Since Pinot Noir grapes don't thrive in Napa's Wooden Valley, The 50 By 50 went to the best location nearby to purchase the fruit where they do thrive — the Sonoma Coast. Casale explains, "Our ambitious five-year plan for releasing our first vintage of complex, Bordeaux-style Estate wine is on course. Meanwhile, to launch our 50 By 50 brand, we're offering the sophomore releases of our Pinot Noir and Rosé of Pinot Noir.
The fruit for both wines was grown and harvested at Rodger's Creek, in the Sonoma Coast AVA (American Viticultural Area), helmed by Randy Luginbill and Jonathan Gold, veterans with 30 years of experience. Rodger's Creek vines are 13 years-old. The soils are a Kidd stony loam and our grapes came from vines on an approximately 9 percent slope at an elevation of 675 feet."
The anchor of The 50 By 50 vision and its namesake rests in the creation of its estate house, a realization of a never-built architectural masterpiece known as the "50 by 50″ designed over 60 years ago by thepre-eminent, 20th Century Modernist architect Mies Van Der Rohe. "Centrally located on the flat basin of The 50 By 50 Estate, it is the true inspiration of our brand," Casale explains.
"This perfectly square design is clad in 8 high tempered glass panels measuring 10 feet high x 25 feet long. Therefore, each clear glass wall is bisected by only one vertical, load-bearing post. The view from inside gives the occupants an uninterrupted, 360 degree panorama of The 50 by 50 Estate with its gentle slopes, giant live oaks, terraced rows of grape vines and the mountains beyond."
The 50 by 50 Estate is a 23-acre property situated southeast of the Atlas Peak AVA (American Viticultural Area) and north of the Wild Horse AVA on the Monticello Road incline in the Wooden Valley of Napa, CA. Starting at a roadside elevation of 830 feet, it meanders pleasantly down to 600 feet. The gentle slopes are covered with "forward gravelly loam," a rich volcanic soil that drains well and lends itself perfectly to the Cabernet Sauvignon, Cabernet Franc and Merlot varietals which are being planted there for the purpose of producing an exquisite, hand-crafted, bio-dynamically farmed Bordeaux-style blend in the coming years.
The 50 by 50 wines are available through retailer Wally's Wine and Spirits in Los Angeles. Price to consumer is $29.99 for the Pinot Noir and $19.99 for the Rosé. Online orders are also available with shipping to select states through Wally's as well as THE 50 BY 50 directly via thefiftybyfifty.com.