by Blogbot
REVOLUTIONS came to the People's Republic of Los Angeles on Saturday night, with the opening of an exhibition of album cover-inspired art from Shepard Fairey.
The decidedly anti-elitist celebration, held at Robert Berman's C2 Gallery at Bergamot Station in Santa Monica, was free – as were the Singha beers, which were being liberally distributed to the packed assembly.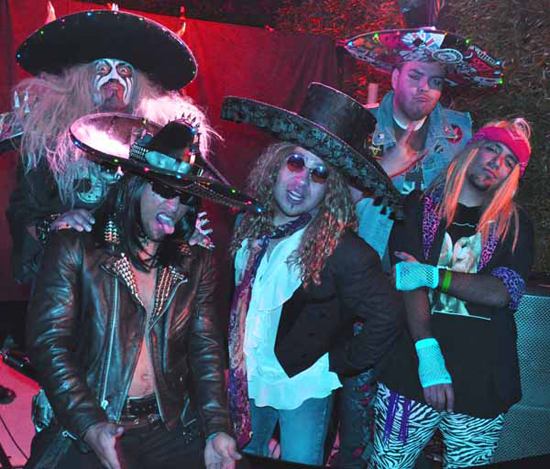 The party spilled out into the parking lot, where a sound system and stage had been set up. Dan The Automator and Fairey took turns spinning tunes from their laptops, but the show was stolen by Metalachi, a mariachi band that plays heavy metal classics.
On paper mariachi metal sounds so wrong, but live it was so fucking right. Who knew that songs culled from the catalogs of AC/DC, Guns N' Roses, Led Zeppelin, Iron Maiden, Dio and Judas Priest would sound so damn good topped with a sombrero, Mexican style.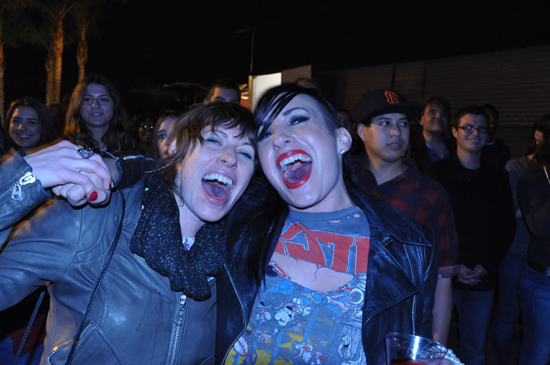 Things went from the sublime to the surreal as Fairey closed the party out by playing a set of new wave classics. As he blasted "Rebel Yell" he pointed to BIlly Idol, who was standing out front – it was that kinda night (and yeah, with the midnight hour approaching there wasn't a soul in the crowd who didn't cry for "more").
Numerous other '80s characters and LA scenesters hit REVOLUTIONS during the course of the evening, including Dave Navarro, who posted a Twitpic of "Enchanting Sounds" and announced via Twitter that he was "taking this one home!"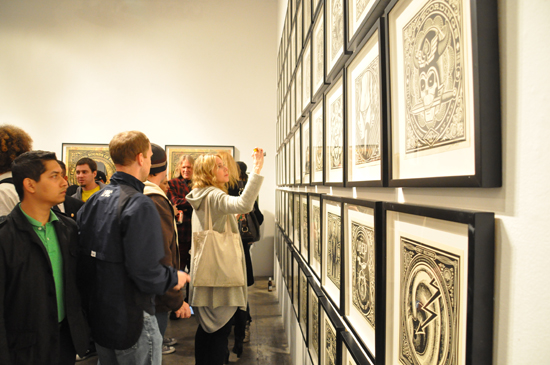 However, with posters and signed prints starting at $20 and $35 respectively at the Obey Giant store, you don't need a rock star budget to own a piece of Fairey's egalitarian work.
View the gallery below for more images from the opening reception.

Related posts:
Shepard Fairey's REVOLUTIONS Will Have Devil Horns
SG Interview: Shepard Fairey – Purveyor of Hope