When Shepard Fairey last spoke with SuicideGirls, he talked about the rebellious allure of both punk rock and street art, and in his latest gallery show, REVOLUTIONS, he directly combines the two. The exhibition, which opens this Saturday (March 12) at Robert Berman's C2 Gallery at Bergamot Station in Los Angeles, will feature 80 pieces based on the 12 inch record cover form.
REVOLUTIONS, which Fairey calls "a celebration of all the great music and accompanying art that has inspired me over the years," reflects the LA graffiti artist's love of punk, and of the hip-hop scene he is associated with. However, there's also a somewhat unexpected influence, as seen in a series of pieces which pay homage to the rich visual vocabulary of heavy metal.
We checked in with Fairey to find out more.
SuicideGirls: People mostly associate you with hip-hop culture, but I understand this exhibit will also reflect your love of '70s metal. How will the genre be represented in the exhibition and opening event?
Shepard Fairey: One of my album cover print sets is called "Party At The Moontower" inspired by the great music from the film Dazed & Confused. There are references to metal bands like Black Sabbath, Motorhead, AC/DC, Spinal Tap, Van Halen, etc., in the record cover images I have made. There are additional rock references in the covers like T-Rex, Hendrix, Iggy and the Stooges, The MC5, and Joan Jett. As an audio supplement to the show I have Matalachi, a heavy metal mariachi band performing metal classics at the opening.
SG: What is it about the metal aesthetic that appeals to you?
SF: I always liked skulls and tough rocker images. There are a lot of fun clichés and genuinely cool graphics in the metal genre. I got to do the Ozzfest logo a couple times and it was a blast designing a demon with a skull, horns, sharp teeth, demon eyes, smoke, a cloak, spikes, and lightning, emerging from the hell of a cracked open earth. My record cover designs pepper these elements in a little more tastefully.
SG: What bands would appear on your ultimate metal mixtape? Any guilty hair metal pleasures among 'em?
SF: I made a mix, so you can hear for yourself. The "Party At The Moontower" mix includes AC/DC, Joan Jett, Thin Lizzy, Deep Purple, Metallica, The Sweet, Girlschool, Ozzy, Edgar Winter, Billy Squier, Ted Nugent, Judas Priest, The Melvins, and more. I was mostly into punk in my mid teens, but I always liked a few Quiet Riot, Mötley Crüe, and Twisted Sister songs. I could never get into the poofier hair metal like Poison, Whitesnake, Skid Row, etc…
SG: Do you have any cherished metal concert memories or memorabilia?
SF: Black Sabbath in 2000 was the best metal show, and maybe the best of any show I've ever seen. Sabbath is an all time favorite of mine and they sounded massive. It was at Ozzfest, and when they played the song "Black Sabbath," 50,000 metal heads put lighters in the air. It was awe-inspiring. I think my best metal memorabilia is the poster I did for Sabbath's 2005 tour signed by all four members.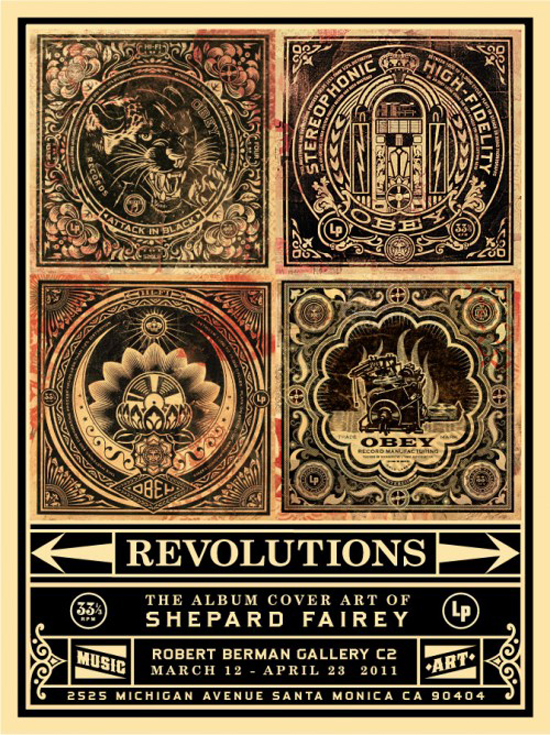 REVOLUTIONS – The Album Cover Art of Shepard Fairey
Where: Robert Berman's C2 Gallery at Bergamot Station, 2525 Michigan Ave., Santa Monica, CA 90404
Opening Celebration: Saturday, March 12, 8 – 11 PM.
(Featuring musical performances by Dan The Automator, Metalachi , and DJ sets by Shepard Fairey.)
Ongoing Exhibition: March 12 thru April 23, Tues thru Sat, 11 AM – 5 PM