by Blogbot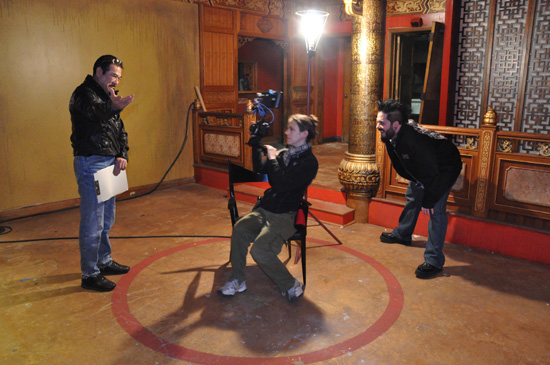 Above: Destin Pfaff (right) directs Sonny Chiba (left)
– pictured with music video DP Danna Kinsky (center)
"I like horror movies, that's all I really wanted to do," said filmmaker turned Millionaire Matchmaker Destin Pfaff when SuicideGirls first spoke to him just over a year ago. "I was so against getting sidetracked. And she sidetracked me – magically," he said of his reality TV star boss, Patti Stanger.
However, 2011 is the year Pfaff gets seriously back on track. His first full-length feature film, Sushi Girl, has just gone into production, and he was kind enough to invite SuicideGirls onto the Universal Studios set.
Co-written and produced by Pfaff, the title of the film refers to the female that serves as the centerpiece of a reunion dinner for members of a gang who we're involved in an ill-fated diamond heist. The title role is played by newcomer Cortney Palm, who will be featured shortly in a special SG/Sushi Girl photo set.
The cast also features an eclectic and surprising mix of names, which includes Mark Hamill, a.k.a. Luke Skywalker from Star Wars, Noah Hathaway, who played Atreyu in Neverending Story, and Sonny Chiba, whose breakout role was that of Takuma Tsurugi in the martial arts classic, The Street Fighter.
Chiba is the stuff of legend, perhaps being one of the greatest living exponents of the fighting arts. A personal hero of Quentin Tarantino's, The Street Fighter found his next generation audience as Hattori Hanzo in Kill Bill Vol 1. Unlike Bruce Lee, who shrouded his work in mysticism, Chiba has never been shy about showing extreme aggression.
In Sushi Girl, Chiba plays a sushi chef with an agenda that goes way beyond slicing seafood and moulding rice. Though holding back on the specifics of the twist in Chiba's fishy tale, the filmmakers promise us the method in which he dispenses with his enemies will have more kick than a wasabi rush.
The day of our set visit, Friday March 11, also coincided with the tragic Tōhoku earthquake that devastated Japan. It was therefore with very mixed feelings that Chiba, who lives just south of Tokyo in Japan's second largest city Yokohama, walked on set.
We met up with Chiba in his trailer for a brief chat, which was conducted with the help of a translator:
SuicideGirls: Today must be a very tough day for you.
Sonny Chiba: I'm very worried. A lot of friends, you know, and I can't get in touch with everybody. [I made] like fifty phone calls last night trying to get in touch with friends. They can't call back, or it won't go through, the line is busy or it doesn't even ring.
SG: Well, I'm just hoping that your friends and family are okay.
SC: It's okay. I'm professional.
SG: So how did you get involved in this project?
SC: I'm good friends with the filmmakers and the writers. If my friends are making films, I have to be in them.
SG: That's a very good policy to have. It makes for a happy life, working with friends.
SC: Of course. Next time when I make a film, I want everyone to be on the same level, as friends, and have fun making it.
SG: The character you play in this film, I understand you're a bit of a demented sushi chef.
SC: I'm used to this kind of thing.
SG: So it wasn't a stretch for you?
SC: Very easy. [laughs] You know, you're raised as a sushi boy. My momma said, "Today sushi, tomorrow sushi…sushi, sushi, sushi." So much sushi. There are many kinds of sushi. Everybody who makes sushi is going to make the sushi taste different.
SG: Do you make sushi?
SC: Of course…The most difficult part is to prepare the sushi rice itself, because it needs to have the right level of vinegar and water.
SG: Right, it has to stick together without being too glutinous. Sushi is also about very sharp knives?
SC: Yeah. Very, very dangerous.
SG: Even for you?
SC: If you're not used to it, then you can't use them.
SG: So are we going to see some stunts in this movie involving very sharp knives?
SC: You'll have to watch the movie to find out!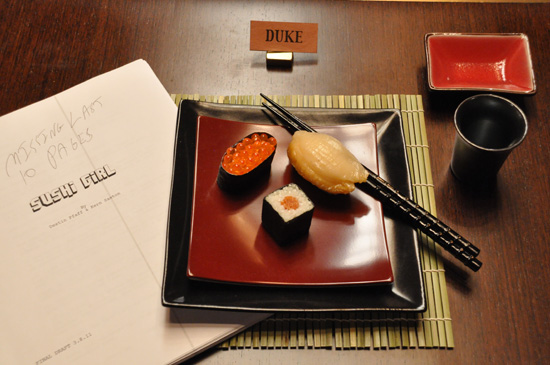 For more on Sushi Girl visit the film's website and Twitter.
If you'd like to make a donation to help the relief efforts in Japan, visit American.RedCross.org/.