by Bob Suicide
It's a mantra that's been around for as long as I can remember: "Be nice to the geek in class because, one day, they'll be rich/own the company you work for/rule the world." Harassed and ostracized by those in the more popular crowds, us geeks served as a cautionary tale; Don't let your bullying go too far because you'll pay for it later when the geeks inherit the earth.
And inherit the earth we have. But not quite in the glorious way we imagined.
Geek-tastic movies filled with superheroes and heroines have topped the box office, our conventions are over-flowing with fans, and everyone on the street collects and wears the geek-chic swag. We've ignited a mainstream love for comics and sci-fi, and helped line the coffers of the major comic book houses and movie studios along the way. But we've also done something a little more important; we've inspired a new generation of scientists, mathematicians, astronomers, and archaeologists.
And while Hollywood is able to market "geek" to the masses, the scientific community is also learning how to market both natural and social sciences to a public that is generally very wary of the S-word ("science" is literally a word meaning "knowledge" –– but somehow that's threatening).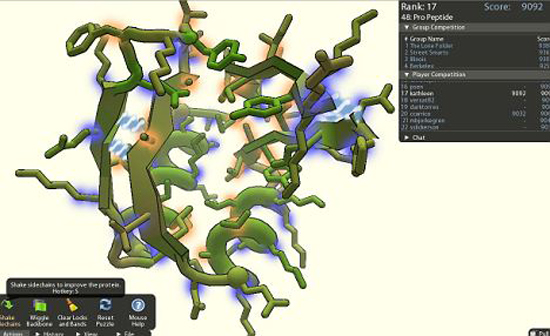 Most recently, a group of gamers are being heralded as saviors by the scientific community thanks to a protein folding game posted on Fold.it. The Foldit puzzle was created to add a third dimension that a microscope slide couldn't provide. Targeting a monomeric protease enzyme, a cutting agent in the complex molecular tailoring of retroviruses (including HIV), Foldit allowed gamers to use their honed-by-Tetris spacial skills to create a 3D image of the protein molecule. As a result, scientists can better understand the molecule's structure, how it causes many diseases (including HIV), and how to create drugs to properly inhibit these proteins.
While much of the press is spinning it as though "mere gamers" were able to solve a complex puzzle (in just 10 days!) which had previously stymied scientists for year, I like to think of it a different way. This "citizen scientist" movement is a brilliant symbiotic relationship that should be nurtured. In the case of this specific Foldit puzzle, scientists needed spatial reasoning from a human that a computer alone couldn't provide. Meanwhile gamers love exciting challenges that provide more of a sense of accomplishment than a spot on a leader board. Indeed the players of Foldit appear to share my sentiment. The final piece of the protein puzzle was solved by someone with the user name "mimi" who wrote an email to MSNBC in support of the game,
"The game is not only an interesting intellectual challenge," notes mimi, "but it also provides a unique society of players driven by both individual and team rivalry with an overall purpose of improving the game and the results achieved."
This is people coming together to advance science and, in turn, to advance humanity. It isn't just a one-off project either. There's a deep and exciting "citizen science" movement making the rounds and there are other scientific puzzles that need our particular brand of geeky help. Here's just a couple of examples: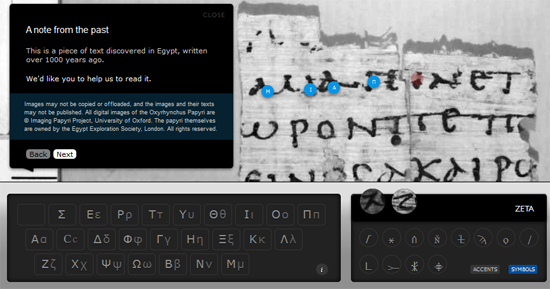 This puzzle game works to decipher the Oxyrhynchus Papyri discovered in 1896. Due to the nature of papyrus and the age of the documents, mostly fragments have been found. Piecing the fragments back together then deciphering their contents would be a monumental task for even the most skilled team of researchers –– that's where the game comes in. Linguistically inclined geeks can identify Greek symbols using a keyboard.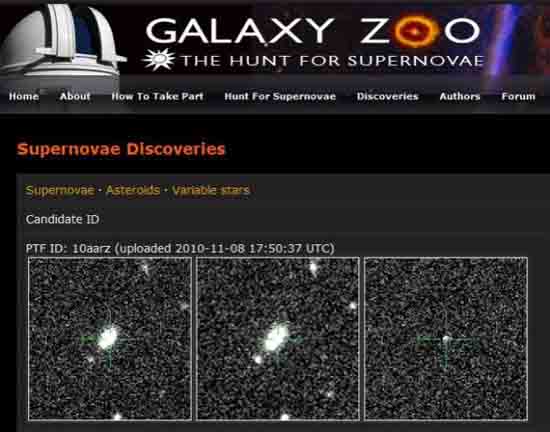 If first-person shooters are more your style, you can play Galaxy Zoo and hunt for Supernovae. When presented with three images — new, reference, and the subtraction –the gamer determines whether they've found a white-hot supernova in their cross hairs.
***
While public interest in our geek culture might wane, this surge in popularity is providing lasting contributions to the scientific community. So let's get over our hang-ups, and try to encourage it wherever we see it, even if it appears kind of "off" or "fad-ish." Interest is interest. And maybe the next time you see someone taking a child's DS away in favor of more so-called "worthy" pursuits, let 'em know their child's interest in gaming might be the key to curing cancer or unlocking the connection between quantum mechanics and general relativity. Essentially we need to spread the word that it's OK to let little tikes "game on."
***
Related Posts
Confessions Of A Hardcore Gamer: The Rise of My Nightmares –– That I'll Be Petting Kinect Puppies Long After Sega's Zombie Horde Goes To Ground
Women Prefer Gaming To Sex – But There's a Frigging Difference Between Fragging and Farmville
Damn You Zuckerberg!
You Might Be A Nerd If…
Confessions of a Shy Gamer
Red or Blue, Wonder Woman's Boots Were Made For Walking
The Geek's Guide to Getting Down Vol. 1 (A Brief Introduction)
The Geek's Guide to Getting Down Vol. 2: Fragging and Other Group Activities
The Geek's Guide to Getting Down Vol. 3: Co-Op Mode
The Geek's Guide to Getting Down Vol. 4: The Blue Pill Or The Red Pill
The Geek's Guide to Getting Down Vol. 5: Experiencing Pon Farr? Bring deodorant