by Blogbot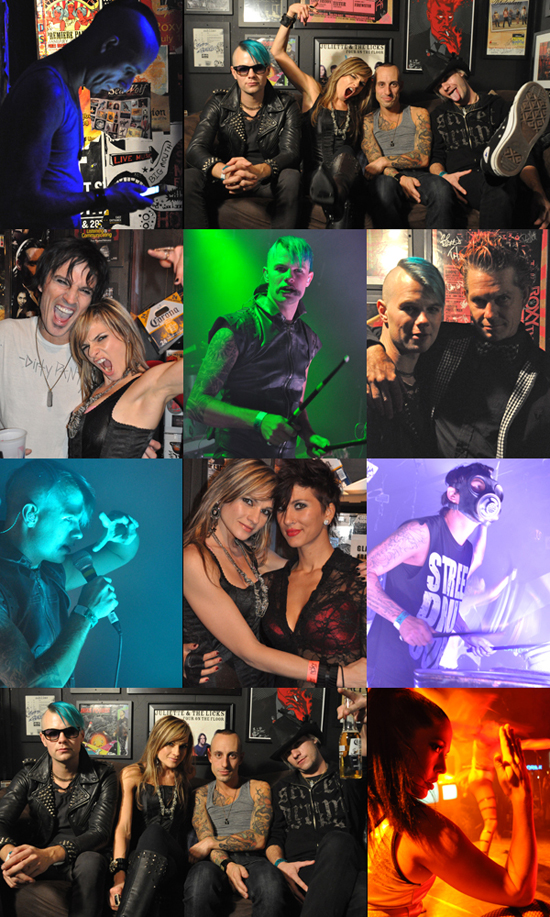 Bobby Alt, Adam Alt and Frank Zummo of Street Drum Corps can bang the shit out of anything and make it sound good – really fucking good. As if to prove this point, during the opening night of their month-long weekly residency at The Roxy this past Tuesday, they stuck a pair of beat up household pans in an audience member's hands and proceeded to make them sing with their sticks.
While most bands use rhythm merely as the backbone to their music, with SDC the beats are the music. Their complex polyrhythmic sound – which they create using drums, household items, steel barrels, power tools, and just about anything else worth shaking a stick at – provides the score to a highly visual show that is part performance art and part Stomp-style theater, but with a punk rock attitude and a Mad Max aesthetic.
Celebrating the release of their Big Noise CD, the boys will hit the Sunset Strip venue on Tuesday nights thru December 7th. The shows will feature a revolving lineup of special guest drummers. Tommy Lee (Methods of Mayhem / Mötley Crüe), Chris Hesse (Hoobastank), John Sawicki ("Stomp") and Adrian Young (No Doubt) joined SDC on stage this week. Future shows will likely feauture Jack Irons (Pearl Jam, Red Hot Chili Peppers) and Ilan Rubin (Nine Inch Nails, Lost Prophets), among others. Tickets are available via Ticketmaster.
SDC's Bobby and Adam Alt will be in-studio this Sunday (November 21) on SuicideGirls Radio. Listen live from 10 PM til Midnight on Indie1031.com.
For more pictures from Tuesday's Street Drum Corps show visit SG Radio's Facebook page and our friends over at ChinaShopMag. And look out for an upcoming SG Radio/ChinaShopMag video interview with SDC which will be posted on the SG Blog soon!