by Blogbot
This seems to be the season for seemingly stupid interweb cause-based campaigns, with two particularly vapid ones coming to mind.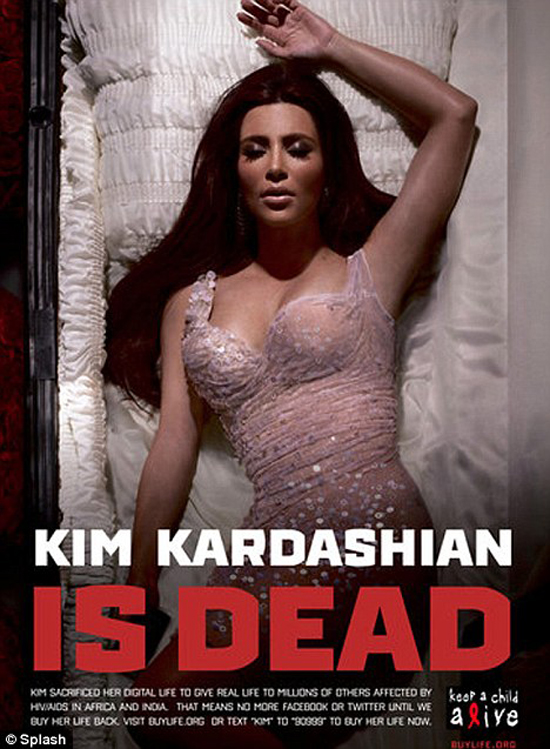 The first is the Digital Life Sacrifice, which was organized by Alicia Keys' Keep A Child Alive charity for World AIDS Day. Celebrities such as Kim Kardashian, Ryan Seacrest, and Usher signed off from their blogs and Twitter accounts, and promised never to return unless a $1 million fundraising goal/ransom was paid.
Feeling that the world might be better off without inane online musings such as "I hate my nail polish color right now" and "I'm gonna start QuickTrim today" (both actual Kardashian tweets), I was confused as to why this empty threat/fortuitous promise would persuade anyone to part with their cash.
Personally, I'd happily not pay @KimKardashian $1 million to ensure she never tweets again. The win-win scenario being perhaps that folks should have donated to an alternate AIDS charity, so the world could be free of both AIDS and messages like: "Rise and grind! Gym time!"
That said, at least a few people with more charitable thoughts on celebrity twit-errings paid up, and the celebs in question returned to their PDAs yesterday – to the huge relief of Perez Hitlon.
The roots of the second campaign are less clear, but regardless many Facebook denizens were persuaded to change their profile picture to that of a cartoon character with the vague notion that it would somehow stop children from being abused. Toke of The Town vaporized the thoughts of many down to their essence when the stoner site tweeted:
"Hey internet: if you know a child is being abused, please call 1-800-4-A-CHILD instead of changing your avatar to a cartoon. Just a thought."
However the power of social media is not to be underestimated, even when it's harnessed in an apparently random way. Like a self-fulfilling prophecy, children's charities around the globe subsequently reported a boost in traffic and donations, which they attributed to the Facebook avatar trend.
"The entire thing has been very strange to us," said Walt Stutz, the Director of Marketing for ChildHelp, a large, national nonprofit dedicated to the prevention and treatment of child abuse and neglect. "We believe the campaign started overseas and it snowballed through social media. We may not know where all of this came from, but charities like us are very grateful to whoever started it….

"The response has been phenomenal," Stutz told TechNewsDaily. "Our Website usually gets about 2,500 unique visitors a day, but we got 10,000 on Saturday and another 10,000 on Sunday. It usually takes us at least two weeks to reach those numbers. It's been a wonderful surprise."
Though no charity has taken credit or claimed a direct affiliation with Facebook's "Change Your Profile Picture to a Cartoon Character Campaign," which persuaded over 95,000 people to hit "like," the power of mass belief in it did seem to pay off.
So with that as a given, I'm starting a viral video campaign asking folks to protest the TSA's recent abuses of our 4th Amendment Rights by posting clips of self-performed freedom pats. Clothing is optional and subject to your social network's terms & conditions. Let the power of social media rule, and the internet insanity continue…