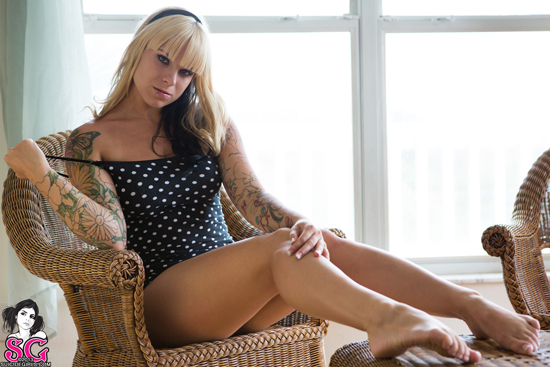 [Toxic Suicide in Wicker Wonderland]
This week's SuicideGirl Gamer of the Week is Toxic. Toxic loves nerds. Probably because she is one. She's into Transformers and role-playing games, especially Final Fantasy. I spoke to her about some of her favorites and whether or not she would support a FFVII remake.
Toxic seems like an odd nickname for such a pretty girl. What made you choose it?
Honestly, Toxic wasn't my original choice. I had a different name picked out that was totally girlie but it didn't roll off the tongue like "Toxic Suicide" does. Toxic suits me though in more ways than one. Get to know me and you will see why!
Judging from the fact you have "Decepticon" tattooed across your ribs, I take it you are a fan of Transformers?
Don't let my hot girl disguise fool you. I am just lying low until our leader Megatron collects enough energon cubes here on Earth. With the energy we acquire we can finally reconquer Cybertron and take down the autobots.
When did you get that tattoo anyway?
Wade Davidson at Raven Ink Tattoo tattooed "Decepticon" on my ribs the summer of 2011. I debated getting this tattoo for a long time. Originally I did not want a lot of tattoos…Wow has that changed! Being a Transformers fan since childhood, I can't imagine not having a tribute to Saturday mornings of watching G1. I cannot believe I didn't get it sooner. My tattoo always gets me attention from my favorite people to converse with NERDS! Fellow nerds like me! GOODNESS DO I LOVE NERDS!
Tell me about your other tattoos.
Where to start? We can start with my first tattoo. I have "Your Name" tattooed in a heart on my right butt check. Originally I wanted something small that could be easily covered. My heart was done by an artist named Steve O in Susanville, CA.
I have two full sleeves. Both of my sleeves are being done by Jason Iffert at Raven Ink Tattoo in Portland, OR. My right arm is a floral sleeve. It features many of my favorite flowers including a tiger lily and a sunflower. I also have a pinup witch of my mother on my right arm. The pin up is a contribution by Wade Davidson. My left arm is a sleeve of Dr. Seuss characters. All the characters from all my favorite books. There are two small pieces on my left wrist not part of the Seuss theme. I have a matching friendship tattoo on my inner left wrist with my BFF Britney. I also have a "Hedwig and the Angry Inch" piece done by artist John MacDonell.
On the back of my neck I have an owl I named "Dexter" by artist Tomma Mueller. I love Dexter– he has the body of a strawberry! Below that is my full back piece being done by Sharkbait Struckman at Mr. Tattoo in Milwaukie, OR. My full back piece is of the tree of knowledge with owls. This piece is my newest and I love how it is turning out so far. He is such an awesome artist!
Favorite transformer?
My favorite transformer is a hard subject because it's so close between two: #1 is, and always will be, Megatron. Megatron is a ruthless leader who shows no mercy. #2 is Soundwave, not only because he talks in a cool robotic voice, but he has a cassette deck in his chest that popped out more Decepticons (Like Ravage and Laserbeak). Sooooo rad!
What are some of your favorite video games?
I am a sucker for the classics, especially RPGs, they are by far my favorite to play. My favorite game of all time has to be Final Fantasy VII on PS1, though. The storyline, characters, and summons, I can spend all day running around getting into battles to work up my materia and limit breaks. A close second favorite has to be Legend of Zelda: A Link to the Past for Super NES. Best Zelda game ever hands down! I used to spend hours playing this game with my dad as a kid. When I finally beat it by myself it was a moment to remember… I mean I had the Triforce in my little Link hands!
Other games I really enjoy playing Final Fantasy VIII (PS1), Donkey Kong Country 1-3 (Super NES), Kingdom Hearts (PS2), Street Fighter II (Super NES), Mortal Kombat (I play it in the arcade), Eternal Champions (Sega), Tomb Raider (PS1), Legend of Legia (PS1), Sonic the Hedgehog (Sega), Tetris (NES), Duckhunt (NES), and of course Super Mario Bros. (NES). I like pretty much every Mario but especially love the original 1-3.
Preferred system?
I really love my Wii because I can download classic games and play them on my console. I have so many amazing games downloaded into it. Thank God because my NES is to the point where you blow hard and they still aren't playing!
What about least favorite game? Ever played one that just absolutely sucked?
There is one game that I like but I am terrible at it – Altered Beast which I played on Sega Genesis. I was really good at it when I was a little kid but now I can't even make it past level two. I strive for improvement though. Besides that I am not a big fan of shooting games. I've tried them and they aren't really my thing.
If you could compare yourself to one video game character, who would it be and why?
I am totally Yuffie Kisaragi from FFVII. When my brother and I used to play we always gave her character my name. For one, Yuffie is a babe with a big personality just like me. She is a very sassy, feisty, and headstrong. I like to compare myself to her good traits because I am definitely not a Materia thief. The best part about Yuffie is she is a ninja just like me!
Did you get a Gold Chocobo and all that?
Yes, I obtained the Gold Chocobo. So much racing, breeding, and gil spent. It's a long and grueling task but is necessary! Trust me you want the "Knights of the round" Summon especially in the "weapons" and final battles. The way you get it is with the Gold Chocobo. I just started a new FFVII game a while ago and am at the Chocobo side quest yet again. Got to have a game night soon so I can tackle it.
Which was harder in your opinion, Ruby or Emerald Weapon?
They are both pretty tough battles but if your equipped well and have the "Knights of the Round" Materia it makes it a lot easier. I would have to say though Ruby is harder than Emerald weapon, though.
Do you think Sony should remake FFVII in high definition for PS3 or leave the game alone?
I am usually one to say don't mess with the classics but I wouldn't mind playing a revamped version of FFVII. It would look so pretty on my LED TV. Only condition though is no major changes to the game/storyline and it keeps its integrity.
For more on Toxic find her on Facebook, Twitter, Tumblr, and SuicideGirls.

Related Posts
SuicideGirl Gamer Of The Week: GoGo Suicide
SuicideGirl Gamer Of The Week: Annasthesia Suicide
SuicideGirl Gamer Of The Week: Asio Suicide
SuicideGirl Gamer of The Week: Brewin Suicide
SuicideGirl Gamer of The Week: Squeak Suicide
SuicideGirl Gamer of The Week: Bounty Suicide
SuicideGirl Gamer of the Week: Bixton Suicide
SuicideGirl Gamer of the Week: Renesme Suicide
SuicideGirl Gamer of the Week: Elea Suicide
SuicideGirl Gamer of the Week: Arroia Suicide
SuicideGirl Gamer of the Week: Frolic Suicide
SuicideGirl Gamer of the Week: Milloux Suicide
SuicideGirl Gamer of the Week: Fraise Suicide