by Blogbot
A column which highlights Suicide Girls and their fave groups.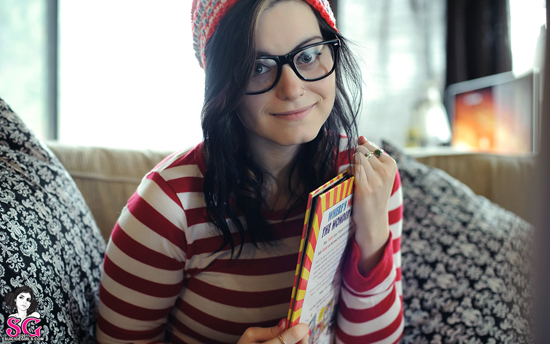 [Ceres Suicide in The Search For Waldo]
This week, Ceres Suicide explains why she likes Girls Only.
Members: 1633 / Comments: 272,096


WHY DO YOU LOVE IT?: It's a place I feel I can really open up and share with all the beautiful ladies of SG.


DISCUSSION TIP: Be supportive, help your sisters, and what happens in the Girls Only group, STAYS in the Girls Only group.


BEST RANDOM QUOTE: "USING THE SEARCH FUNCTION SAVES LIVES."


MOST HEATED DISCUSSION THREAD: "The Bigger, Better CREEPY MEMBER Thread."


WHO'S WELCOME TO JOIN?: Girls, women, ladies, gals!


***
Related Posts:
SuicideGirls' Group Therapy – Frolic on Celeb Worship
SuicideGirls' Group Therapy – Cheri on Skateboarders
SuicideGirls' Group Therapy – Noir on SG Military
SuicideGirls' Group Therapy – Exning on Weight Loss
SuicideGirls' Group Therapy – Aadie on Cute Overload
SuicideGirls' Group Therapy – Eevie, Luffy, and Praesepe on SG420
SuicideGirls' Group Therapy – All on Urban Art
SuicideGirls' Group Therapy – Clio on Hardcore Music
SuicideGirls' Group Therapy – Epiic on Hirsute
SuicideGirls' Group Therapy – Tarion on Atheists
SuicideGirls' Group Therapy – Rambo on Photography
SuicideGirls' Group Therapy – Thistle on Vamos Gigantes