A column which highlights Suicide Girls and their fave groups.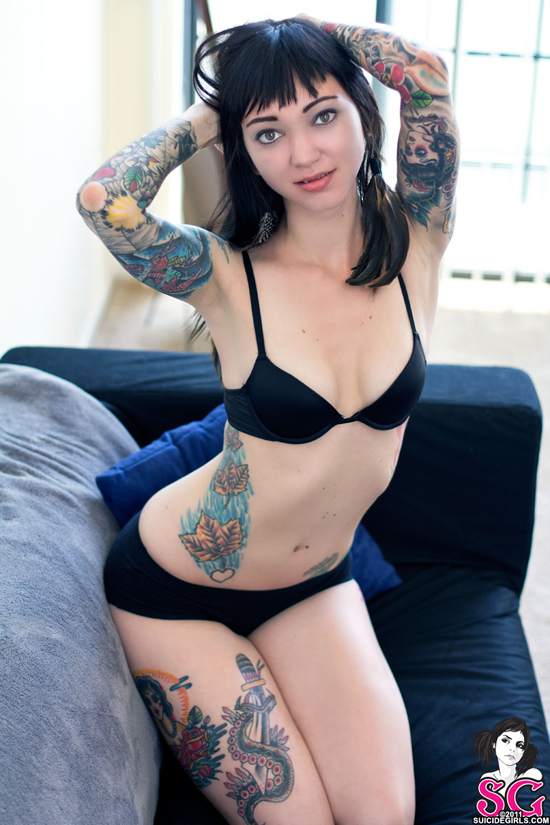 [Rachelle Suicide in In Daydreams]
This week, Rachelle Suicide sizes up SG's All Boobs Great And Small Group.
Members: 4,988 / Comments: 10,300


WHY DO YOU LOVE IT?: Breasts are like snowflakes, each one different, unique, and beautiful in it's own way. This group has everything: web cam boobs, Suicide Girls' boobs, great cleavage, tattooed tits, side boob, under boob (my personal favorite view), small, medium and large breasts. Who wouldn't love it?


DISCUSSION TIP: Everyone has their own personal preferences on boob size and shape, be respectful. This is a positive, fun group –– negativity isn't tolerated.


BEST RANDOM QUOTE: I don't know why but I love seeing a girl scratch an itchy boob, or adjust their bra strap. Call me a perv if you must, I just think it's cute, sometimes they make really cute faces when doing so. Anyone else in this boat?"
MOST HEATED DISCUSSION THREAD: The "Boobs That Made You Join!!!" thread contains some of the hottest Suicide Girls AND their boobs! Very hot.


WHO'S WELCOME TO JOIN?: All Boobs Great and Small is for boob enthusiasts who appreciate all shapes and sizes.


***
Related Posts:
SuicideGirls Group Therapy: Fan Art
SuicideGirls Group Therapy: Jensen on Online Dating
SuicideGirls Group Therapy: Gallows on Pen Pals
SuicideGirls Group Therapy – Satya on Hip-Hop
SuicideGirls' Group Therapy – Tovi on Veggie


SuicideGirls' Group Therapy – Aadie on Suicide Boys
SuicideGirls' Group Therapy – Haydin on Ballet
SuicideGirls' Group Therapy – Psyche on Slut Pride
SuicideGirls' Group Therapy – Thistle on Yuppie Scum
SuicideGirls' Group Therapy – Eden on Tattoo
SuicideGirls' Group Therapy – Damsel on Dreadlocks


SuicideGirls' Group Therapy – Chrysis on Itty Bitty Titty Committee


SuicideGirls' Group Therapy – Otoki on Feminists
SuicideGirls' Group Therapy – Zephyr on Doctor Who
SuicideGirls' Group Therapy – Ryker on Harry Potter
SuicideGirls' Group Therapy – Bradley on The Kitchen
SuicideGirls' Group Therapy – Apple on All Your Base Are Belong To Us
SuicideGirls' Group Therapy – Setsuka on Ass Appreciation
SuicideGirls' Group Therapy – Noir on The Kitchen
SuicideGirls' Group Therapy – Exning on Body Mods
SuicideGirls' Group Therapy – Ceres on Girls Only
SuicideGirls' Group Therapy – Frolic on Celeb Worship
SuicideGirls' Group Therapy – Cheri on Skateboarders
SuicideGirls' Group Therapy – Noir on SG Military
SuicideGirls' Group Therapy – Exning on Weight Loss
SuicideGirls' Group Therapy – Aadie on Cute Overload
SuicideGirls' Group Therapy – Eevie, Luffy, and Praesepe on SG420
SuicideGirls' Group Therapy – All on Urban Art
SuicideGirls' Group Therapy – Clio on Hardcore Music
SuicideGirls' Group Therapy – Epiic on Hirsute
SuicideGirls' Group Therapy – Tarion on Atheists
SuicideGirls' Group Therapy – Rambo on Photography
SuicideGirls' Group Therapy – Thistle on Vamos Gigantes