by Nahp
A column which highlights Suicide Girls and their fave groups.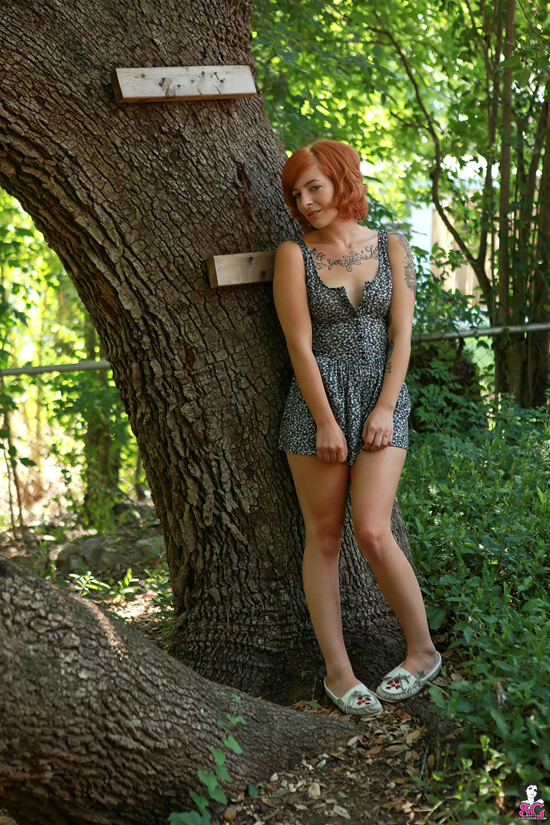 [Apollo Suicide in Arboretum]
This week Apollo tells us why she love Musicians.
Members: 3,119 / Comments: 6,722
WHY DO YOU LOVE IT?: I love it because I am completely obsessed with making music. Playing music, for me, is about 1,000 times more revealing than modeling naked. It takes a special person to put themselves out there and reveal their inner most thoughts with their music and I really appreciate that. I can't help but go weak in the knees for an amazing musician.
DISCUSSION TIP: Don't spam, and don't be an ass. Constructive criticism is great. Tell someone if you enjoy what you hear! If not, keep it to yourself or at least say something constructive!
MOST HEATED DISCUSSION THREAD: I can't say that there really is one! This is a great group! I believe musicians are just passionate people in general.
BEST RANDOM QUOTE: "You suck"
WHO'S WELCOME TO JOIN?: EVERYBODY! Come join! I mean, come on, who doesn't like musicians?!
***
Related Posts:
SuicideGirls' Group Therapy – Spliff On Ass Appreciation
SuicideGirls' Group Therapy – Danette On Vegans
SuicideGirls' Group Therapy – Mindi Gets Crafty
SuicideGirls' Group Therapy – Delia On The Rose Garden
SuicideGirls Group Therapy – Ryker On The Kitchen
SuicideGirls' Group Therapy – Yesenia On Cute Overload
SuicideGirls' Group Therapy – Noel On Strip Clubs
SuicideGirls' Group Therapy – Lacey On People with Disabilities
SuicideGirls' Group Therapy: Caia On The SuicideGirls Lounge
SuicideGirls' Group Therapy – Pia On Ass Appreciation
SuicideGirls' Group Therapy – Bitten On Geezers
SuicideGirls' Group Therapy – Autrum On Retail
SuicideGirls Group Therapy – Kurosune On Hentai
SuicideGirls' Group Therapy – Tore On Hair Stuff
SuicideGirls' Group Therapy – Aisline on Photography
SuicideGirls' Group Therapy – Payton on Kitties
SuicideGirls' Group Therapy – Leandra on Horror
SuicideGirls' Group Therapy – Kewpie on Gay Girls Only
SuicideGirls' Group Therapy – Lumo On Martial Arts
SuicideGirls' Group Therapy – Vesta On Health And Fitness
SuicideGirls' Group Therapy – Bob On Space And Time
SuicideGirls' Group Therapy – Lunar On Kitties
SuicideGirls' Group Therapy – Lee On Metal Heads United
SuicideGirls' Group Therapy – Rourke on Girl Gamers
SuicideGirls' Group Therapy – Ackley on Some Like It Raw
SuicideGirls' Group Therapy – Spliff_ on SG420
SuicideGirls' Group Therapy – Jeckyl on SG Lounge
SuicideGirls' Group Therapy – Glitch on Robot Love
SuicideGirls' Group Therapy – Katherine on Aerial Dance
SuicideGirls' Group Therapy – Tarion on Zombie Hunters
SuicideGirls' Group Therapy – Rachelle on All Boobs Great And Small
SuicideGirls' Group Therapy – Oogie on Fan Art
SuicideGirls' Group Therapy – Jensen on Online Dating
SuicideGirls' Group Therapy – Gallows on Pen Pals
SuicideGirls' Group Therapy – Satya on Hip-Hop
SuicideGirls' Group Therapy – Tovi on Veggie
SuicideGirls' Group Therapy – Aadie on Suicide Boys
SuicideGirls' Group Therapy – Haydin on Ballet
SuicideGirls' Group Therapy – Psyche on Slut Pride
SuicideGirls' Group Therapy – Thistle on Yuppie Scum
SuicideGirls' Group Therapy – Eden on Tattoo
SuicideGirls' Group Therapy – Damsel on Dreadlocks
SuicideGirls' Group Therapy – Chrysis on Itty Bitty Titty Committee
SuicideGirls' Group Therapy – Otoki on Feminists
SuicideGirls' Group Therapy – Zephyr on Doctor Who
SuicideGirls' Group Therapy – Ryker on Harry Potter
SuicideGirls' Group Therapy – Bradley on The Kitchen
SuicideGirls' Group Therapy – Apple on All Your Base Are Belong To Us
SuicideGirls' Group Therapy – Setsuka on Ass Appreciation
SuicideGirls' Group Therapy – Noir on The Kitchen
SuicideGirls' Group Therapy – Exning on Body Mods
SuicideGirls' Group Therapy – Ceres on Girls Only
SuicideGirls' Group Therapy – Frolic on Celeb Worship
SuicideGirls' Group Therapy – Cheri on Skateboarders
SuicideGirls' Group Therapy – Noir on SG Military
SuicideGirls' Group Therapy – Exning on Weight Loss
SuicideGirls' Group Therapy – Aadie on Cute Overload
SuicideGirls' Group Therapy – Eevie, Luffy, and Praesepe on SG420
SuicideGirls' Group Therapy – All on Urban Art
SuicideGirls' Group Therapy – Clio on Hardcore Music
SuicideGirls' Group Therapy – Epiic on Hirsute
SuicideGirls' Group Therapy – Tarion on Atheists
SuicideGirls' Group Therapy – Rambo on Photography
SuicideGirls' Group Therapy – Thistle on Vamos Gigantes