by Nahp Suicide
A column which highlights Suicide Girls and their fave groups.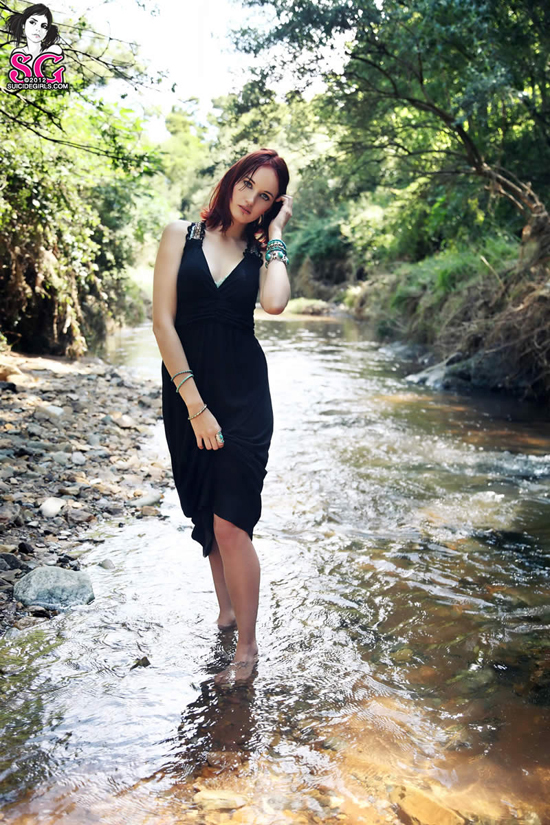 [Autrum in River Styx]
After a hard day's work behind the counter, Autrum tells us how she finds humor and therapy in SG's Retail Group.
Members: 865 / Comments: 4,666
WHY DO YOU LOVE IT?: I love it because it is so therapeutic to know I am not the only one having to deal with asshole customers, managers, and co-workers on a daily basis. It's great to be able to vent somewhere about the tremendous amount of crap you get from working in retail and find the humor in some situations.
DISCUSSION TIP: Don't be afraid to share your mind and vent or poke fun of whatever happened to you at work that day. Someone will most likely show you up with a worse or funnier story.
MOST HEATED DISCUSSION THREAD: The thread that is the most heated is the Pet Peeves thread. Whenever I am feeling down, it hasn't failed to make me smile or shake my fist in the air.
BEST RANDOM QUOTE: "The customer who seems to think the shop should open early/re-open after closing time just for them, to the extent they'll start hammering on the door/ringing the doorbell to get your attention simply in order to ask, 'Are you open?' Yes, the 'Closed' sign, no lights on, locked door and absence of people in the shop all actually mean that we're open, you colossal tallywhacker."
WHO'S WELCOME TO JOIN?: Anyone who is or has worked in retail and wants to reminisce about the good, the bad, and the colossal tallywhackers!
***
Related Posts:
SuicideGirls Group Therapy – Kurosune On Hentai
SuicideGirls' Group Therapy – Tore On Hair Stuff
SuicideGirls' Group Therapy – Aisline on Photography
SuicideGirls' Group Therapy – Payton on Kitties
SuicideGirls' Group Therapy – Leandra on Horror
SuicideGirls' Group Therapy – Kewpie on Gay Girls Only
SuicideGirls' Group Therapy – Lumo On Martial Arts
SuicideGirls' Group Therapy – Vesta On Health And Fitness
SuicideGirls' Group Therapy – Bob On Space And Time
SuicideGirls' Group Therapy – Lunar On Kitties
SuicideGirls' Group Therapy – Lee On Metal Heads United
SuicideGirls' Group Therapy – Rourke on Girl Gamers
SuicideGirls' Group Therapy – Ackley on Some Like It Raw
SuicideGirls' Group Therapy – Spliff_ on SG420
SuicideGirls' Group Therapy – Jeckyl on SG Lounge
SuicideGirls' Group Therapy – Glitch on Robot Love
SuicideGirls' Group Therapy – Katherine on Aerial Dance
SuicideGirls' Group Therapy – Tarion on Zombie Hunters
SuicideGirls' Group Therapy – Rachelle on All Boobs Great And Small
SuicideGirls' Group Therapy – Oogie on Fan Art
SuicideGirls' Group Therapy – Jensen on Online Dating
SuicideGirls' Group Therapy – Gallows on Pen Pals
SuicideGirls' Group Therapy – Satya on Hip-Hop
SuicideGirls' Group Therapy – Tovi on Veggie
SuicideGirls' Group Therapy – Aadie on Suicide Boys
SuicideGirls' Group Therapy – Haydin on Ballet
SuicideGirls' Group Therapy – Psyche on Slut Pride
SuicideGirls' Group Therapy – Thistle on Yuppie Scum
SuicideGirls' Group Therapy – Eden on Tattoo
SuicideGirls' Group Therapy – Damsel on Dreadlocks
SuicideGirls' Group Therapy – Chrysis on Itty Bitty Titty Committee
SuicideGirls' Group Therapy – Otoki on Feminists
SuicideGirls' Group Therapy – Zephyr on Doctor Who
SuicideGirls' Group Therapy – Ryker on Harry Potter
SuicideGirls' Group Therapy – Bradley on The Kitchen
SuicideGirls' Group Therapy – Apple on All Your Base Are Belong To Us
SuicideGirls' Group Therapy – Setsuka on Ass Appreciation
SuicideGirls' Group Therapy – Noir on The Kitchen
SuicideGirls' Group Therapy – Exning on Body Mods
SuicideGirls' Group Therapy – Ceres on Girls Only
SuicideGirls' Group Therapy – Frolic on Celeb Worship
SuicideGirls' Group Therapy – Cheri on Skateboarders
SuicideGirls' Group Therapy – Noir on SG Military
SuicideGirls' Group Therapy – Exning on Weight Loss
SuicideGirls' Group Therapy – Aadie on Cute Overload
SuicideGirls' Group Therapy – Eevie, Luffy, and Praesepe on SG420
SuicideGirls' Group Therapy – All on Urban Art
SuicideGirls' Group Therapy – Clio on Hardcore Music
SuicideGirls' Group Therapy – Epiic on Hirsute
SuicideGirls' Group Therapy – Tarion on Atheists
SuicideGirls' Group Therapy – Rambo on Photography
SuicideGirls' Group Therapy – Thistle on Vamos Gigantes