A column which highlights Suicide Girls and their fave groups.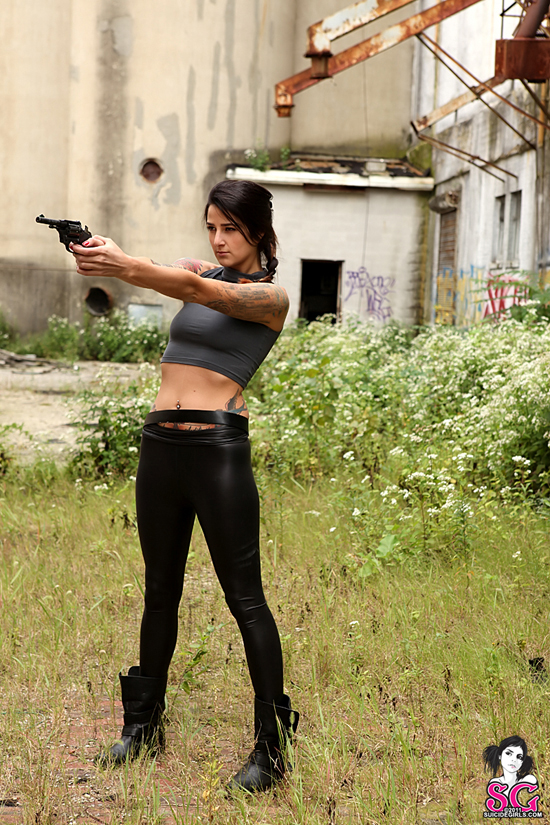 [Rourke Suicide in Croft]
This week Rourke takes a shot at explaining why she loves SG's Girl Gamers group.
Members: 838 / Comments: 3,402
WHY DO YOU LOVE IT?: A less testosterone-filled, but still sometimes competitive, take on the world of gaming. It's always great to see what others are playing, share opinions, and get stoked for new releases with other ladies. Also, breaking the stereotype of nerdy boy gamers and proving that talented and knowledgeable gamers can be fun, sexy, badass, and female!


Also, on a side note, Oogie recently started a new blog called Teek's Gitties for pictures of all us nerdy gamer gals to post sexy pics with our gaming gear! You can find the thread here.
DISCUSSION TIP: Firstly, use your spoilers! No one wants parts or the ending of a game they've been working hard on and/or enjoying ruined for them. Also, remember that everyone has their favorite type of game, so bring respect and don't be overly competitive.


BEST RANDOM QUOTE: "[Store Harassment] Have any of ya'll ladies ever experienced this? When you step into a game retailer and for some reason guys think it's okay to start holla-ing at you like they've never seen a girl before?"


MOST HEATED DISCUSSION THREAD: "Best Zelda Game Ever?" – Who can really decide?!


WHO'S WELCOME TO JOIN?: Girls (only) gamers (obviously)!

***
Related Posts:
SuicideGirls' Group Therapy – Ackley on Some Like It Raw
SuicideGirls' Group Therapy – Spliff_ on SG420
SuicideGirls' Group Therapy – Jeckyl on SG Lounge
SuicideGirls' Group Therapy – Glitch on Robot Love
SuicideGirls' Group Therapy – Katherine on Aerial Dance
SuicideGirls' Group Therapy – Tarion on Zombie Hunters
SuicideGirls' Group Therapy – Rachelle on All Boobs Great And Small
SuicideGirls' Group Therapy – Oogie on Fan Art
SuicideGirls' Group Therapy – Jensen on Online Dating
SuicideGirls' Group Therapy – Gallows on Pen Pals
SuicideGirls' Group Therapy – Satya on Hip-Hop
SuicideGirls' Group Therapy – Tovi on Veggie


SuicideGirls' Group Therapy – Aadie on Suicide Boys
SuicideGirls' Group Therapy – Haydin on Ballet
SuicideGirls' Group Therapy – Psyche on Slut Pride
SuicideGirls' Group Therapy – Thistle on Yuppie Scum
SuicideGirls' Group Therapy – Eden on Tattoo
SuicideGirls' Group Therapy – Damsel on Dreadlocks


SuicideGirls' Group Therapy – Chrysis on Itty Bitty Titty Committee


SuicideGirls' Group Therapy – Otoki on Feminists
SuicideGirls' Group Therapy – Zephyr on Doctor Who
SuicideGirls' Group Therapy – Ryker on Harry Potter
SuicideGirls' Group Therapy – Bradley on The Kitchen
SuicideGirls' Group Therapy – Apple on All Your Base Are Belong To Us
SuicideGirls' Group Therapy – Setsuka on Ass Appreciation
SuicideGirls' Group Therapy – Noir on The Kitchen
SuicideGirls' Group Therapy – Exning on Body Mods
SuicideGirls' Group Therapy – Ceres on Girls Only
SuicideGirls' Group Therapy – Frolic on Celeb Worship
SuicideGirls' Group Therapy – Cheri on Skateboarders
SuicideGirls' Group Therapy – Noir on SG Military
SuicideGirls' Group Therapy – Exning on Weight Loss
SuicideGirls' Group Therapy – Aadie on Cute Overload
SuicideGirls' Group Therapy – Eevie, Luffy, and Praesepe on SG420
SuicideGirls' Group Therapy – All on Urban Art
SuicideGirls' Group Therapy – Clio on Hardcore Music
SuicideGirls' Group Therapy – Epiic on Hirsute
SuicideGirls' Group Therapy – Tarion on Atheists
SuicideGirls' Group Therapy – Rambo on Photography
SuicideGirls' Group Therapy – Thistle on Vamos Gigantes