by Satya
A column which highlights Suicide Girls and their fave groups.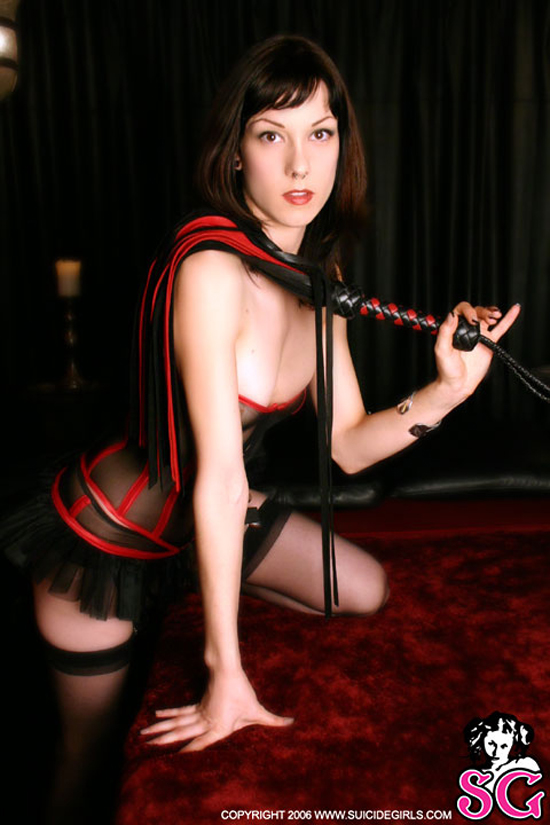 [Satya Suicide in Satya's Chambers]
This week, Satya Suicide is keeping it real with SG's Hip-Hop Group.
Members: 1,456 / Comments: 14,262


WHY DO YOU LOVE IT?: I'm a music addict. It's a good place to lurk for new material, especially the Download thread and the What are you listening to? thread.




DISCUSSION TIP: Be super into Lil Wayne and Lil B. I like reading the snarky/angry replies.




BEST RANDOM QUOTE: "Drake is softer then the Snuggie Bear. You know, the one that hugs your blankets after you do your laundry? Drake makes him look like Rambo."




MOST HEATED DISCUSSION THREAD: The N-word.


WHO'S WELCOME TO JOIN?: Anyone but lames and basics.


***
Related Posts:
SuicideGirls' Group Therapy – Tovi on Veggie


SuicideGirls' Group Therapy – Aadie on Suicide Boys
SuicideGirls' Group Therapy – Haydin on Ballet
SuicideGirls' Group Therapy – Psyche on Slut Pride
SuicideGirls' Group Therapy – Thistle on Yuppie Scum
SuicideGirls' Group Therapy – Eden on Tattoo
SuicideGirls' Group Therapy – Damsel on Dreadlocks


SuicideGirls' Group Therapy – Chrysis on Itty Bitty Titty Committee


SuicideGirls' Group Therapy – Otoki on Feminists
SuicideGirls' Group Therapy – Zephyr on Doctor Who
SuicideGirls' Group Therapy – Ryker on Harry Potter
SuicideGirls' Group Therapy – Bradley on The Kitchen
SuicideGirls' Group Therapy – Apple on All Your Base Are Belong To Us
SuicideGirls' Group Therapy – Setsuka on Ass Appreciation
SuicideGirls' Group Therapy – Noir on The Kitchen
SuicideGirls' Group Therapy – Exning on Body Mods
SuicideGirls' Group Therapy – Ceres on Girls Only
SuicideGirls' Group Therapy – Frolic on Celeb Worship
SuicideGirls' Group Therapy – Cheri on Skateboarders
SuicideGirls' Group Therapy – Noir on SG Military
SuicideGirls' Group Therapy – Exning on Weight Loss
SuicideGirls' Group Therapy – Aadie on Cute Overload
SuicideGirls' Group Therapy – Eevie, Luffy, and Praesepe on SG420
SuicideGirls' Group Therapy – All on Urban Art
SuicideGirls' Group Therapy – Clio on Hardcore Music
SuicideGirls' Group Therapy – Epiic on Hirsute
SuicideGirls' Group Therapy – Tarion on Atheists
SuicideGirls' Group Therapy – Rambo on Photography
SuicideGirls' Group Therapy – Thistle on Vamos Gigantes