by Gallows
A column which highlights Suicide Girls and their fave groups.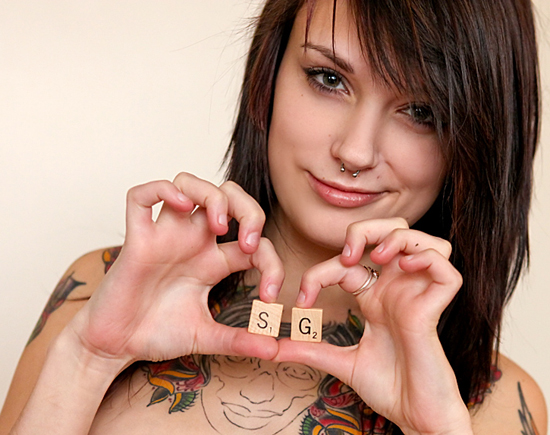 [Gallows Suicide in Scrabble]
This week, Gallows Suicide writes in about SG's Pen Pals Group.
Members: 187 / Comments: 9,603


WHY DO YOU LOVE IT?: It's amazing getting mail that isn't bills, but even better getting letters from all over the world. Then having the people you write to become really great friends. I've met so many amazing people and made such great friends because of pen pals. I've become addicted to stationary and wax seals. I have so many awesome postcards, pictures, cards and items from all over the globe. It's simply amazing! And even if I don't have the time to write back super fast, my pen pals wait patiently.




DISCUSSION TIP: Just get in there, start writing letters to addresses, and wait for replies. Most people in the group will send you welcome letters and help get you started, there's even a thread to help you out if you are nervous about writing new friends. My tip is to just jump in and enjoy it!


BEST RANDOM QUOTE: 
"I wish there were stamps with tits on them. *sigh*"


MOST HEATED DISCUSSION THREAD: We don't have a heated discussion thread. All of our heated conversations happen on paper and through the mail. Another great thing about Pen Pals is everyone is SUPER friendly!!!


WHO'S WELCOME TO JOIN?: You must be a member for at least 3 months, have a profile picture and some blog and comment posts! If you have all that then come and join!


***
Related Posts:
SuicideGirls Group Therapy – Satya on Hip-Hop
SuicideGirls' Group Therapy – Tovi on Veggie


SuicideGirls' Group Therapy – Aadie on Suicide Boys
SuicideGirls' Group Therapy – Haydin on Ballet
SuicideGirls' Group Therapy – Psyche on Slut Pride
SuicideGirls' Group Therapy – Thistle on Yuppie Scum
SuicideGirls' Group Therapy – Eden on Tattoo
SuicideGirls' Group Therapy – Damsel on Dreadlocks


SuicideGirls' Group Therapy – Chrysis on Itty Bitty Titty Committee


SuicideGirls' Group Therapy – Otoki on Feminists
SuicideGirls' Group Therapy – Zephyr on Doctor Who
SuicideGirls' Group Therapy – Ryker on Harry Potter
SuicideGirls' Group Therapy – Bradley on The Kitchen
SuicideGirls' Group Therapy – Apple on All Your Base Are Belong To Us
SuicideGirls' Group Therapy – Setsuka on Ass Appreciation
SuicideGirls' Group Therapy – Noir on The Kitchen
SuicideGirls' Group Therapy – Exning on Body Mods
SuicideGirls' Group Therapy – Ceres on Girls Only
SuicideGirls' Group Therapy – Frolic on Celeb Worship
SuicideGirls' Group Therapy – Cheri on Skateboarders
SuicideGirls' Group Therapy – Noir on SG Military
SuicideGirls' Group Therapy – Exning on Weight Loss
SuicideGirls' Group Therapy – Aadie on Cute Overload
SuicideGirls' Group Therapy – Eevie, Luffy, and Praesepe on SG420
SuicideGirls' Group Therapy – All on Urban Art
SuicideGirls' Group Therapy – Clio on Hardcore Music
SuicideGirls' Group Therapy – Epiic on Hirsute
SuicideGirls' Group Therapy – Tarion on Atheists
SuicideGirls' Group Therapy – Rambo on Photography
SuicideGirls' Group Therapy – Thistle on Vamos Gigantes