by Blogbot
A column which highlights Suicide Girls and their fave groups.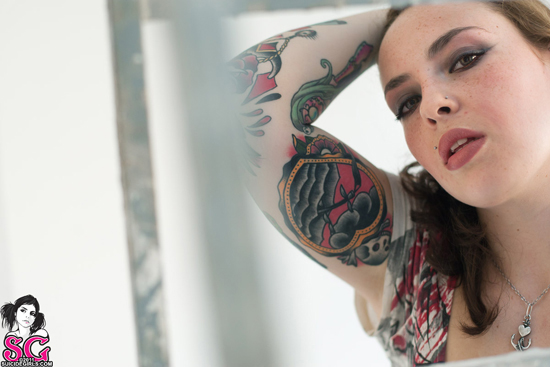 [Eden in Eat My Dust]
This week, Eden Suicide tells us why the Tattoo Group has made its mark on her.
Members: 10,764 / Comments: 118,201


WHY DO YOU LOVE IT?: I find really interesting to read the different reasons behind this life changing choice. Tattoos can tell you a lot about who wears them. And I love to see pictures of tattooed people!




DISCUSSION TIP: Learn how to use the SG search button and how to use Google Image search to find reference material.


BEST RANDOM QUOTE: "I have a camel… on my toe."






MOST HEATED DISCUSSION THREAD: "New Tattoos" – and "Tasteless Tattoos" is growing really quickly

.


WHO'S WELCOME TO JOIN?: Everyone who loves tattoos, people with tattoos, tattoo artists, or are just tattoo curious.





***
Related Posts:
SuicideGirls' Group Therapy – Damsel on Dreadlocks


SuicideGirls' Group Therapy – Chrysis on Itty Bitty Titty Committee


SuicideGirls' Group Therapy – Otoki on Feminists
SuicideGirls' Group Therapy – Zephyr on Doctor Who
SuicideGirls' Group Therapy – Ryker on Harry Potter
SuicideGirls' Group Therapy – Bradley on The Kitchen
SuicideGirls' Group Therapy – Apple on All Your Base Are Belong To Us
SuicideGirls' Group Therapy – Setsuka on Ass Appreciation
SuicideGirls' Group Therapy – Noir on The Kitchen
SuicideGirls' Group Therapy – Exning on Body Mods
SuicideGirls' Group Therapy – Ceres on Girls Only
SuicideGirls' Group Therapy – Frolic on Celeb Worship
SuicideGirls' Group Therapy – Cheri on Skateboarders
SuicideGirls' Group Therapy – Noir on SG Military
SuicideGirls' Group Therapy – Exning on Weight Loss
SuicideGirls' Group Therapy – Aadie on Cute Overload
SuicideGirls' Group Therapy – Eevie, Luffy, and Praesepe on SG420
SuicideGirls' Group Therapy – All on Urban Art
SuicideGirls' Group Therapy – Clio on Hardcore Music
SuicideGirls' Group Therapy – Epiic on Hirsute
SuicideGirls' Group Therapy – Tarion on Atheists
SuicideGirls' Group Therapy – Rambo on Photography
SuicideGirls' Group Therapy – Thistle on Vamos Gigantes