by Tovi
A column which highlights Suicide Girls and their fave groups.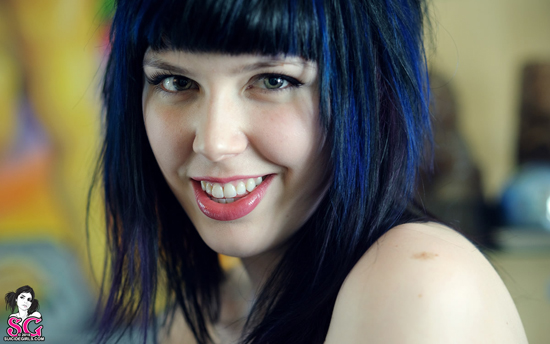 [Tovi Suicide in Afternoon Sun]
This week, Tovi Suicide takes a look at what's cookin' in SG's Veggie Group.
Members: 4,336 / Comments: 32,525


WHY DO YOU LOVE IT?: I can always find some great recipes and inspirations in the "What I made for dinner" thread, and usually see pictures of what other vegetarians are eating! I get hungry every time I scroll through it.


DISCUSSION TIP: Include pictures! We eat with our eyes, whether you are veggie or carnivorous.


BEST RANDOM QUOTE: "You can catch more flies with agave nectar than with vinegar."


MOST HEATED DISCUSSION THREAD: Definitely the "Vegetarians don't eat meat" thread. There is a lot of debate about what qualifies as vegetarian. I think there is probably nothing more annoying to a vegetarian than someone who claims to be veggie even though they eat chicken or fish. There are quite a few misconceptions about the term vegetarian; Just the other night my waiter asked me "So, do you eat fish then?" after I asked for a veggie menu.




WHO'S WELCOME TO JOIN?: Anyone who doesn't eat meat!


***
Related Posts:
SuicideGirls Group Therapy – Suicide Boys
SuicideGirls Group Therapy: Ballet
SuicideGirls Group Therapy – Slut Pride
SuicideGirls' Group Therapy – Yuppie Scum
SuicideGirls' Group Therapy – Eden on Tattoo
SuicideGirls' Group Therapy – Damsel on Dreadlocks


SuicideGirls' Group Therapy – Chrysis on Itty Bitty Titty Committee


SuicideGirls' Group Therapy – Otoki on Feminists
SuicideGirls' Group Therapy – Zephyr on Doctor Who
SuicideGirls' Group Therapy – Ryker on Harry Potter
SuicideGirls' Group Therapy – Bradley on The Kitchen
SuicideGirls' Group Therapy – Apple on All Your Base Are Belong To Us
SuicideGirls' Group Therapy – Setsuka on Ass Appreciation
SuicideGirls' Group Therapy – Noir on The Kitchen
SuicideGirls' Group Therapy – Exning on Body Mods
SuicideGirls' Group Therapy – Ceres on Girls Only
SuicideGirls' Group Therapy – Frolic on Celeb Worship
SuicideGirls' Group Therapy – Cheri on Skateboarders
SuicideGirls' Group Therapy – Noir on SG Military
SuicideGirls' Group Therapy – Exning on Weight Loss
SuicideGirls' Group Therapy – Aadie on Cute Overload
SuicideGirls' Group Therapy – Eevie, Luffy, and Praesepe on SG420
SuicideGirls' Group Therapy – All on Urban Art
SuicideGirls' Group Therapy – Clio on Hardcore Music
SuicideGirls' Group Therapy – Epiic on Hirsute
SuicideGirls' Group Therapy – Tarion on Atheists
SuicideGirls' Group Therapy – Rambo on Photography
SuicideGirls' Group Therapy – Thistle on Vamos Gigantes