By Blogbot
This Wednesday, April 26 on SuicideGirls Radio, hosts Nicole Powers and Bradley Suicide will be joined by Glam Skanks, who'll be talking about their new album, Glitter City, their new single, "Bad Bitch", and their recent US tour and upcoming UK tour supporting The King of the Wild Frontier, Adam Ant.
**UPDATE**
ICYMI: Watch last night's show feat. the more glam than skanky Glam Skanks here or via the player below — and if you love it, please share it! Xox
You can listen – and watch – SuicideGirls Radio live on Wednesday nights from 8 til 9 PM at our state-of-the-art, all digital home on zinna.tv or on our Facebook page via Facebook LIVE!
For updates on all things SG Radio-related, like us on Facebook and follow us on Twitter and Instagram.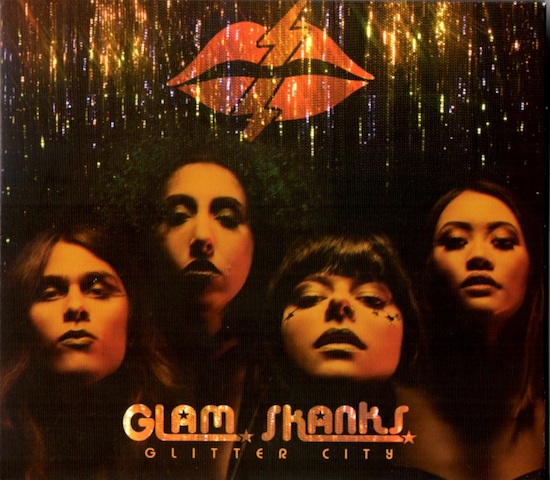 About Glam Skanks
Glam Skanks are Veronica Volume (guitar), Ali Cat (lead vocals), Millie (bass), and Cassie (rrums). Together the quartet create a colorful audiovisual extravaganza using familiar tints inspired by T Rex, The Runaways, David Bowie, and The Sweet, with the drama of Alice Cooper and the genuine rock sensibility of Aerosmith, all wrapped up in a full-blown cosmetic Rocky Horror Show meets Hedwig androgyny.
Pure entertainment and bigger than life, Glam Skanks are here to light up the world with their new release, Glitter City. A rock & roll rollercoaster ride in a blazing cloud of glitter and raining feather boas, Glam Skanks are high-energy, free-spirited and lusty, with a bravado that screams Sunset Strip dreams and Hollywood nights that never end. They will wake you up, smack you down, get your heart beating, and your mascara running. Their music is drag Rock for the masses.
Following a show opening for Alice Cooper and sold-out shows on their North American tour opening as direct support for pop icon Adam Ant, Glam Skanks have been hand-picked a second time to open for Adam as part of his Anthems — The Singles tour in the UK kicking off on May 5, 2017.  
For more on Glam Skanks visit:
GlamSkanks.com
facebook.com/Glamskanx/
instagram.com/glamskanks/
twitter.com/glamskanks
youtube.com/user/glamskanks

The World's Leading BYOB Radio Show Is Sponsored By Mangria
"As a nightly consumer of red wine, I was shocked one evening to find I had just half a glass left in the bottle. So I did what any decent alcoholic, ex-con, American would do… I went to the fridge and the liquor cabinet, then poured, mixed and measured. Thus Mangria was born." — Adam Carolla
SuicideGirls Radio / Carolla Drinks Offer
You can purchase all three delicious flavors of SGR's fave luscious libation, Mangria — and the most excellent Endless Rant IPA — via CarollaDrinks.com. Fans of SG Radio can get $5 off any bottle of Mangria using this special discount coupon code: SG (unlimited use, code is good until December 31, 2017).
For more info visit Carolla Drink's website, Facebook, Twitter, and Instagram.