By Blogbot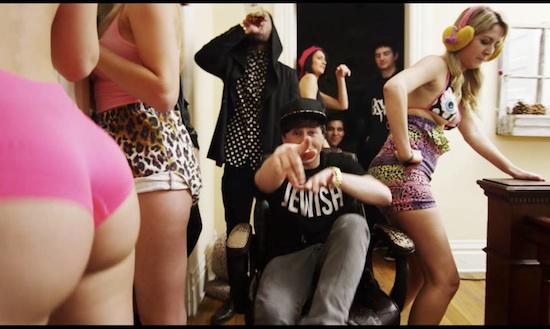 This Wednesday, April 15th on SuicideGirls Radio, hosts Moxi Suicide and Nicole Powers will be joined by your parents' worst nightmares — These White Kids!
You can listen – and watch – the world's leading BYOB radio show live on Wednesday nights from 8 til 9 PM [note new day/time] at our state-of-the-art all digital home: TradioV.com.
If you have questions for the SG Radio crew or our guests, you can call in during the live broadcast at: 1-855-TRV-inLA (1-855-878-4652)
For updates on all things SG Radio-related, like us on Facebook and follow us on Twitter.
**UPDATE**
ICYMI: View last week's show feat. These White Kids here or via the player below.
About These White Kids
LA-based These White Kids official video for their brand new single "Sneak Out" is no short of the best house party ever. Made up of BB the Jerk from Season 3 of The X Factor's Wild Thingz and YouTube viral video maker ATM, "the pair are bringing a style reminiscent to LMFAO's beat-driven madness to a new audience." [FUSE]
"This is the music video equivalent to American Pie. We wanted something you would see and think to yourself 'WTF did I just watch?' This was honestly the most fun we've had on a set. We had alcohol for the crew so we could all get wasted and forget that we were shooting a music video. All of our closest friends came out to the shoot and turned up with us. Girls were running around half naked in the house. It was pouring rain. It was all a really f*cked up, amazing dream," says BB the Jerk
These White Kids were formed a year ago when BB reached out to ATM on Twitter looking for tracks. And from there, These White Kids, affectionately labeled "parents' worst nightmares", were born. When you put these two together you get what most in the music business have called a "no-brainer". Their records are youthful, infectious and provocative. Onstage their high-energy moves fans of all ages.
For more on These White Kids visit their Facebook, Twitter and Instagram.