by Blogbot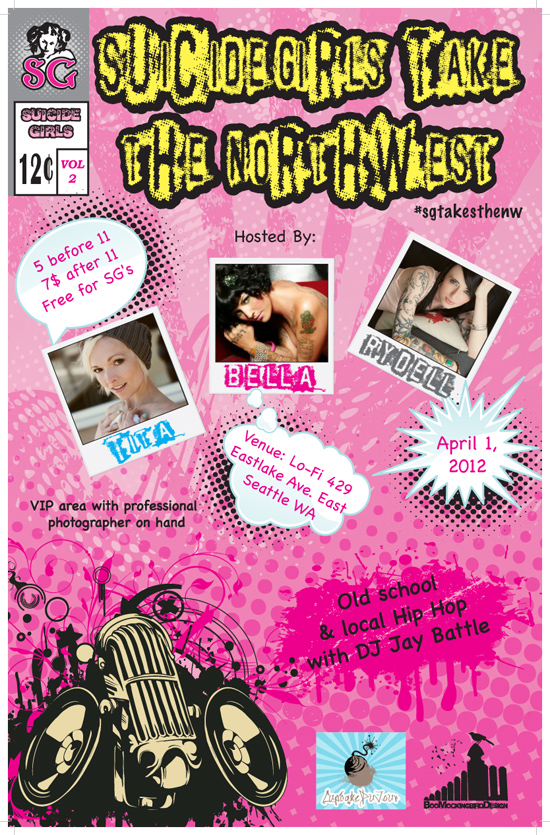 Come party with SuicideGirls at Lo-Fi on April Fool's Day. Tita, Bella, and Rydell Suicide will be hosting a special SG soiree to mark the closing night of Emerald City Comic Con. They'll be playing all the SG movies while DJ Jay Battle spins local and old school hip-hop till last call. A guest performance by Seattle's own Mello Drama will be the backdrop for a crazy evening with Suicide Girls from all over the world. Come one. Come all. Because the con only happens once a year! Come support local music and a few of your fave painted ladies!
Where: Lo-Fi, 429 Eastlake Avenue, East Seattle, WA
When: Sunday April 1st, 2012 – 8 PM til 1 AM
Entry: $5 before 10 PM / $7 after / 21 & over.
Advance Tix: brownpapertickets.com/event/235985
Info: facebook.com/events/284689248268082/
Tweetup: Tweet and post Twitpics / Instagrams using the #SGTAKESTHENW hashtag and we'll include our favorite comments and pix from the night in a special post party wrap up here on the blog. And be sure to follow Tita (@Cupcakedujour), Bella (@Bella_Suicide), Rydell (@BooMockingbird), and Aadie (@AadieLee) for the latest on SuicideGirls Take The Northwest!
SuicideGirls Take The NorthWest Membership & VIP Special: If you buy a membership – which will be available at a very special $30 / 1 year price! – at the door at Lo-FI, you'll get into the SG night for $5 even after 10 PM AND preferred VIP access (ie. no waiting in line).