by ChrisSick
It's very early in the morning here, well past my weekly deadline to bring Tactical Animal, first, to my editor, then to all you fine people. There have been significant travails in the Sick Cave of late, and many more yet lay ahead. I won't bore you with the largely irrelevant details, just suffice to say, I blame Ed Gillespie. As ever.
Moving on, as I'm sure you — patriotic and well-informed citizen that you surely are — are aware, there's a debate a'coming. This Wednesday, October 3rd the first of three Presidential Debates will be held. The topic — domestic policy. The format — six topics covered in fifteen minute segments, each candidate will have two minutes to respond to the opening question with the balance of the time used to more thoroughly explore the issue. The host — Jim Lehrer, whom my entirely made-up sources assure me will not be moderating the debate while drunk. Quite a bold move on Mr Lehrer's part.
But! I foolishly promised you observations didn't I? Yes, I am almost positive I was foolish enough to do that. Well, let's stop wasting time and get right into it.
Observation the first: The best way to win is to tell every one you're going to lose.
"First, just as he was in the primaries, we expect Mitt Romney to be a prepared, disciplined and aggressive debater. Governor Pawlenty said Romney 'is as good as it gets in debating. He is poised, prepared, smart, strategic.' We expect that Mitt Romney to show up in Denver."

—David Axelrod, Obama for America press release
"Given President Obama's natural gifts and extensive seasoning under the bright lights of the debate stage, this is unsurprising. President Obama is a uniquely gifted speaker, and is widely regarded as one of the most talented political communicators in modern history."

—Beth Meyers, strategy memo to Romney/Ryan surrogates somehow "obtained" by CBS News and National Journal
This is the nicest these campaigns will ever be about their opposition until they're drafting concession speeches. Because modern political debates aren't about, say, thoroughly exploring issues in a deeply meaningful way with great respect given to the context and nuance necessary to understand complex political, social, and economic problems. They're basically about doing your best not to create a photo opportunity like this: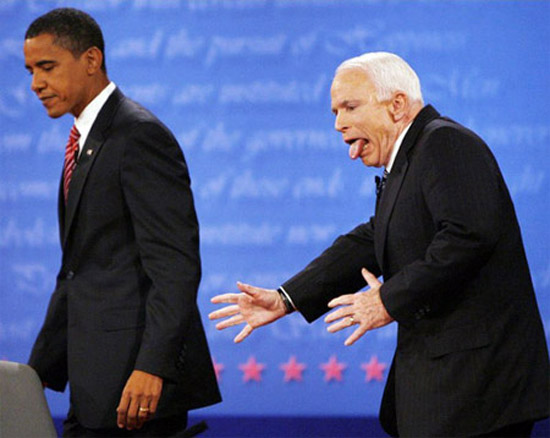 [Image:Democratic Undergroud]
And to that end, it's all about lowering the bar to the point where the pundits are impressed by your ability to speak in complete sentences, Sarah.
Observation the second: If you haven't gotten the drift yet, this is all pretty meaningless theater.
The debates are, at bottom, good television – in that they're entertaining. Granted, that's mostly because hardcore political junkies generally turn them into drinking games (drink every time Mitt Romney says 100%, drink whenever Obama blames W.). Which is, in large part, why the media hypes them up so much. But as Gallup bluntly put it in the title of an article, "Presidential Debates Rarely Game-Changers."
"Gallup election polling trends since the advent of televised presidential debates a nearly a half-century ago reveal few instances in which the debates may have had a substantive impact on election outcomes. The two exceptions are 1960 and 2000, both very close elections in which even small changes could have determined who won. In two others — 1976 and 2004 — public preferences moved quite a bit around the debates, but the debates did not appear to alter the likely outcome."

—Lydia Saad, Gallup Politics, 25 september, 2012
Ms. Saad does go on to say that in close elections — specifically citing Kennedy/Nixon and Bush/Gore — debates may influence the race, because a percentage point or even two might matter. Of course, good political junkies already have a deep and abiding interest in those two races, due to allegations and accusations of fraud in both races, and contentious court battles that ultimately either re-affirmed — as in 1960 — or de facto appointed the President.
The Gallup article also posits that it's not unlikely this debate could have a significant impact on the election, due to the overall tightness of the race. However, they also note that it's nearly impossible to tell — given all the factors of any election — how much changes in the polling are due to debate performance. After all, there aren't many historical polling models for a candidate standing up and saying that he doesn't even care about 47% of the electorate.
Final observation: The polls are not wrong.
"You may remember a week or two ago I noticed a bounce for the Democrats due to the DNC . Well, good news, that bounce has now evened out."

—Dick Morris, Twitter update, 25 September, 2012
"I saw Dick Morris on the 'Hannity' show last night. He wasn't just saying Romney still has a chance; he was saying it's a toss up, which I don't quite believe. It's getting a little more ridiculous the more polls that come out. But he was saying, 'I think Romney will win by four points. I think he'll win Pennsylvania and would be competitive in Michigan.' You have to be totally delusional to think that. Is he out of touch with reality? Or is he lying?"

— Nate Silver, Nate Silver: The Polls Aren't Wrong (Salon.com interview), 29 September, 2012
In my last column I mentioned the emerging talking point from the right that the polling data showing Mitt Romney losing is unreliable because…well, because so many survey respondents insist on self-identifying as Democrats, and pollsters insist on not ignoring them. The talking point has now been forcibly mated with Gallup results showing a sharp decline in trust in the media:
"The press's job is to stand in the ramparts and protect the liberty and freedom of all of us from a government and from organized governmental power. When they desert those ramparts and decide that they will now become active participants… they have, then, made themselves a fundamental threat to the democracy, and, in my opinion, made themselves the enemy of the American people.

— Pat Caddell, speech to Accuracy in Media's Conference, Obamanation: A Day of Truth
Note the wild hyperbole, the sky-is-falling dementia, the pounding-the-fist-on-the-table insistence that — at any minute — the Republic will fall apart thanks to the efforts of yellow-bellied "journolists" who carry the President's water and don't report how Mitt Romney is really going to steamroll over him come November.
All of which, I'm just guessing, is primarily in service of ensuring the Pat Caddell always has a home — and a paycheck from — Fox News and other reliable right wing media centers that learned long ago there's more money to be made in telling their audience comforting lies than any disquieting truths.
Caddell contrasts the findings in the Gallup media poll, which shows that only 26% of Republicans have "a great deal/fair amount" of trust in the media with the 58% of Democrats who express the same trust to "prove" that the media is liberally biased. I, on the other hand, would like to suggest an alternate hypothesis: Maybe Democrats aren't so shit-scared the media is lying to them because they don't have shrill cunts like Caddell shouting it at them constantly.
Here's a collection of headlines from just this past week to underscore the point:
1. "Bogus Polls and Declining Dem Registrations," Powerline Blog
2. "The Media's Fatal Slide Continues," Washington Times
3. "Democrat Delusions Driving Pro-Obama Polls," Washington Examiner
4. "Juiced Media Polls: The Newest Negative Ad," Big Government
5. "Is This The Most Corrupt Press In History?," National Review Online
Lest I be accused of being a partisan hack, let me point out: I've seen headlines that similarly constructed alternate realities and boggled my head from leftwing journalists — EJ Dionne sticks out in my mind — before, as well. In the last forty-five days before the 2010 midterms, many Democratic talking heads and pundits were clinging to the idea that the coming battering of Democrats in the midterms wasn't going to happen.
Wanting to stick your head in the sand and ignore an uncomfortable reality isn't a uniquely partisan emotion. However, one key difference here is that those liberal pundits who were insisting that the Tea Party wouldn't be able to deliver electoral defeat to Democrats weren't attacking pollsters as corrupt, or claiming that Fox News was an existential threat to American Democracy, or saying that we were witnessing the end of accuracy or honesty in media.
They weren't arguing — to their audience, a large segment of the population —that if their candidate(s) lost, it would be because of a willful and deceitful conspiracy that joined "mainstream" media with one political party for the purposes of subverting the will of the electorate.
Because that job was, and apparently still is, fully staffed by a voracious shadow media that makes its living scaring the living shit out of white people, many of whom are heavily armed. Sleep well on that one tonight, friends.
Finally, my big-time, fake-political-pundit-style prediction, just for you:
Next week's debate?
Won't matter a bit.
Romney's bleeding percentage points daily and he's too risk-averse by nature to try anything major to "shake up the race" and under far too much pressure to execute a risky maneuver well should he be convinced he has to "go for it." The President will primarily be playing defense, bobbing and weaving around questions about his record while directly challenging Romney to call him a liar to his face, a strategy that he hopes leaves Romney no place to go — forced to either back down from previous attacks, or defend them to both Obama and Lehrer with little substance to them.
It won't upend the polls, and it won't be pretty, that's for damn sure. You're probably better off just skipping them all together, not bothering to come up with a complicated drinking game, and just heading straight to the bar.
The election is 36 days, 2 hours, and 26 minutes away. After that? I'll meet you there.
Related Posts
Tactical Animal: On Politicking Cont…
Tactical Animal: On Politicking
Tactical Animal: Regarding The Pain Of Being Right…Or More Reasons Mitt Romney Will Never Be Your President
Tactical Animal: Have You Got Yourself The Belly For It?
Tactical Animal: Sorry Folks, Election's Over, Donkey Out Front Shoulda Told Ya
Tactical Animal: Politics In The Post-Truth Era
Tactical Animal: Now We've Got Ourselves A Race