by ChrisSick
Mitt Romney loves Big Bird. He likes coal. He doesn't like expensive things. They hurt families.
This is what passes for substance in a Presidential debate. By the fifteen minute mark I felt as bored and listless as President Obama looked, and was mostly focused on trying to figure out what drugs he was taking and pondering how hard it would be to acquire some for myself, because by the half hour mark I was clearly more upset with how poorly he was doing in the debate than he was.
If you want the conventional wisdom take you'll be seeing over the course of the next seven days before the VP debate takes place on October 11, it can be boiled down to Mitt Romney won and Jim Lehrer should've just stayed the hell home.
Every time the President smiled while Romney was speaking, it was because Lehrer was making a "talks too goddamn much" sign with his hands while slugging back from the flask he had in his jacket pocket. It was a pretty embarrassing show for everyone involved, honestly, except for Mitt Romney, who has no shame.
It only took fifteen minutes into the debate for Governor Romney to reverse himself completely on his tax policy. When pressed on the analysis by the non-partisan Tax Policy Center that says he couldn't possibly implement his proposed 20% tax cut and not add $5 trillion to the deficit without increasing taxes on the middle class by closed deductions he happily pointed out that he has studies that show otherwise. And the President has studies. We all have studies, but Mitt Romney likes JOBS.
It was a stunning display of politics in a post-partisan era and Obama seemed slow to respond to it. Analysis from Jon Lovett (no, not that one) at The Atlantic sums it up well:
"In many ways, this election is a referendum on whether or not Mitt Romney's kind of politics is effective. People can argue about the president's policies, but he has always been honest about our fiscal situation; he has always been honest about gimmicks — whether it was cutting earmarks four years ago or cutting PBS today — which will do almost nothing to lower our debt. Mitt Romney believes he can get by without the numbers adding up. He can be for deficit reduction while being against cutting taxes, entitlements, and military spending. He can promise more education funding to some audiences; more NASA funding to Florida; more health-care funding to seniors; and 'Oh by the way, I won't accept any deal that raises even meager revenues when compared to budget cuts.' It's BS. It's nonsense. It's obviously not true. But he has not only embraced this idea, he's embraced its cheerleader in the Congress, Paul Ryan.

So anyway, that's frustrating."
By the halfway mark the President was finally beginning to wake up, successfully laying traps for Romney that put him on record supporting Medicare vouchers, saw him stumbling through a populist style attack on big banks, and trying to explain away Romneycare/Obamacare, which one of the advisors who helped draft the two laws says "it's the same fucking bill."
But Obama continually failed to capitalize on these attacks and build any momentum. By 9:50 PM EST, it was clear to most people that Obama wasn't going to pull this one out, despite getting a few good jabs in. Republicans, of course, had been claiming victory for at least thirty minutes by that point. One thing Republicans aren't shy about, it's claiming victory.
Romney wandered into a few traps that will work well for future Obama ad-buys, and spawned at least one new Twitter account (@FiredBigBird), but he did his job reasonably well, and kept the President listless and defensive. I found myself not being sold by Obama's liberal ideals that I already agree with.
From Jon Lovett, again, an instructive bit to the secret of Mitt Romney's success:
"Though I forgot about this from the primaries: Mitt Romney's skill in debates is speaking with great conviction about matters on which he's held like seven positions. He's no longer cutting taxes? Come on. He didn't propose tax breaks for the wealthy? But he says it like he's actually taking offense. It's stunning."
And that is exactly what made him so successful tonight. This is the brand-new-and-improved Mitt Romney, the reboot that finally actually took. For the first time since the last time, Mitt Romney finally got his chance to introduce himself to the American people without any media bias bullshit. This was Romney unfiltered, and he would not be denied by some bullshit moderator.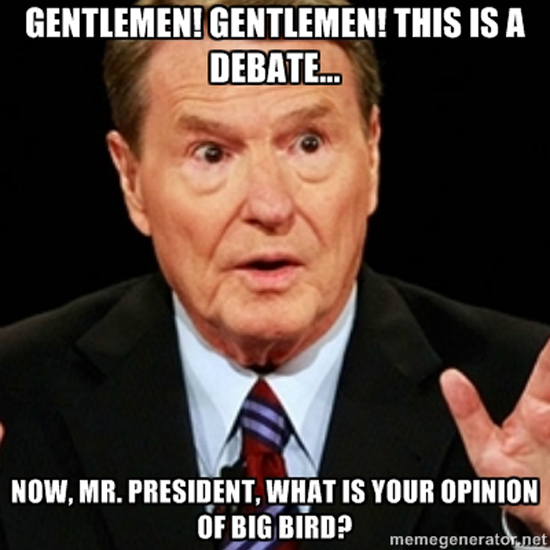 Romney talked about the things he likes (coal!) and the things he loves (Big Bird!), instead of accusing Obama of being a secret Muslim socialist. He was hopeful, upbeat, and present in a way Obama just couldn't be bothered to be. Hell, even the campaign email I just got from Obama was subjected with a sad-ass "hey." As in "hey, buddy, you still with me?"
So round one goes to Romney. What to watch for over the next few days:
* Will the Right excoriate their guy deviating from party orthodoxy, or be too busy taking victory laps now that Romney's finally won one to notice?
* The polls were narrowing earlier in the week, expect them to narrow even more after the President's poor debate performance. Will the Right finally start to believe in polling again, provided they show their guy has a lead?
* How fast and how many attack ads will the candidates various positions spawn over the next seven days alone?
Related Posts
Tactical Animal: Let The Presidential Debates Begin
Tactical Animal: On Politicking Cont…
Tactical Animal: On Politicking
Tactical Animal: Regarding The Pain Of Being Right…Or More Reasons Mitt Romney Will Never Be Your President
Tactical Animal: Have You Got Yourself The Belly For It?
Tactical Animal: Sorry Folks, Election's Over, Donkey Out Front Shoulda Told Ya
Tactical Animal: Politics In The Post-Truth Era
Tactical Animal: Now We've Got Ourselves A Race