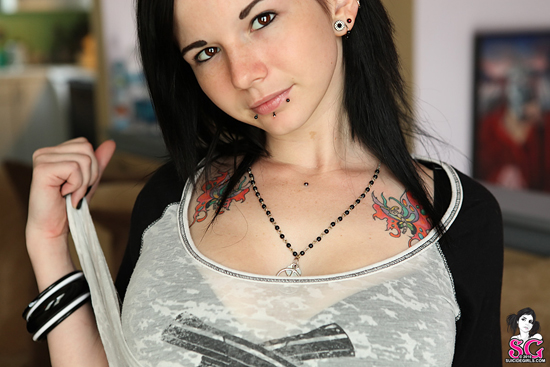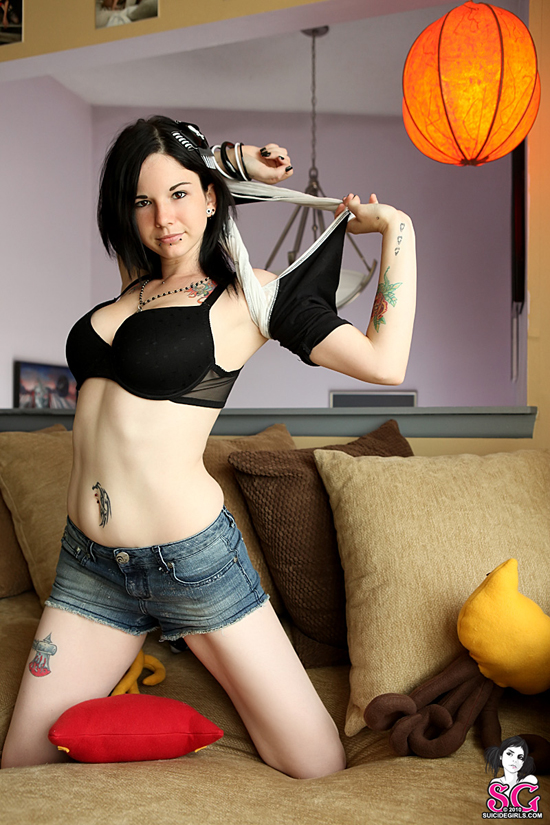 INTO: Looking at photography, art, videos, short films, movies, interesting cinematics. I'm easily captivated through my eyes. Also very intrigued by good rhythm and sexy beats. Music moves me. I love nerds, girl on girl action, tattoos, piercings, sarcasm, comedians, and having a kickass time!.
NOT INTO: Rude and disrespectful people.
MAKES ME HAPPY: New clothes from Hot Topic, bows, shinny stuff, weed, corny jokes, movies, pets, smell of cinnamon, being able to be me, laughing, great quotes, interesting people, sex, love, and friendship.
MAKES ME SAD: Holding back, shame, guilt, pain, sun in my eyes, jerks, smell of horses, taste of cinnamon, rude and disrespectful people.
HOBBIES: Piercing, fashion design, dancing, singing in the car, cut/style hair, cooking, riding horses, and travel.
5 THINGS I CAN'T LIVE WITHOUT: Computer, internet, eye liner, push-up bra, and camera.
VICES: Always losing everything, biting my lip, [a tendency to be] shy, sarcastic and [have] a sharp tongue..
I SPEND MOST OF MY FREE TIME: Playing World of Warcraft or at the movies.
Get to know Epiic better over at SuicideGirls.com!