by Blogbot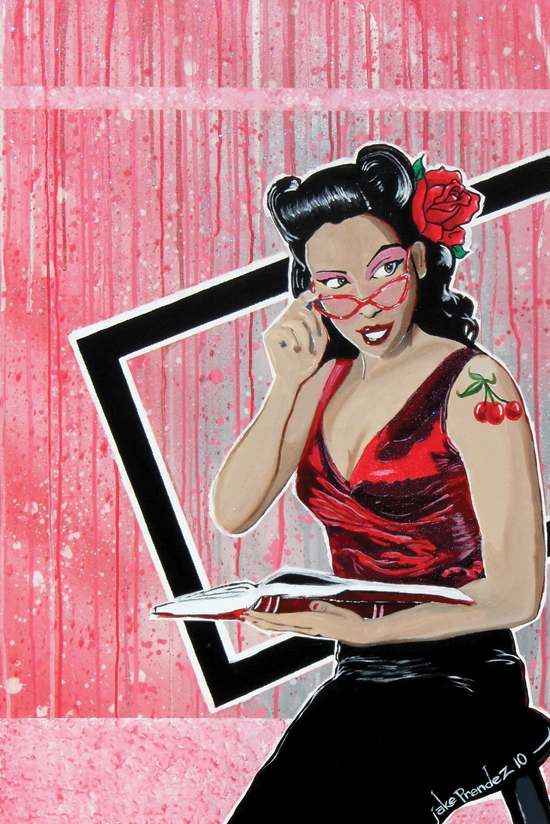 [Cherrybomb]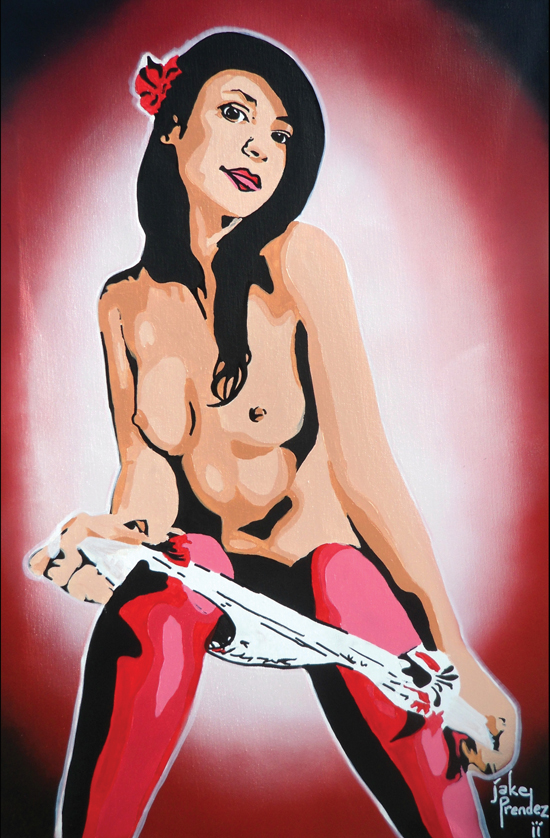 [Nahp Suicide]
Artist / SG Member Name: Jake Prendez a.k.a. Tattoo_Jake
Mission Statement: I live because of art. It was my avenue out of gangs, it was there for me when my mom was sick, it was there for me during all my break ups. It has always been my outlet that has allowed me to express what I couldn't say in words. I was raised to leave a place better then when I got there and I try to use my talents to make this world a little bit better.
Medium: Mostly Acrylic and aerosol.
[Carrina Suicide]
Aesthetic: My style is heavily influenced by street and subversive art, Chicano/indigenous culture, Los Angeles, and social justice movements.
Notable Achievements: Despite having dyslexia, despite constantly being told by teachers that I'd never make it, despite having a drug and alcohol addicted parent, despite being involved in gangs, despite being a father at 19, I was able to graduate from college and enter a masters program. Last December I was able to go to Guanajuato Mexico for two weeks to paint two murals for foster youth girls at the Buen Pastor Shelter with ten other LA artists. We were also able to do workshops for the girls on stenciling, photography, graphic design, drawing, and painting.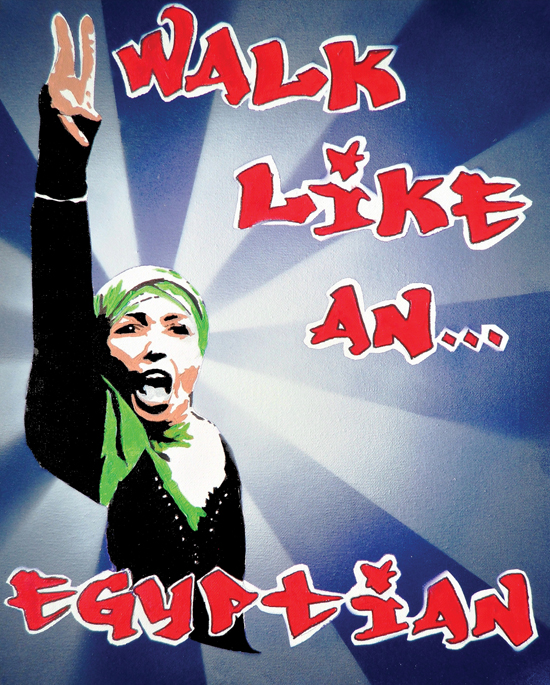 [Walk Like An Egyptian]
Why We Should Care: I am still lucky enough to be painting for myself so I really don't care if anyone else likes my work or not. I paint what I want and what I want to see. Art has saved my life and I try to use my gifts to help others, whether it be "at risk" youth or used in social justice campaigns. My goal isn't to impress collectors but to use my skills to uplift communities.
I Want Me Some: Visit: laughterinsurgency.com/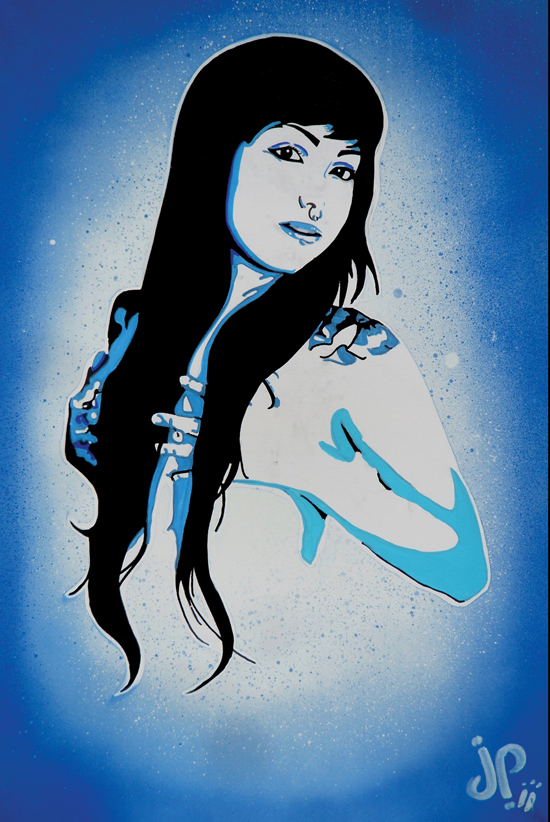 [Stigmata Suicide]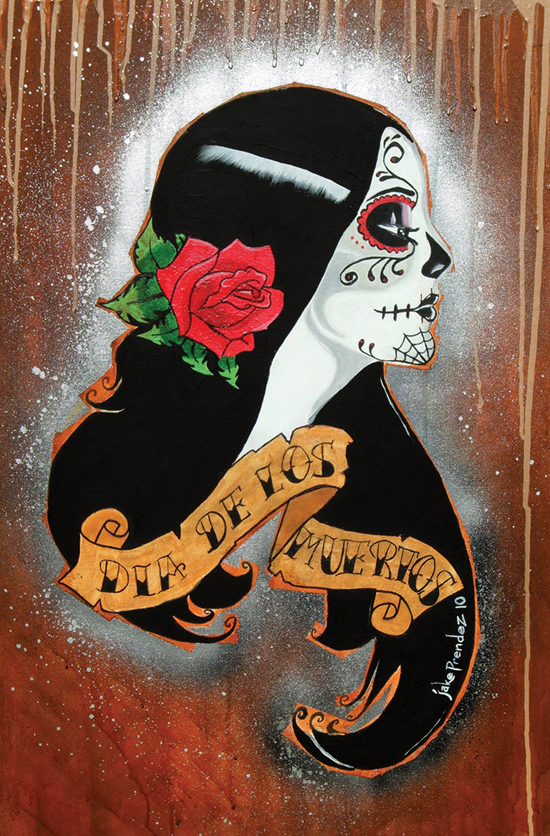 [Dia Del Los Muertos]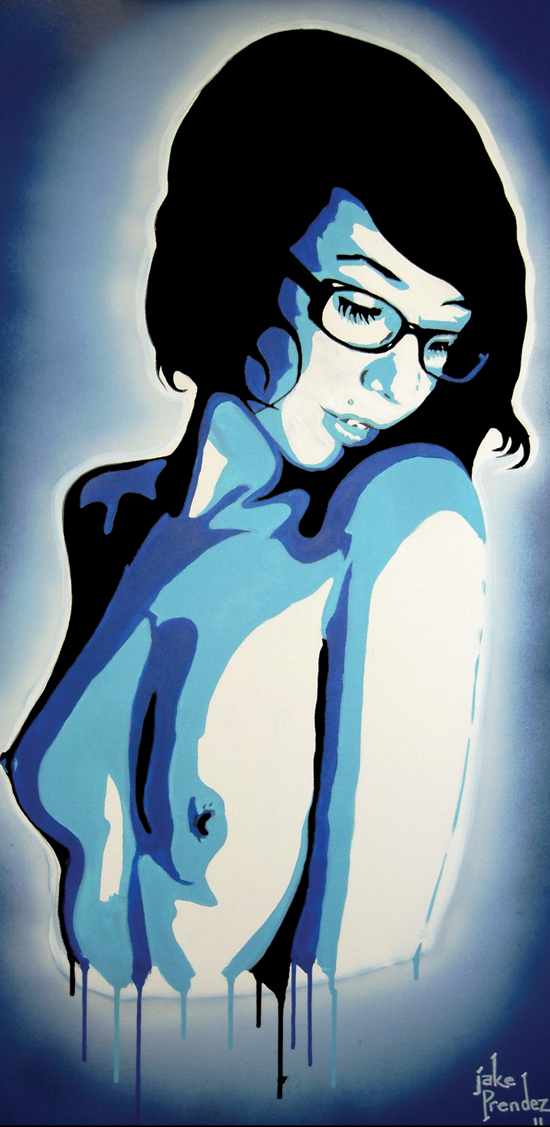 [Uva Suicide]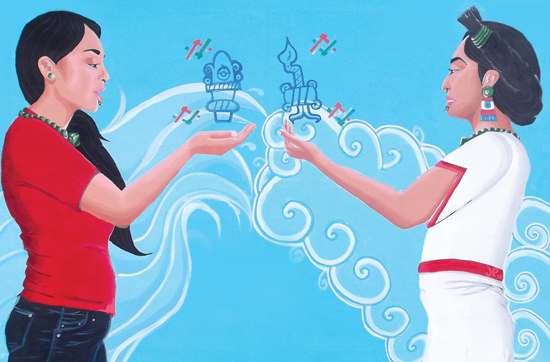 [Genetic Memory]
***
Related Posts
The Art of SuicideGirls feat. Zoetica Ebb
The Art of SuicideGirls feat. Dylan Borgman a.k.a. Seahorse
The Art of SuicideGirls feat. Vivid
The Art of SuicideGirls feat. Norritt
The Art of SuicideGirls feat. ZakSmith
The Art of SuicideGirls feat. Voodou
The Art of SuicideGirls feat. Sooaap a.k.a. S.O.A.P.
The Art of SuicideGirls feat. NerdMachine
The Art of SuicideGirls feat. JulesDoll
The Art of SuicideGirls feat. Ortegart71
The Art of SuicideGirls feat. Rachelle
The Art of SuicideGirls feat. AnitaKajika
The Art of SuicideGirls feat. CREATIVE80
The Art of SuicideGirls feat. James Curtis a.k.a. jimcurt99

The Art of SuicideGirls feat. Eric daStone
The Art of SuicideGirls feat. Alisa Suicide
The Art of SuicideGirls feat. Quakerninja
The Art of SuicideGirls feat. yOyO
The Art of SuicideGirls feat. Sucette
The Art of SuicideGirls feat. Souci
The Art of SuicideGirls feat. Bazuka
The Art of SuicideGirls feat. Hezza Suicide
The Art of SuicideGirls feat. Bob Suicide
The Art of SuicideGirls feat. Phoenix Suicide
The Art of SuicideGirls feat. Grompf
The Art of SuicideGirls feat. Oro Suicide
The Art of SuicideGirls feat. Mrs Misha
The Art of SuicideGirls feat. Sundae
The Art of SuicideGirls feat. Kate Suicide
The Art of SuicideGirls feat. Kaylie McDougal a.k.a. Tigermassacre
The Art of SuicideGirls feat. Monroe