by Blogbot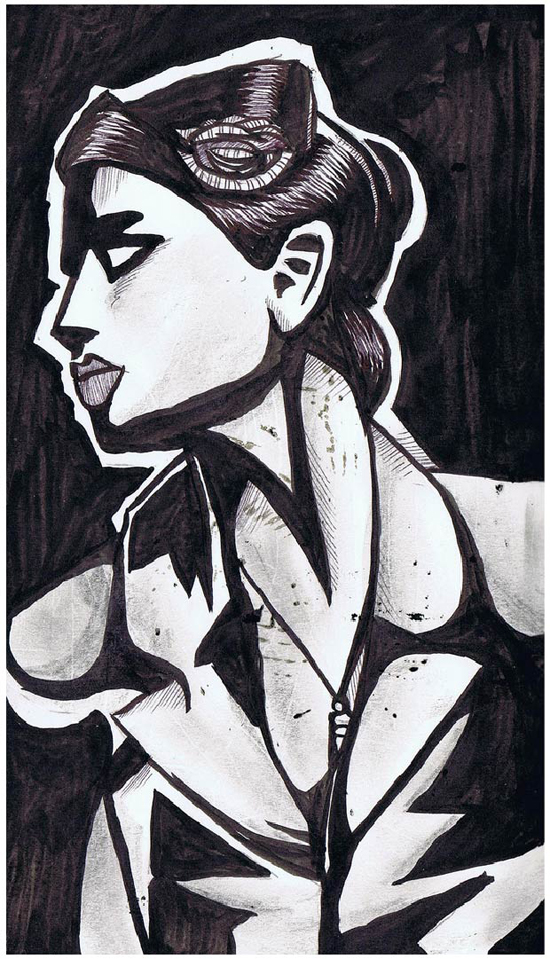 [Image: Quakerninja-02 / SG: Vanessa]
SG Member / Artist Name: Quakerninja / a.k.a. Daniel Newman
Mission Statement: I'm a member of SG's Fan Art Group, and wanted to do a one-a-day for a year challenge, so I signed up with the Art House Co-op to do a sketchbook a month. The "80 Girls Project" seen here is book 5 of the series. I bit off more then I could chew to be honest and fell behind. The only thing that got me back on track was drawing something I really like, and I can't think of many other things besides cheesecake I like more the Suicide Girls.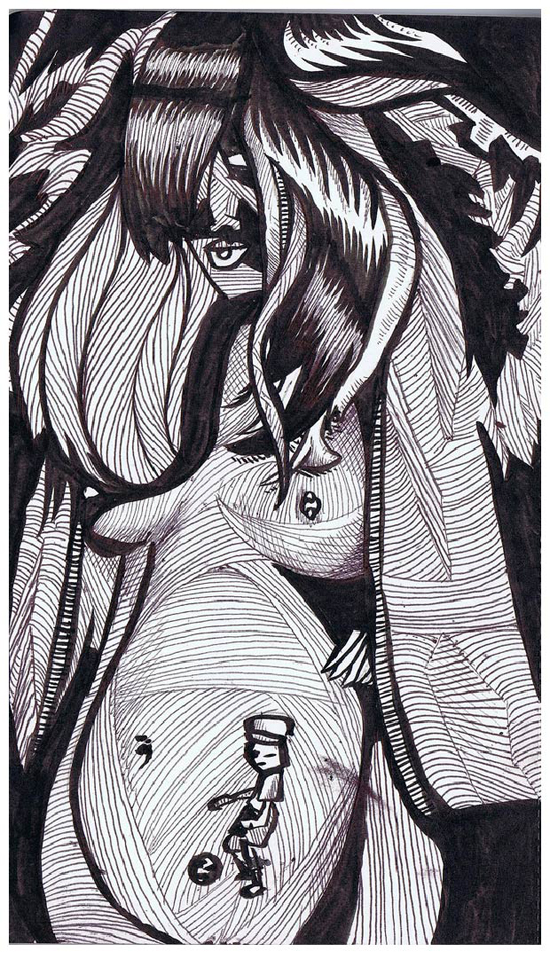 [Image: Quakerninja-03 / SG: Cruella]
Medium: Ball point pen, India ink, occasionally markers and pencils.
Aesthetic: Straight inkin' Lincoln.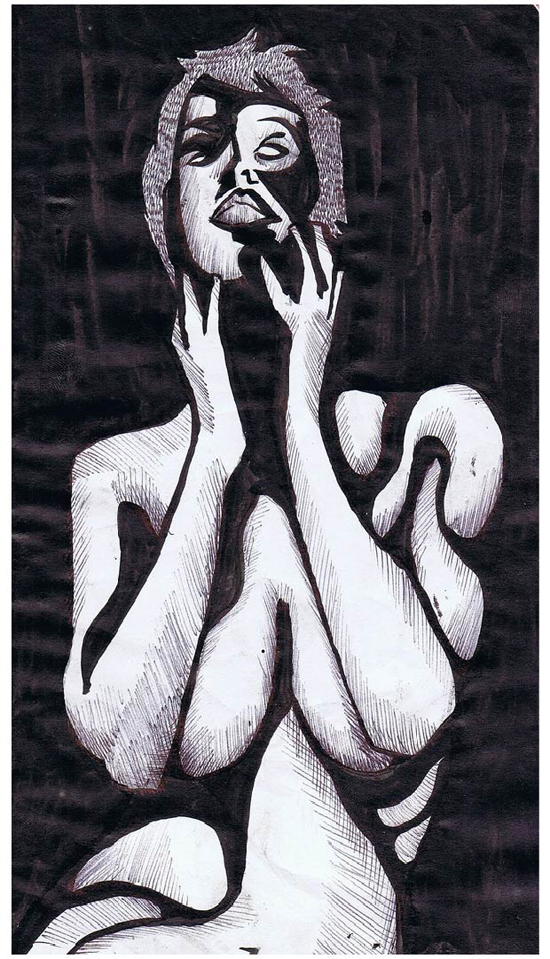 [Image: Quakerninja-04 / SG: Kraven]
Notable Achievements: These are quite silly ones. I hold the world record for "fastest time to draw Homer Simpson's head 10 times," "most chicken faces drawn in a minute," and "most Penrose triangles drawn in 30 seconds." Ok, they aren't really world records, they are from Recordsetter.com, but I'm still proud of them.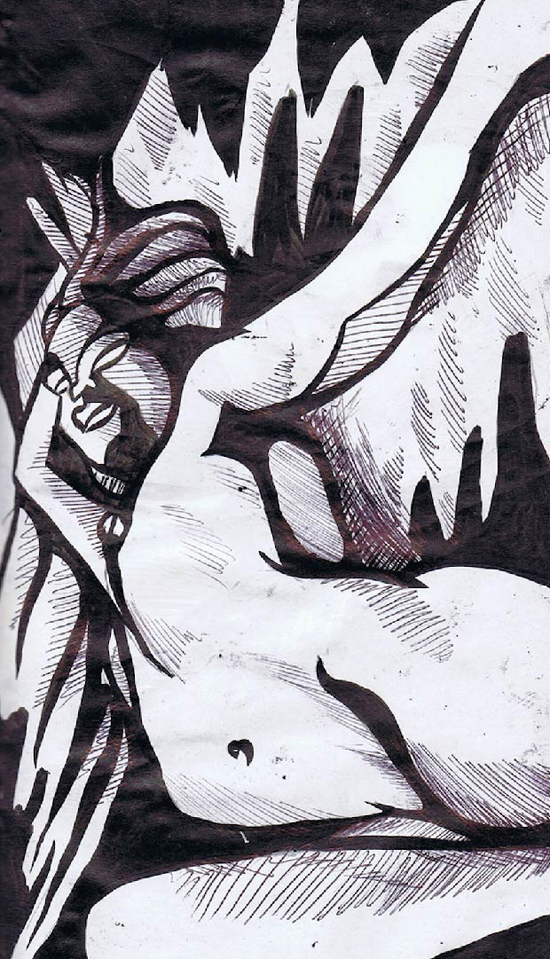 [Image: Quakerninja-07 / SG: Kohana]
Why We Should Care: Blend is a good word for it, but it means more to me then you might think. Blending not only in the sense of values, or shading, but more broad, the blending of ideas, medium and technique are where style comes from. By striping out the gray tones and just having hard-edged black shadows and white areas. I was able to get a woodcut style just by eliminating the value. You often hear people say that style is important, but they never say what that is. Style to me is a result of the choices I make in a drawing or painting. There are many forks on the road to becoming the kind of artist you want to be, some of them are quit difficult due to lack of experience, education, talent, perseverance, and so forth. I admire people who have the balls to aim for perfection but the danger in my opinion is that it can become overwhelming and that pressure can stop productivity. I know it's not the perfect artwork, but it doesn't have to be. Everything I finish gives me satisfaction, and helps me improve.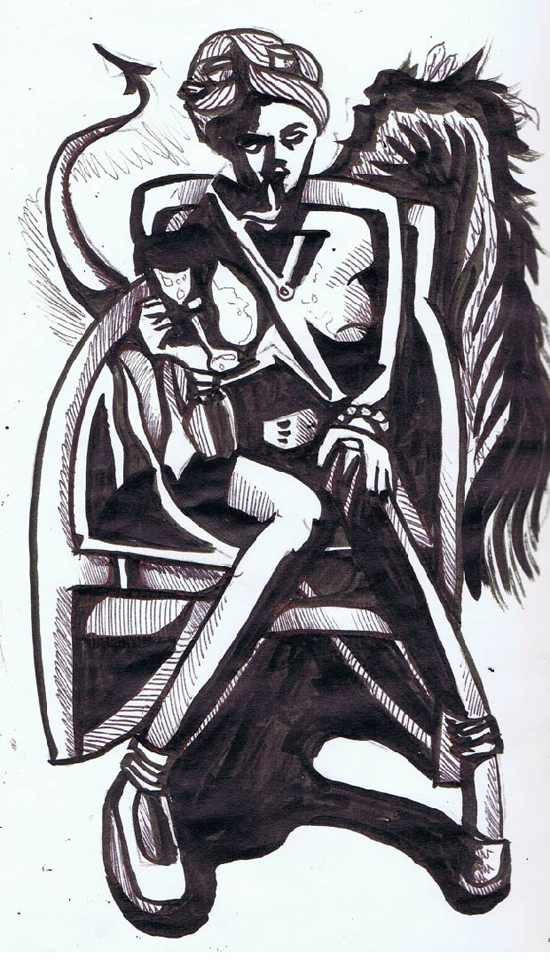 [Image: Quakerninja-08 / SG Vanessa]
I Want Me Some: You can see more of my work and buy it via my website, online store, and Redbubble Shop. Also friend/follow me on Facebook and Twitter.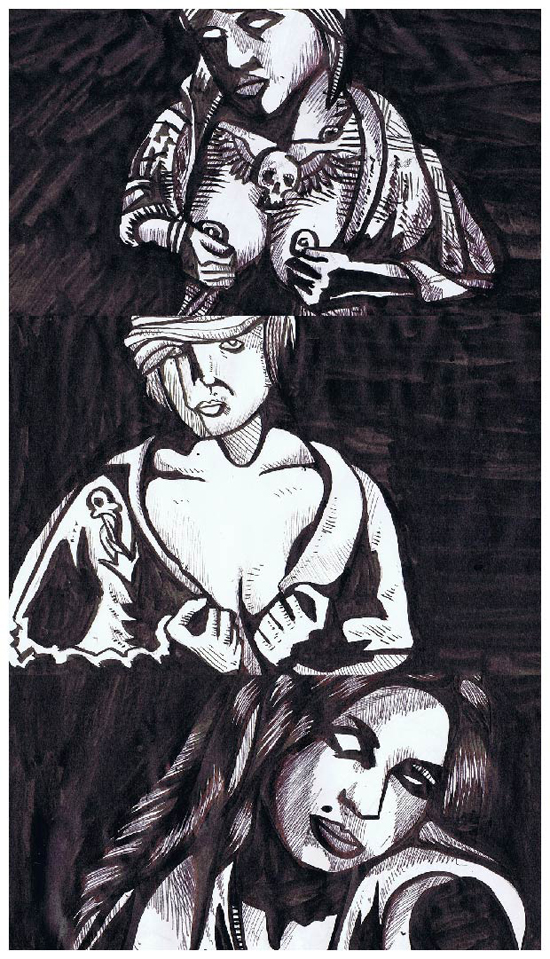 [Image: Quakerninja-12 / SGs: Glitch, Aadie and Kohana]
[Image: Quakerninja-14 / SG: Katerina]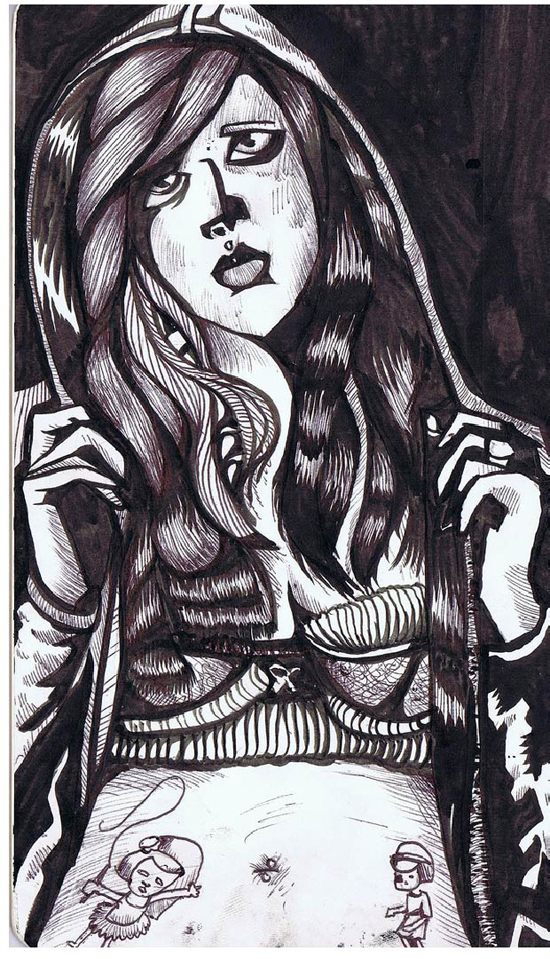 [Image: Quakerninja-15 / SG: Cruella]
Thanks to Ryker for recommending Quakerninja's work.
***
Related Posts
The Art of SuicideGirls feat. yOyO
The Art of SuicideGirls feat. Sucette
The Art of SuicideGirls feat. Souci
The Art of SuicideGirls feat. Bazuka
The Art of SuicideGirls feat. Hezza Suicide
The Art of SuicideGirls feat. Bob Suicide
The Art of SuicideGirls feat. Phoenix Suicide
The Art of SuicideGirls feat. Grompf
The Art of SuicideGirls feat. Oro Suicide
The Art of SuicideGirls feat. Mrs Misha
The Art of SuicideGirls feat. Sundae
The Art of SuicideGirls feat. Kate Suicide
The Art of SuicideGirls feat. Kaylie McDougal a.k.a. Tigermassacre
The Art of SuicideGirls feat. Monroe