by Blogbot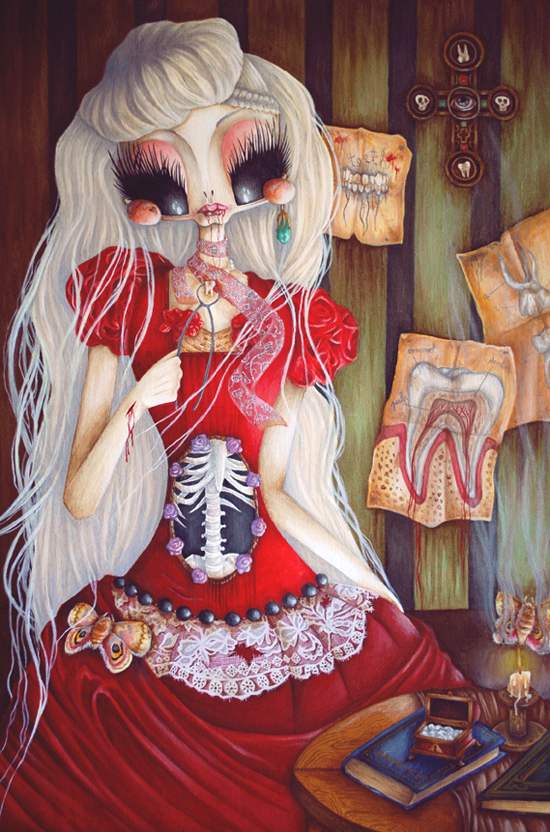 SG / Artist Name: Sucette, but I usually use Miss Sucette as my artist name.
Mission Statement: I began to draw when I was a cute lil' girl. My father is an artist as well. I admired him and I wanted to draw like him. I spent all my childhood drawing, and I never let it go. It's something that has come naturaly to me since I was a child. I just can't live without art.
I grew up surrounded by old horror movies (the kind of movies where the car always broke down in the middle of nowhere…) and old cartoons. As a result, I began to create my own world, my own stories. Painting was just a result for me of an overflowing imagination, a way to exorcize my childhood fears.
With my own universe, I create art to propel you in a fantastic world and to talk about what I like the most. Animals, nature, science, and symbolism are central themes for my work. Through my paintings, I contemplate life, death, evolution, technology, loss of innocence, cruelty, and more. The messages I deliver are often tragic. I don't like to show only what is good in the world. I want you to think about what's wrong with us, what's wrong in our world.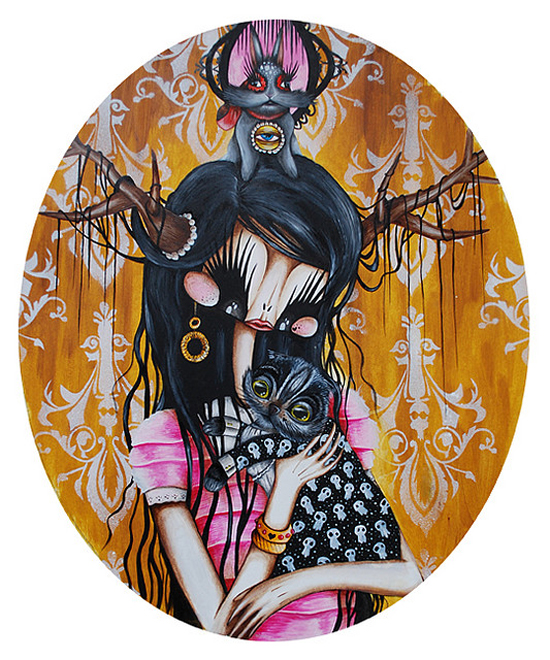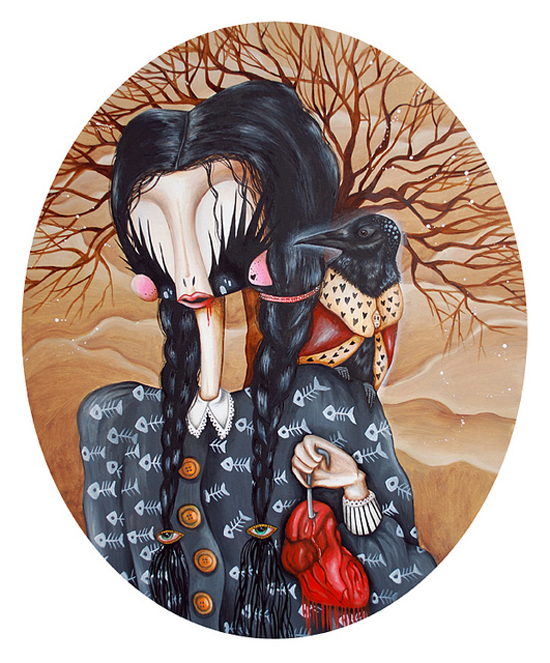 Medium: The majority of my work is oil painting, but I like to use graphite and charcoal as well. My latest drawings are mostly done with those mediums.
Aesthetic: Renaissance, Flemish Art, Art Nouveau.
Notable Achievements: I've been fortunate to show my work in many galleries in Europe and lately I've been involved in a group show at the Miles Gallery in London. I'm now working on new paintings and thinking about some future shows.
Why We Should Care: Art is essential, no matter whether it brings a positive or a negative message. I want to share my art, but I also want to deliver messages through my work that are dear to me and important. Art is an excellent way to communicate. I express myself through art, it's natural and essential to me.
Technique is really important for me as well. I try to preserve the techniques of the great painters from Renaissance when I paint with oils. I make everything by myself, the medium, the varnish, etc. It takes me more time, but it is important to me, and for the public as well. The technique is essential.
I Want Me Some: Some drawings and paintings are available via my website, or my Facebook page. You can also see my work on my SG blog and message me via the site.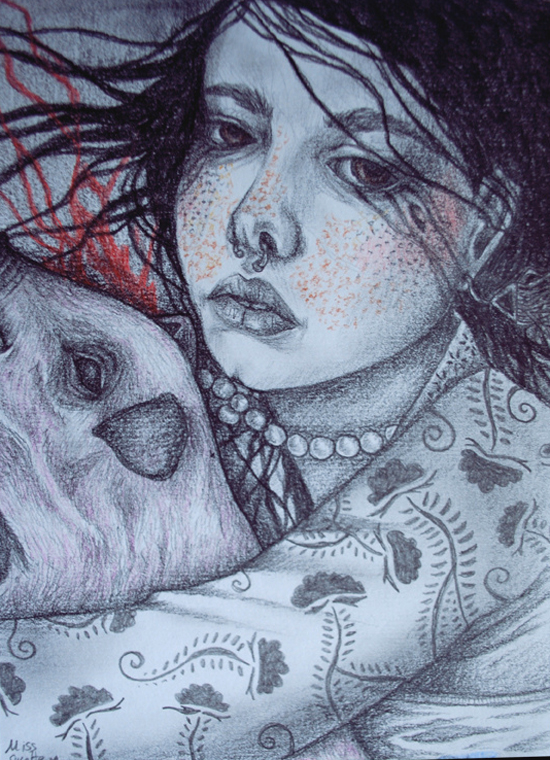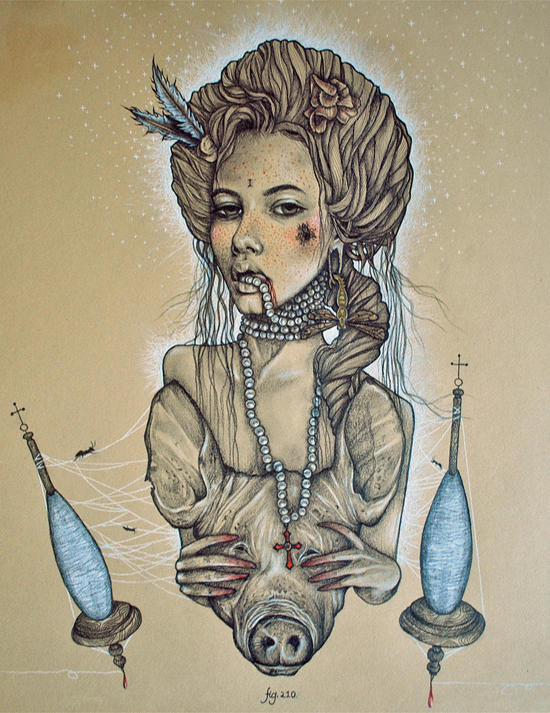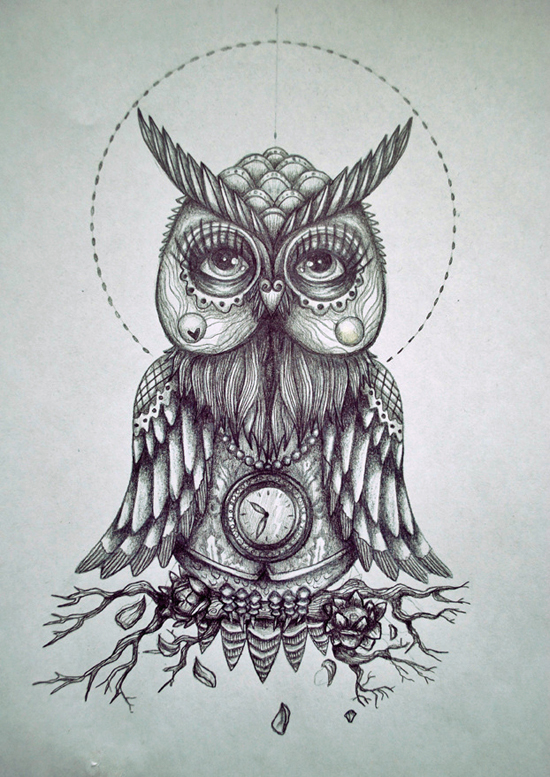 ***
Related Posts
The Art of SuicideGirls feat. Souci
The Art of SuicideGirls feat. Bazuka
The Art of SuicideGirls feat. Hezza Suicide
The Art of SuicideGirls feat. Bob Suicide
The Art of SuicideGirls feat. Phoenix Suicide
The Art of SuicideGirls feat. Grompf
The Art of SuicideGirls feat. Oro Suicide
The Art of SuicideGirls feat. Mrs Misha
The Art of SuicideGirls feat. Sundae
The Art of SuicideGirls feat. Kate Suicide
The Art of SuicideGirls feat. Kaylie McDougal a.k.a. Tigermassacre
The Art of SuicideGirls feat. Monroe