by Blogbot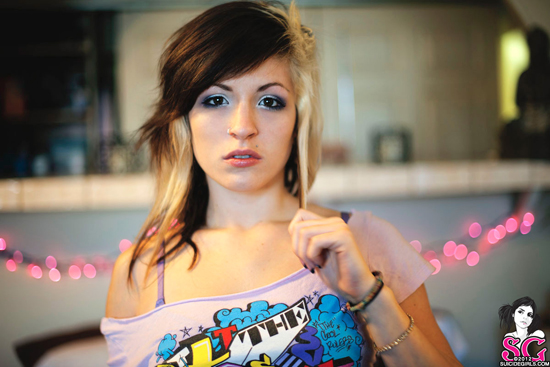 [Syko Suicide in Strapped]
Artist / SG Member Name: Sarah Syko a.k.a. Syko SUicide
Mission Statement: "Just a small town girl, living in a lonely world!" I spent a lot of my time growing up being grounded, which meant I spent a lot of time in my room with my paints and a sewing machine. Got away from my painting for a bit but moved to Colorado last year and I cant stop, and I am way happier with my art than ever before!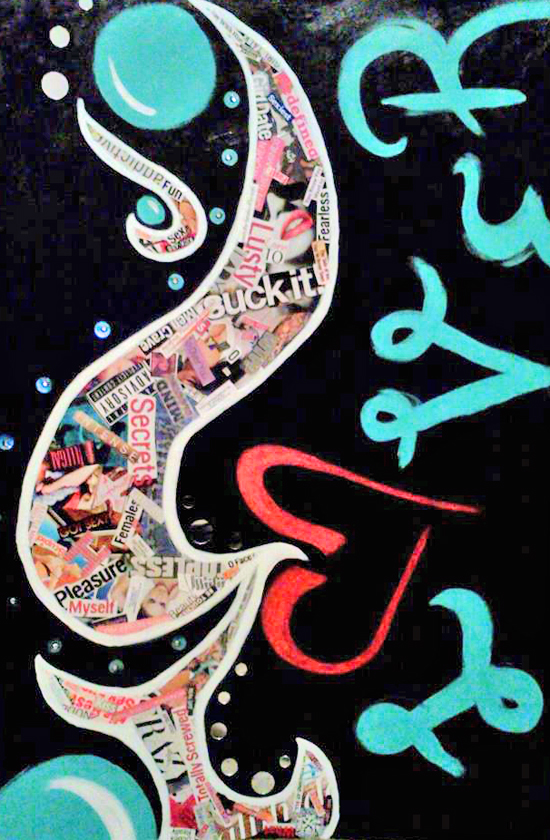 Medium: Very mixed media, acrylic, anything I can get my hands on really
Aesthetic: People, colors, abstract, sex, GIRLS! GIRLS! GIRLS! Anything and everything I feel.
Notable Achievements: Did my first live painting recently and I have my first art show this month in Denver.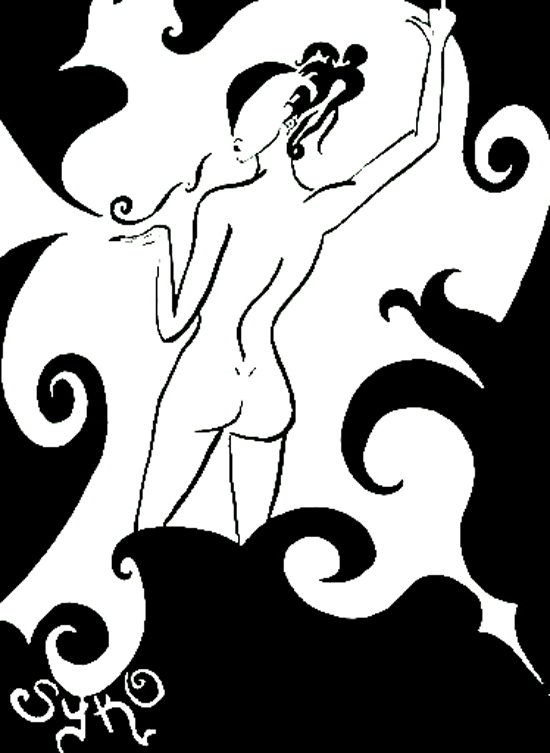 Why We Should Care: My work is very personal and passionate. My art shows the world more about me than they can understand or I can even explain. I like to take my time with my art, and work on my paintings over multiple sessions and different emotions.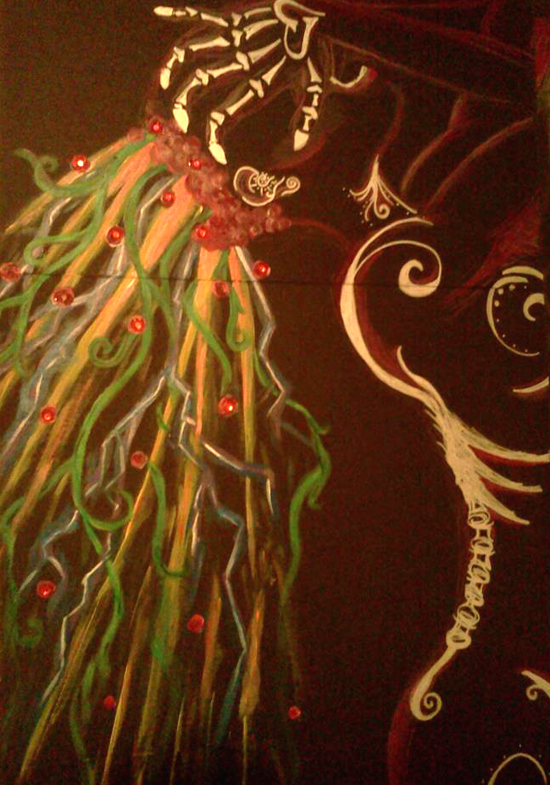 I Want Me Some: No online sales yet but having my first art show, with work available this month! Feel free to message me if you are interested in my work. I will do request paintings if I like the idea. I usually just give my work to friends and family to always keep them close to me but I just sold my first painting and am ready to let a few more of my babies go now.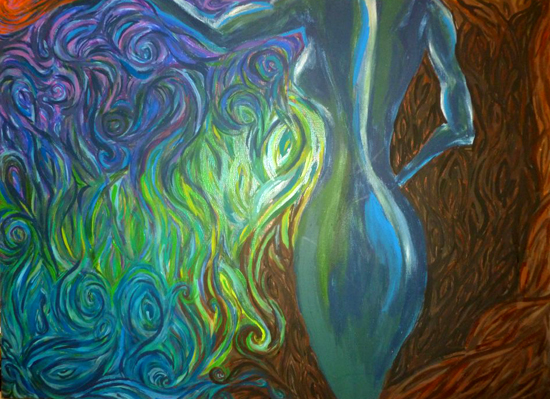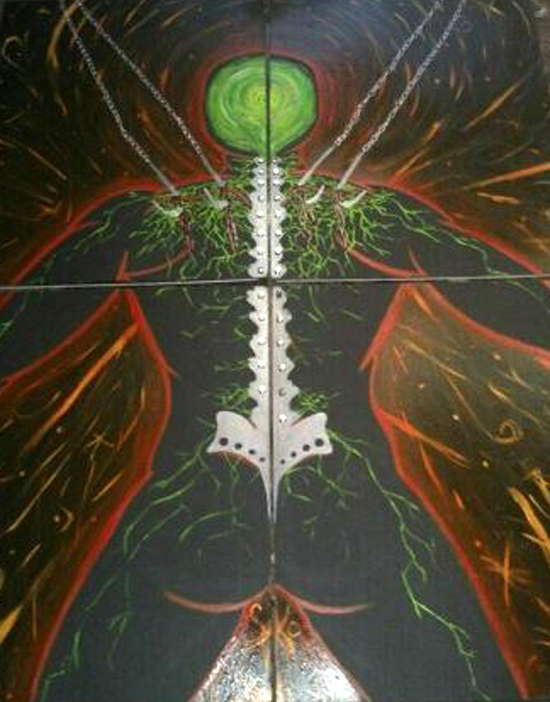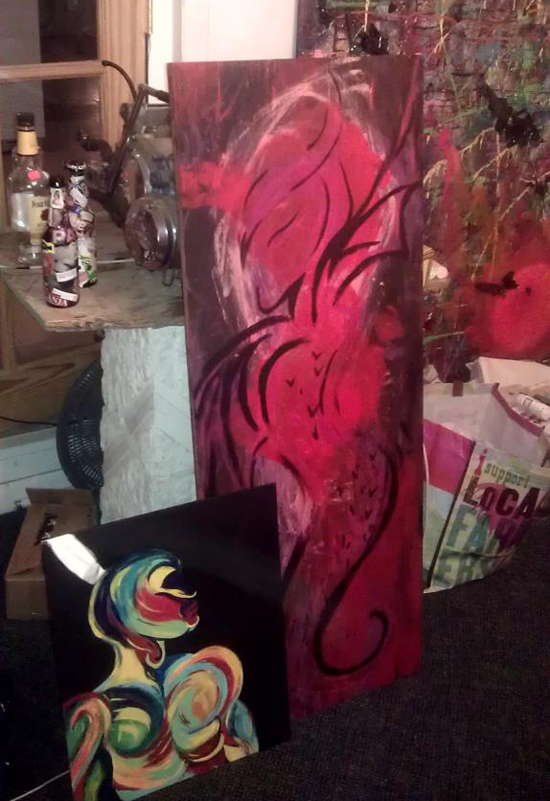 See Syko Suicide's work at "Inspired: A Night of True Creativity" at Casselmans Bar & Venue in Denver on Tuesday, 23 October 2012 at 6 PM. The event will showcase the work of four artists – Carl Farrier, Joshua Olson, Michael Chapman, and Sarah Syko – and will feature music by Lucid Index. For more info visit the Inspired Facebook event page.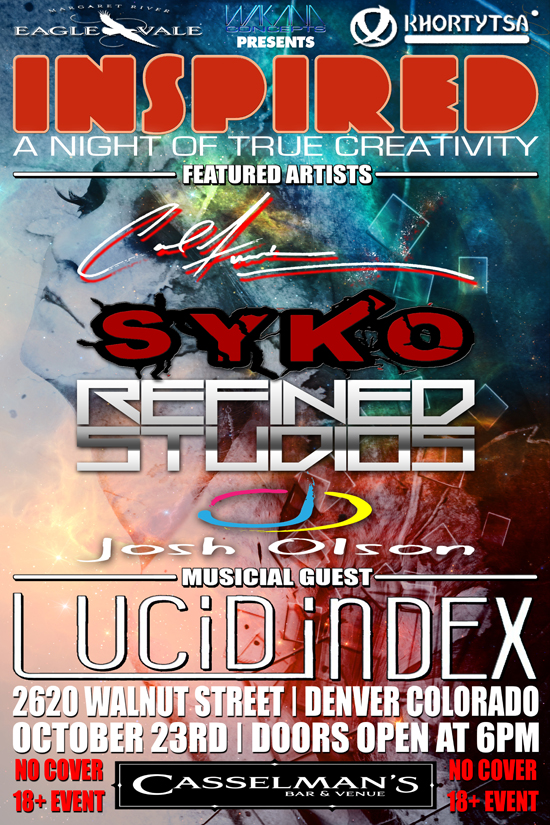 ***
Related Posts
The Art of SuicideGirls Feat. SaintKitten
The Art of SuicideGirls Feat. Finbarr Farmer a.k.a. Fimbis
The Art of SuicideGirls Feat. Gary Mike a.k.a. Guss1470
The Art of SuicideGirls Feat. Inks
The Art of SuicideGirls feat. Dwam
The Art of SuicideGirls feat. Lil Tuffy
The Art of SuicideGirls feat. Jake Prendez a.k.a. Tattoo_Jake
The Art of SuicideGirls feat. Zoetica Ebb
The Art of SuicideGirls feat. Dylan Borgman a.k.a. Seahorse
The Art of SuicideGirls feat. Vivid
The Art of SuicideGirls feat. Norritt
The Art of SuicideGirls feat. ZakSmith
The Art of SuicideGirls feat. Voodou
The Art of SuicideGirls feat. Sooaap a.k.a. S.O.A.P.
The Art of SuicideGirls feat. NerdMachine
The Art of SuicideGirls feat. JulesDoll
The Art of SuicideGirls feat. Ortegart71
The Art of SuicideGirls feat. Rachelle
The Art of SuicideGirls feat. AnitaKajika
The Art of SuicideGirls feat. CREATIVE80
The Art of SuicideGirls feat. James Curtis a.k.a. jimcurt99

The Art of SuicideGirls feat. Eric daStone
The Art of SuicideGirls feat. Alisa Suicide
The Art of SuicideGirls feat. Quakerninja
The Art of SuicideGirls feat. yOyO
The Art of SuicideGirls feat. Sucette
The Art of SuicideGirls feat. Souci
The Art of SuicideGirls feat. Bazuka
The Art of SuicideGirls feat. Hezza Suicide
The Art of SuicideGirls feat. Bob Suicide
The Art of SuicideGirls feat. Phoenix Suicide
The Art of SuicideGirls feat. Grompf
The Art of SuicideGirls feat. Oro Suicide
The Art of SuicideGirls feat. Mrs Misha
The Art of SuicideGirls feat. Sundae
The Art of SuicideGirls feat. Kate Suicide
The Art of SuicideGirls feat. Kaylie McDougal a.k.a. Tigermassacre
The Art of SuicideGirls feat. Monroe