by Damon Martin
The union movement in the United States is in crisis mode thanks to the recent legislation being pushed forward by leaders in government looking to destroy or virtually eliminate public sector employees' rights to collective bargaining.
Since the 2010 elections, many state governors have made it a priority to propose laws that will strip government employees of any real power they may have in negotiations – vastly weakening the power of their unions in the process.
Wisconsin governor Scott Walker is locked in a battle in his state where he has proposed such a change. With Republicans holding the majority there, desperate times are forcing desperate measures. Unable to vote the measure down, Democrats have fled their homes and traveled to neighboring "safe" states to avoid the vote that could see the proposal become law. Meanwhile hundreds of protestors are continuing a sit in the State building (and an estimated 50,000 people attended 'solidarity' rallies held this past weekend in other states across the nation).
Walker has said time and time again that this is simply a budget issue to cut costs in his state where the $137 million dollar deficit continues to rise. (Though, in actual fact, this "deficit" was caused by Walker's earlier tax cuts to the wealthy, which conveniently manufactured this agenda-forwarding situation.) Other states appear to be following Walker's lead, like in Ohio where new Governor John Kasich introduced similar measures that would see 350,000 state employees essentially lose their collective bargaining power.
Like many "budget cutting" initiatives put forth by Republicans in the House of Representatives over the last few weeks, this seems to be a round about way of pushing forward other areas of the Republican agenda (like breaking the unions), and prodding Democrats instead of actually focusing on any meaningful fiscally responsible steps.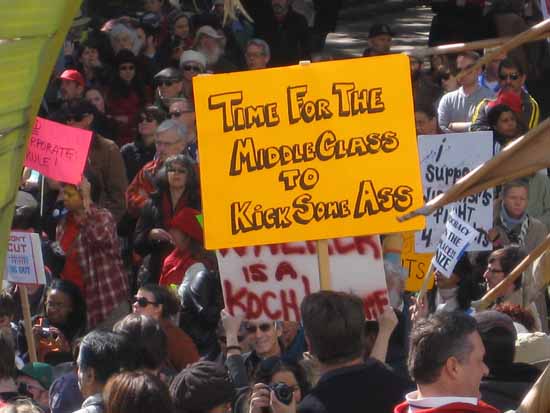 Unions in America were once a thriving entity, representing 35% of the workforce at a time when the middle class was at its strongest. Employees made less than their CEO bosses, but the wages were still in line with what could be considered a living wage.
Now Unions represent only 7% of American workers, and while the middle class struggles to find its footing, CEO's of major corporations rake in on average more than 500 times what the average employee makes. Major corporations like Verizon Wireless give "union awareness" speeches to employees, and while stating that it's just for "awareness," in reality it's simply propaganda to keep unions out of the workplace.
What many Americans may be missing out on in 2011 is what the Unions represented in the landscape of U.S. history. Unions were responsible for the minimum wage, unions were responsible for an 8-hour work day, and unions led the fight for health care for employees.
In Indiana, Governor Mitch Daniels eliminated collective bargaining for state employees 6 years ago and he claims it has been a fiscal wonder for his budget. He commented that by eliminating union interference, he's been able to save millions of dollars for the state.
But those "savings" came at a high price. For example, to "save" money, he outsourced food services for Indiana prisons. That cut $100 million dollars from the budget, but cost the community hundreds of jobs in the process. And since Daniels stripped unions of their rights in Indiana, government workers have had their pay frozen in both 2009 and 2010, while seeing the cost of their health benefits increase significantly (resulting in a net pay decrease).
Other states like Michigan and New Jersey are following Wisconsin and Indiana's lead in an effort to cripple the union movement in America.
Wisconsin protesters have sat in the Capital building for 8 days straight, voicing their opinions about the bill that has already passed in the House, and is now awaiting a vote in the state Senate. Ohio protesters have taken up the cause as well, traveling to Columbus to voice their opinions with another rally planned for Tuesday.
Though Republican governors will deny it (unless they're caught unawares by prank calls supposedly from like-minded fatcat donators to the party), this is purely a political move to take a jab at the heart of the Democrat machine and the unions that back it, since unions overwhelmingly back Democrats in the election process, and donate millions of dollars to their campaigns.
However, since collective bargaining is such a basic freedom, essential to any democracy, the union-busting battle is causing friction within the Republican party. Newly elected Pennsylvania governor Tom Corbett and governor Terry Branstad of Iowa both stated they would not attempt to change anything with regards to union powers in their states.
The stakes go far beyond union-busting however. In Ohio the battle for Union rights could carry all the way to the presidential elections, since historically the state has voted on the side of every eventually elected president since 1944 (except for Richard Nixon over John Kennedy). Ohio therefore plays a pivotal role in the national politics, and how the lines are drawn there now could be a major factor in the outcome of the election in 2012. How Kasich handles this situation with regards to the unions – and the hardworking men and women they represent – could mean very good or very bad things for the GOP as the presidential race heats up.
With a skyrocketing budget at a national level for things like defense, Medicare and Medicaid, and Social Security, why do Republicans continue to target reatively insignificant budget items in the name of economic reform? To say this is anything but a political attack is just smoke and mirrors, and people shouldn't buy this fabricated lie from the Republicans.
Unions will not go down without a battle however because that's what unions are there for…to battle for what working and middle class America wants and need to survive, even if the fatcats in charge try to crush them under their Armani boots.
Images from the Feb 26th Wisconsin Solidarity Rally in Downtown Los Angeles courtesy of Cathy Roberts.
**UPDATE**
A urgent message from MoveOn.org:
We could be on the verge of losing in Wisconsin.

The Wisconsin 14—the brave Democratic state senators who left the state to stop the Republican attacks on workers—are under increasing pressure to return to Wisconsin.

Governor Walker is even threatening to lay off thousands of state workers to blackmail Democrats into coming back.1 And as soon as just one Democratic senator returns, Republicans will be able to jam through their terrible bill.

Unfortunately, over the last 24 hours there have been credible reports from blogs and local news reporters that this is imminent.2

These senators have been away from their homes and families for almost two weeks now, at great personal cost. Their bravery has made this whole fight possible, and it can't be easy. That's why we need to show them that they have the support of millions of progressives nationwide—and that as long as they stay strong, we'll stand with them.

Will you add your name to our emergency statement of support? We'll deliver your signatures and comments electronically, throughout the day, to the senators or their staffs, so they can see how much support they have.
Related posts:
Taking Women From The Clinic To The Coat Hanger: Republicans Now Targeting Planned Parenthood
Republicans Tell Big Bird and All Things Considered To Bugger Off
Republicans Attempt To Slip A Proverbial Political Roofie As They Strive To Redefine Rape While Trying To Pass Anti-Abortion Law
The Revolution Will Be Twitter-ized