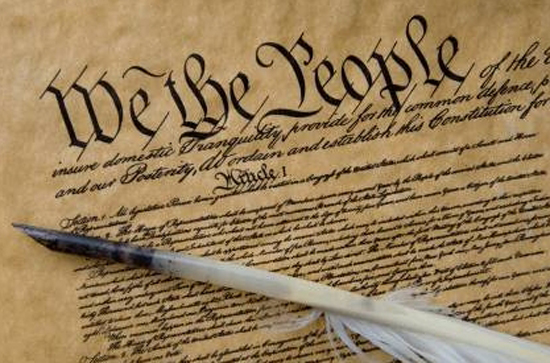 "One man, one vote" loosely incorporates the founding principles of our country and the exaltation of the individual. The democratic notion behind it is that every single voter is equal – no more, no less – to every other voter. Legally, it is the basis of "equal representation" over which the original Tea Party ("No Taxation Without Representation") rebelled in 1773, a decisive shot across Britain's bow that led to the Revolutionary War. In emerging nations and in those with similar revolutions, it has since become a slogan for universal suffrage.
Of course, from the beginning it was more fantasy than fact, more a rallying cry than a real policy. In our first national elections, only white male adult property-owners were allowed to vote. Slaves couldn't vote. Women couldn't vote. Native Americans couldn't vote. New immigrants, white or not, were discouraged from voting by the strongest possible means.
In 1850, property and tax restrictions were removed so all white adult males were, by law, eligible to vote (although immigrants still found it hard to cast a ballot).
Twenty years later, the 15th Amendment paved the way for former slaves (and adult males of any race) to vote. This gave rise to Jim Crow literacy tests and poll tax requirements in many states that successfully targeted minorities.
It was only in 1920 that adult women got the vote. And in 1924, Native Americans – ironically, the original Americans – were also granted voting rights.
But despite the 15th Amendment, it wasn't until the 1950 Civil Rights Act and 1965's Voting Rights Act that all adult American citizens actually held the right to vote, free of any tests and/or taxes that might exclude them.
Does that mean "one man, one vote" finally became a reality?
In theory and law, yes. In local and state elections, we do have equanimity, even as certain states under Republican leadership, like Florida, try their damndest to suppress minority voters.
But because our founders created a Federalist Society more than a truly democratic ideal, there exists one remaining restraint to equal voting that has been with us from the beginning and never repealed – the Electoral College that decides each and every Presidential election.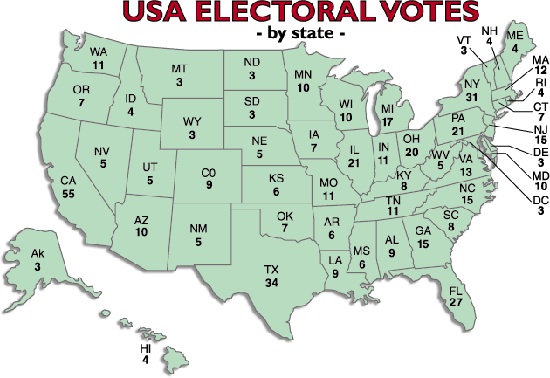 The Electoral College is comprised of "electors" from states and the District of Columbia. The number of electors for each state is decided by the total population of individual states as determined every ten years by the Census (the same formula used in determining the number of Representatives in the House) plus 2 electors for each state (to match their seats in the Senate). California, our most populous state, receives 53 electors based on population plus 2 for their Senate representation; Wyoming, our least populated state, receives 1 elector based on population plus 2 for each Senator. That's 538 electoral votes in all, with 270 needed to win.
A tie at 269 sends the deciding vote to the newly elected House, where each state casts 1 vote until a candidate receives a majority.
This system was instituted by our founding fathers to protect the interests of rural states and, at first glance, it appears fair. But it was initiated at a time when America was a small nation with only 16 states – Virginia and Pennsylvania the largest at just over 110,000 "free white male adults" each – pretty much evenly divided between urban and rural. In the first contested Presidential election in 1796 – Washington had previously run unopposed – the total number of popular votes was 66,841 for the entire country, fewer votes cast than in my own small Congressional district today.
In 2012, it is sorely outdated and the cause of much inequality. Take California, with a population of well over 37 million. Then group together the 20 states lowest in population – Alaska, Wyoming, Vermont, North and South Dakota, Delaware, Montana, Hawaii, Idaho, Maine, Nebraska, New Hampshire, Rhode Island, West Virginia, Arkansas, Kansas, Mississippi, Nevada, New Mexico, and Utah – for a combined total population of just over 32 million. In a representative democracy, and by dint of population, California should have just one or perhaps two more electors than those 20 states combined.
But because each state gets a uniform 2 electors above and beyond their census-calculated electors, the 20 smallest states, with a combined population of 5½ million less than California, actually have 40 "extra" electors to the Golden State's 2, a plurality of 38 additional electors from small rural states that are largely Republican strongholds.
How is it fair that 5½ million fewer people are granted 64% more electoral votes in determining the course of our future? Does that sound like equal representation – "one man, one vote?" Or is it just another example of a rigged game?
This grievous imbalance was fully taken into account when Republicans of the 1970s first devised their "Southern Strategy." And without those "extra" votes, George Bush would have handily lost the 2000 election, even with Florida in his pocket…meaning no Bush Tax Cuts, no Iraq "Shock and Awe," no renditions or torture, no national security state, and no Dick Cheney.
There are only two viable options to fix the system. The first, and most democratic, is to decide the Presidential race, like all others, by the majority of the popular vote. The second, less egalitarian but still fairer than the present system, is to eliminate the two "extra" votes for each state, bringing the electoral vote down to 436 (the same number as the House membership plus 1 for D.C.) with only 219 needed to win. Only by these two adjustments would one vote anywhere in the U.S. be equal to a vote anywhere else in the country.
Supporters of the electoral system say that it prevents urban-centric victories, but at the same time they cannot explain why a candidate winning with fewer popular votes is either democratic or fair. They also state that the Electoral College encourages stability through the 2-party system without understanding that many citizens feel the 2-party system is more stale than stable – and that, ironically enough, when the electoral system was devised, American was divided into many parties, not just two. Lastly, they argue that it maintains the federal character of our nation without apparently realizing that it was just this "federalist" notion under which only property-owning white male adults were allowed to vote.
Detractors often point to the fact that of 123 democracies in the world today, ours is the only nation still using this antiquated system, the only one in which the candidate receiving a majority of the popular vote can lose the election (a la Al Gore in 2000). And that instead of favoring the smallest states, a popular vote counts all votes equally…and, dare I say it, democratically.
A popular vote solves other problems as well. It allows the federal government to penalize states that attempt to disenfranchise voters. It would boost voter turnout and participation and give 3rd parties a more active, nationwide platform. And in one fell swoop, it would both eliminate the insane focus on so-called swing states and do away with all the red state / blue state crap forever, which in turn would return us to a United States of America.
There is, of course, no time to put changes into effect this year…especially since Republicans shudder at the mere mention of a nationwide referendum on any issue. But perhaps sometime in the not too distant future we can set for the course for a truly equal voting standard.
Until then, the next time you ask yourself why the vote of a racist, gun-totin', meth-smokin', homophobic cracker who fucks donkeys while screaming "Praise Jesus!" is worth more than yours, look no further than the electoral scam.
Related Posts:
Being Fair
Occupy Reality
Giving. . . And Taking Back
A Tale Of Two Grovers
A Last Pitch For Truth
America: Forget it, Jake. It's Chinatown.
Gotcha!