by Bob Suicide
Geek and chic are becoming synonymous these days. I was looking at a fashion blog this morning that was praising the fashion-forward notion of horn-rimmed glasses and suspenders. And, while capitalizing on or bastardizing a culture of people who, only years beforehand were ridiculed for the same appearance seems a bit odd–to say the least–there is something to be said that now–more that ever before–it's easy for you to look cool. And, trust me, it's worth it if you want to get the high score with the nerdy ladies.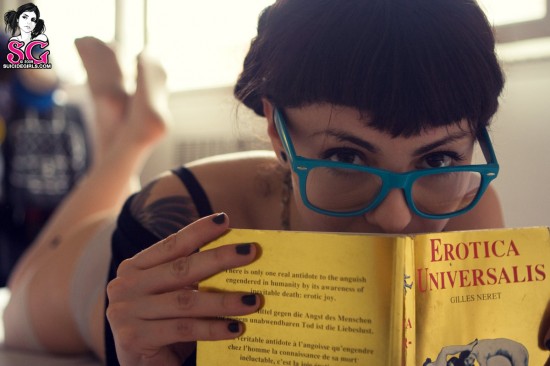 [Liu Suicide in Tangerine]
We all joke about ComicCon having its own special smell and the desperate need for deodorant to come in the swag bags they hand out with badges, but it's true. We are a sweaty, stinky bunch. That's right I said WE. 'Cause I'm a part of this geeky community too; get my pits around a convention and they weep with joy. (Stinky, stinky joy.)
Now, there's nothing wrong with that…but, if you're looking to get down with a l33t lady you gotta know how to manage it. You don't want to walk up to a girl who is weak against underarm odor and attack with your best moves only to have her burst into coins (or several furry animals) after one sniff.
I'm not saying you need to be the next Abercrombie cover model. While many of us geeky ladies love to play God of War, we don't look to Kratos as exemplifying our ideal mate.
I was recently introduced to the perfect example for this blog in the form of "The Big Bang Theory" by none other than the quintessential comic geek herself, Squeak Suicide. (If your not familar with the show, I highly recommend it…it will grow on you and you will shout, "Bazinga," until you are hoarse with delight.) Look at the show's two main characters: Leonard and Sheldon. Both men are geeky to the nth power, but to a nerdy woman like myself, they are definetly a pair to be desired.
What can you learn form these two dashing physicists? Basic grooming is a must. You don't have to spend hours in front of a mirror or undergo any serious bathing rituals, but keeping clean and neat is key. All of the fashion magazines are saying it, "geek is in." You can now find some pretty awesome geek shirts from places like Urban Outfitters. (And, you may even come across an attractive nerdette buying her own geek chic wardrobe while your at it.) Many of the shirts that Sheldon wears on the show are from Urban outfitters. You can find more of his shirts here.
It's not rocket science (unless your shirt has a rocket on it), a–clean–witty shirt goes a long way. I actually chased a guy down in a convention because he had a shirt that said "Nilbog" on it…just to tell him he was full of win. So, pic something that reflects your inner appreciations for the geekier things in life…and the (right) women will come to you!