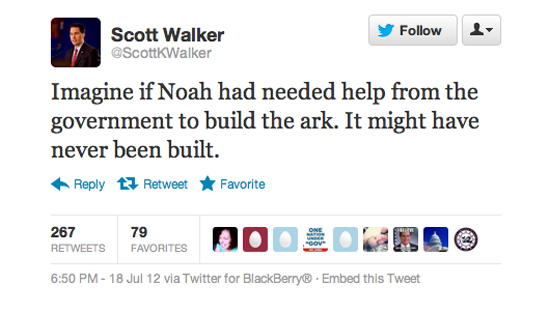 Reading this recent tweet from the esteemed Governor of Wisconsin, one has to wonder if his head is buried in the sand or up his ass. Either way, his vision is blurred.
No disrespect to Noah – he built a fine ark – but like Mitt Romney, he invited only his family to come along for the ride. And the animals, of course. But at least on Noah's vehicle, they weren't strapped to the roof.
In ancient times, there were other great wonders to behold – the Great Pyramids, the Hanging Gardens of Babylon, the Colossus of Rhodes, the Lighthouse at Alexandria, the Temple of Artemis, the Roman Coliseum, the Greek Parnassus, and even the Great Wall of China. All of them built by the governments of their eras.
In modern America, the bridges (the Golden Gate and Brooklyn come to mind) and dams and canals that adorn our waterways were built by the government. The Interstate Highway system and the city streets and country roads were built in the 1950s, under a Republican President who (like Roosevelt before him) saw the need to build our country's vital infrastructure. The Mercury, Gemini, and Apollo space crafts, as well as the Space Shuttles and the giant telescopes that look into the farthest reaches of space were all built by our government. Why, even Wisconsin's Statehouse was built by the government.
I doubt Noah, even with the help of his sons, could have managed any of them.
Governor, until you realize that individuals, private enterprise, and governments can all contribute remarkable achievements to society – separately or together – you define yourself by the old adage: there are none so blind as those who cannot see.
Related Posts:
Fighting Back Part 3: Fighting Fire With Fire
When The Past Is Prologue
Fighting Back Part 2: Defining Rovian Politics
Fighting Back
The Electoral Scam
Being Fair
Occupy Reality
Giving. . . And Taking Back
A Tale Of Two Grovers
A Last Pitch For Truth
America: Forget it, Jake. It's Chinatown.
Gotcha!