by Aaron Colter
Goddamn people are dumb. It's getting old.
I was reading a news article about Anonymous in which some supposed expert, Gabriella Coleman, made sweeping generalizations about the motives of the loose collective. While discussing the skill sets of those involved, she talked about how some are programmers or security researchers, while others "are skilled at video editing and design."
My fucking eyes rolled so hard I thought the right one was going to pop clean-out of the damn socket. O RLY? Like fucking iMovie and Photoshop? Like that shit is super hard to figure out?
Embarrassing. The government is arresting kids for playing what is the equivalent of a high school prank on a mass scale (if you're phishing for a Mr. Big in the hacker world – I hear Rupert Murdoch's a pretty soft target these days). And it remains to be seen if they're even arresting the correct people. (In response to the FBI's arrests, hackers have released loads of data that was obtained from ManTech – a security firm paid over $100 million by our government for clearly failing to protect NATO information.)
But regardless of whether they've got the right Guy (pun intended), they're doing it wrong.
And the media coverage is equally stupid, writing things like "Justin Smith aka Voodoo 69 Nutz" as if they were gangsters trafficking bootlegged hooch, instead of the twenty-somethings who failed to hide their IP addresses when using a publicly available LOIC that was directed at major banking institutions (even though there are tools to hide your identity as you join in on the online protests).
(As an aside, given the ISP snooping bill a house panel has just approved –– on principle were should all be utilizing methods to obscure our IPs, even if we do nothing more mischievous online than a Rickroll.)
All these college professors who "study" Anonymous as if they're doing experiments on rats are pretty fucking sad too. Maybe one of them will write a book about what's happening on the Internet, because it'll be all the more relevant when you pick it up at one of the last chain bookstores three months after everyone else has moved on to the next thing in life.
People just don't get it.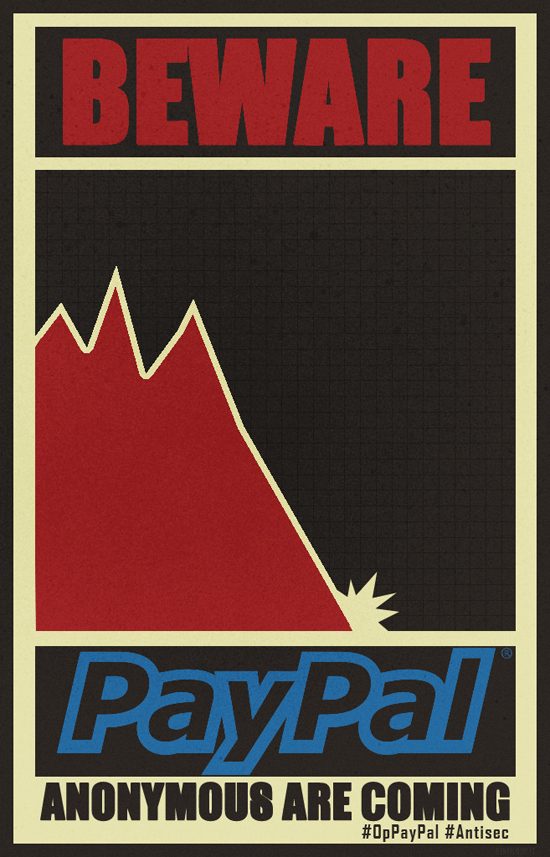 In case you've had you head up a Republican's ass for the past few days, or are in a post Comic-Con stupor, to recap, Anonymous called for a general boycott of PayPal following the arrest of several individuals suspected of being involved in a previous DDoS raid (which served as retaliation for the online bank's refusal to process WikiLeaks payments). With its legion threatened with $500,000 fines and 15 year prison sentences (by comparison the average sentence for convicted rapists is 11.8 years), Anonymous supporters rallied and within hours tens of thousands of accounts were X'ed and $1 billion was wiped off the share value of PayPal's parent company eBay. (PayPal subsequently showed its true colors by taking their "close account" page offline, forcing customers to go to the inconvenience of calling a "customer service" number.) Suffice to say, this 100% legal operation was hugely successful.
The reason Anonymous is succeeding is because people's minds have evolved. There's no stopping shifts in culture. Trying to stop the open and free exchange of information online, including government actions, is as futile as trying to stop graffiti, or kids smoking weed, tattoos, or fucking without a condom. It's too late to wind back the clock everyone. The kids are all alright. Besides, Nyan Cat tats are funny, and even Anon can get hacked. Plus who doesn't like a little V mask costumed nudity?
Those in power need to cease trying to oppress a movement they don't understand.
We all want basic accountability from the people who control some of the most important organizations in modern society. Anonymous isn't about anything more than that, which is why its message has spread all over the world. It's a part rebellion and it's part frustration, but it's also spurred by wanting to make society better.
As the next generation, we don't want to watch the world burn, we have to live here after all, we just need to tailor some things so that we're not slaves to systems or institutions that do more harm than good. So fuck PayPal, the FBI, Mummar Gaddafi, Hugo Chávez, Chase Bank, Barack Obama, organized religion, Comcast, RIAA, AT&T, Communist China, and all the billionaires who play golf. And you know what? Fuck us too, because we've got to live with the mistakes those with wealth and power have been making for decades.
Enjoy fucking the world up while you can, old people. You just better hope you die off before all the kids get angry and try to speed things up. We all got the ADD you know.