by Aaron Colter
The first time I saw Che Smith was in the basement of the Purdue Student Union in West Lafayette, Indiana. The Malcontents, a local ska band, were playing a free show in the student center on what was hopefully a weekend night, given the amount of substances I consumed. That evening, while The Malcontents were jamming out a reggae-vibe number called "We Make Profits," and I was three-quarters into a bottle of Captain Morgan, someone started free-styling over the song – Rhymefest.
Despite starting the night in the basement of a Purdue building and waking up some sixty miles away at Butler University, I remember that song. It was, and remains, one of the single greatest live music moments in my life. But the reason I'm writing about Rhymefest, or rather Che Smith, isn't because of his music, it's because Che Smith is running for Alderman of Chicago's 20th Ward.
Most of the media has defined Che Smith as a childhood friend of Kayne West, a Grammy-winner for "Jesus Walks With Me," and the winner of a hip-hop battle with Eminem. All of these things are true, but that's not the entire story.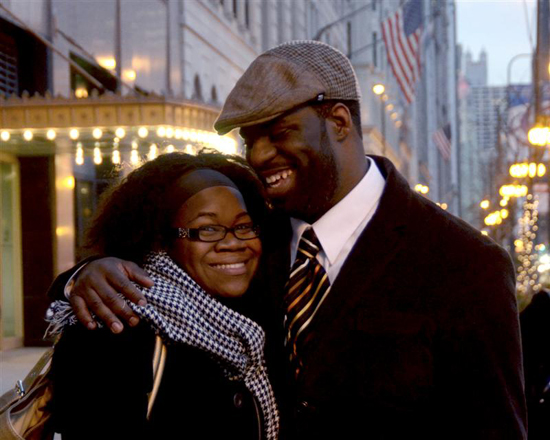 Back when I had just moved to Chicago, working mornings at Starbucks and nights at The Gap only to take the El back into Uptown around midnight to try and get swag shit from Loyola students to try and sell later to Northwestern Students, the Virgin Megastore on Michigan Ave. was hyping Rhymefest's debut album, Blue Collar. Everyday I walked by the store between jobs and counted down the days until I could purchase the CD.
Apparently others didn't share my anticipation. The album, by mainstream sales standards, flopped. Still, Blue Collar remains a talented reflection on a workingman's life in Chicago, the stigma of the hip-hop industry, and the struggle within one's self to live inside a flawed society.
Since then, Rhymefest has released some of the best Midwest hip-hop, ever. "Pulls Me Back" and "Exodus 5.1" off of The Manual Mixtape are incredibly moving, as is "No Sunshine" from his Michael Jackson tribute, and the entire Dangerous 5-18 album is a raw example of how sidestepping commercial record labels can produce amazing results.
So what about his politics?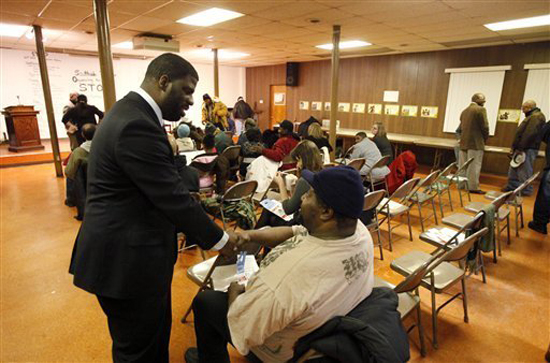 To start, Che Smith is 33-years old, still relatively young. Yes, he's been a rapper, but he's had policy meetings in the House of Commons. The foundation of Smith's platform is essentially a plan to host town-hall style meetings each week, along with special youth councils, in order to go over the budget transparently with input from the community, which Smith will use to vote accordingly for funding at the city council. Smith also wants to establish two term-limits, eight years would be the most he says he would stay in office, and he's also promised to use 15% of his salary to fund small-business loans in the area. Smith's also the first to admit he's a novice, not only in politics, but in strategy as well.
Chicago's 20th Ward includes Woodlawn, where Smith was raised, Park Manor, Washington Park, Englewood, New City, and Back of the Yards. The district is home to the University of Chicago, one of the most prestigious colleges in the nation, and yet is still one of the poorest, most violent regions in Chicago's innercity. The current Alderman is incumbent Willie Cochran, a retired police officer who defeated Arenda Troutman four years ago. Troutman is currently serving time after pleading guilty to accepting brides while serving as an elected official.
Welcome to Chicago Politics
Cochran has made sure to keep Smith's previous arrests a major focus of the campaign, going as far as to say in one debate that Smith wouldn't even be allowed into Capital Hill because of his record. Of course that's total bullshit as Smith has argued for artists rights in Congress, but it hasn't stopped others from trying to define Smith's life by a single incident or phrase.
The worst charge in Smith's over hyped arrest record is domestic violence, and is something Smith openly admits happened while with is ex-wife. It's a story he tells with tears in his eyes and accepts full responsibility for, and since that time he's gone on to gain full-custody of his son. As someone who was arrested in some of the same areas, during the same times as Smith, I empathize with the person he used to be – and the more evolved person that he's hopefully become. That said, however, Smith is running for office, and that means a skeleton parade.
When looking at a candidate's past, keep in mind the last three Presidents of the United States have openly admitted to using illegal drugs. I'm not saying this gives every candidate anywhere the argument to ignore past actions completely, but it certainly sets the bar for allowances in one's personal life. If you're a candidate that has lived in such perfection that, in the modern age of data and information acquisition, there's nothing in your past that someone could find objectionable, then you're fucking scary and, I suspect, a robot.
Smith's correct to point out, as he has over and over again in the campaign, that if those in power tell young people they aren't allowed to better themselves or become engaged in society due to previous mistakes or poor judgment, then we're setting up the world to be a place of apathy and ultimate failure.
Recently, Smith has been endorsed by the Reverend Al Sharpton and Cornel West, and was in line to receive another from a local priest. But in a bizarre turn of events, the Revered Andre Smith said he saw too many gangsters, an unprovable accusation, at Smith's campaign headquarters which is located in an auto-body shop. When Smith told the Reverend to leave, things got out of hand and the police were called. Later, the Revered went on to tell reporters that his cousin heard members of Smith's staff use racial slurs around one another, which was one of the reasons he decided to endorse Cochran instead.
Wait a minute. Racial slurs in a south-side Chicago auto-body shop . . .
OH MY GOD! Are black people using the N-word?! Someone tell the king of Africa!
Look, I know priests don't like foul language, but if swearing barred you from holding political office how the unholy fuck did Ramn Emanuel get elected mayor?
Incumbent Alderman Cochran has tried similar asinine ways to discredit Smith, brining up Rhymefest lyrics as proof of Smith's supposed hatred for women and homosexuals because certain songs contains words like "bitch," "ho," and "faggot." Meanwhile, Che Smith has asked that people focus on the issues. It's worth noting that all three of the former Alderman's opponents are endorsing Smith over Cochran, one of whom the Reverend Andre Smith called the police on earlier in the campaign, and at least one gay member of the city council has publicly stated that he would have no problem working with Smith, who has already apologized if his former artistic career offended members of the community.
Smith, who only received 20% of the vote in the first round, is now in an April 5th run-off election with Cochran, who received 46% of the first round vote. Like Hunter S. Thompson's campaign to be Sheriff of Aspen, Colorado, Smith's bid to be Chicago's 20th Ward Alderman may fail, not for a lack of effort, but simply because the system is so engrained that it's nearly impossible to be elected as a true outsider.
I don't live in Chicago's 20th Ward and you probably don't either. I don't know Che Smith or Willie Cochran personally, and I haven't been into the neighborhood in years, so I can't say who would be the better Alderman, nor does the outcome directly affect me. I do know that if Che Smith is elected, he could come to represent a respectable aspiration for the youth of Chicago, and potentially for a new generation around the world who may see such responsibility as a worthwhile pursuit.
If you would like to learn more about Che Smith, you can read his platform on the campaign website. If you live in Chicago and would like to help, you can volunteer or donate, but you'll need to hurry – there's only a week left before the run-off election. If you're inspired by Smith's ambition, share this article or the link to his campaign page – because the story of how a young man is trying to honestly represent his community is an idea worth spreading.
***
If you have something that you think I might like that others might like too, please email youmightlike [at] gmail [dot] com.
What I'm reading: Chester 5000 XYV, Racial Matters: The FBI's Secret File on Black America, 1960-1972, Scud The Disposable Assassin
What I'm listening to: Let's Cut the Crap and Hook Up Later on Tonight by Marah, Shades of Blue by Madlib, Sharpen Your Teeth by Ugly Casanova
What I'm drinking: 312, Full Sail LTD 05, Two Hearted Ale
***
Related posts:
Things I Like That You Might Like Too: Pt. 1
Things I Like That You Might Like Too: Emerald City Comic Con
Things I Like That You Might Like Too: Pirates