by Aaron Colter
Did you miss me last week? No? Didn't notice at all, huh. Well, fuck you. I'm back.
This shit on this list has been deemed cool by a panel of Internets.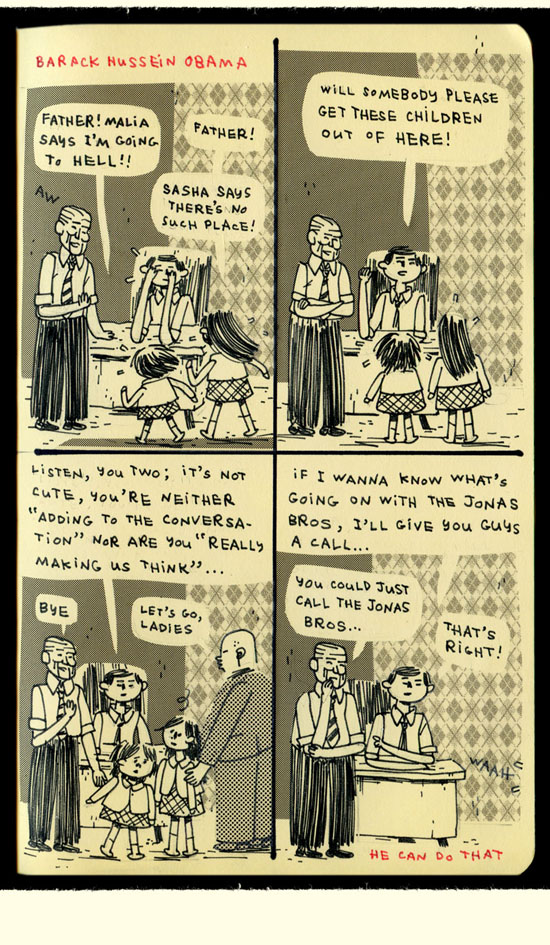 1. Making Fun of President Barack Obama
I found about these comics on What Things Do from someone on Facebook who was talking to Tom Neely, who's excellent The Wolf is now available and worth your money. Anyway, sorry guy-who's-name-I-can't-remember, you should get credit for finding these gems. The overall premise of making President Barack Obama wondering-mind leader like George W. Bush is strong, but I found only a few of the comics to be hilarious. Here they are:
***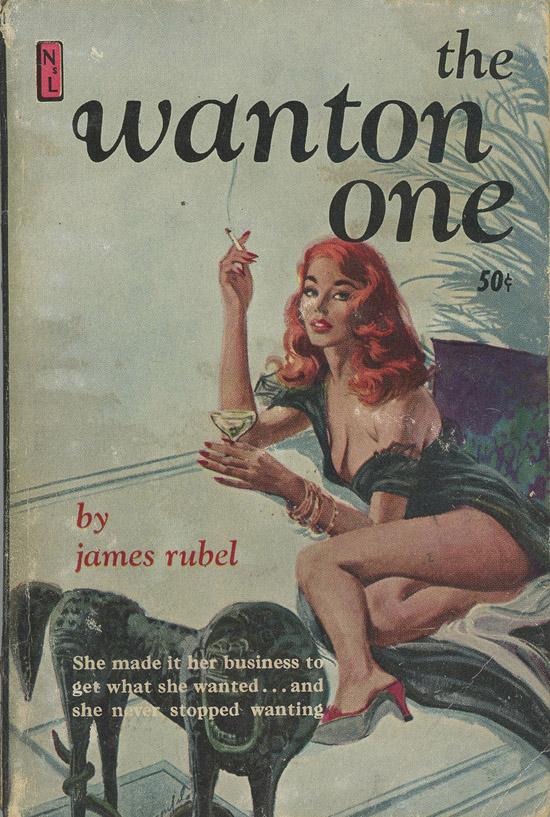 2. Pulp Covers
There are a ton of great books that collect this type of art, and they are probably worth finding in your local bookstore. (One of the most notable names in the genre is Jim Silke.) But, if you're a lazy son of a bitch, there's a whole website dedicated to finding some of the best and presenting them in a clean-design. Go to there now!
***
3. Geotic
Geotic is the side-project of Will Wiesenfeld, better known as Baths. (If you haven't seen the Baths music video for "Lovely Bloodflow" above, you should.) All of the Geotic albums are available to download for free. Great chill-out music, man.
***
4. Pranks
I think we can all agree that pranks are great and don't happen enough. There's an entire site also devoted to reality hacking called The Art of the Prank. Isn't the Internet fun? Now you can have fun in real life, too.
***
5. Fix Congress First!
I'm skeptical to how effective this movement will be, however, a professor from Harvard and a former Howard Dean campaign manager are trying to remove the influence of money in Congress, which they see as the fundamental problem with American democracy today. Fix Congress First! operates under the idea that until our representatives are more concerned with legislating effectively and less about raising money, the basic problems of our society cannot be addressed correctly. I tend to agree.
The public funding of candidates could certainly help, and seems to be the basis of the group's argument, but so would changing our democracy in drastic ways, like having a National Popular Vote for the Presidential Election. Still, that solution doesn't adress the problems of two-party politics, so I'm more in favor of a single transferable vote system that would encourage a more diverse number of political parties while still fostering compromise.
Let's not forget that this is America, and, regardless of the precedent set by Citizens United, corporations are not people, my friend. Ever notice how major companies donate to both candidates in a President election? It's called hedging your bets, either way you got one in the pocket.
We should really do something about corporate control of Washington, because according some reports the government basically bought all the housing debt Americans owed to banks from the banks themselves, who then foreclosed on millions of people, and are now ready to buy homes for fractions of their real worth from Freddie Mac just to turn around and sell them back to the American people.
Oh, and the White House is pressuring the New York prosecutor to cut a deal with those banks to avoid criminal charges for, you know, gambling with the world's money, losing, and then giving tax payer dollars to the people that caused the whole mess.
Fuck, I was going to try not to get depressing in this week's column.
See ya next week.
***
Hope you dig this stuff. If there's something you think I would like that others would like too, please email youmightlike [at] gmail [dot] com.
Related Posts:
Things I Like That You Might Like Too: Art Online
Things I Like That You Might Like Too: Anonymous Ideas
Things I Like That You Might Like Too: Not Going to Comic-Con
Things I Like That You Might Like Too: Happy Summertime Playlist
Things I Like That You Might Like Too: LulzSec
Things I Like That You Might Like Too: EPs
Things I Like That You Might Like Too: Beer and Comics
Things I Like That You Might Like Too: The Taxpayers
Things I Like That You Might Like Too: Random Stuff from the Internet
Things I Like That You Might Like Too: DC Comics Going Digital
Things I Like That You Might Like Too: Being Alive & Rocking Out
Things I Like That You Might Like Too: More Music, TV, and Books
Things I Like That You Might Like Too: Awesome Music
Things I Like That You Might Like Too: Graffiti
Things I Like That You Might Like Too: Top 10 of Stumptown Comics Fest
Things I Like That You Might Like Too: Art Fags & Not Paying Taxes
Things I Like That You Might Like Too: Shit From Portland
Things I Like That You Might Like Too: Mogwai, Nate Simpson, and Vice
Things I Like That You Might Like Too: Che Smith
Things I Like That You Might Like Too: Pirates
Things I Like That You Might Like Too: Emerald City Comic Con
Things I Like That You Might Like Too