by Tim Hardy
The livestreams and photographs coming from the May 12th Occupy London action outside The Royal Exchange are deeply distressing. The police are acting with impunity, seemingly unconcerned by the fact that their behavior is being witnessed. There are many images to review and videos to watch but the sequence in this video from 8.52-9.22 stood out immediately.
[Above: video by alburyj / @alburyj]
As the policeman in the front pulls back at 8:52 you can see one of his colleagues in the background has his gloved hand clamped over the mouth of a woman who is seated. As the video continues, you can see quite clearly how distressed she is by police behavior.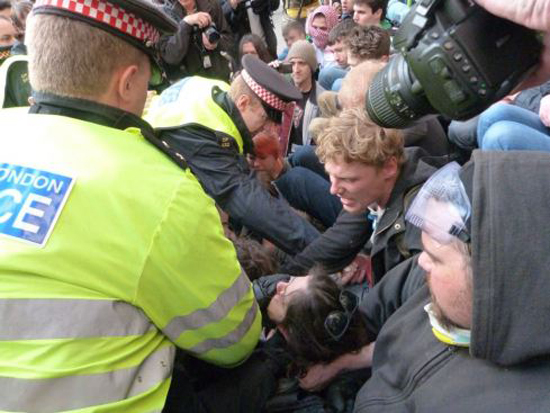 [Above: Another image from a different angle via @TheJanieMac]
Whatever you think of Occupy, whatever you think of protest, whatever your politics – this is unacceptable behavior and the police officer in question should be suspended from duty immediately. There needs to be an urgent review into policing of peaceful protest like this.
With the police behaving with such open aggression towards peaceful protesters, how long will it be before they kill another innocent?
There were further reports of excessive force being used against women on May 12 including this tweet from @jjarichardson:

And this video from @wyrdsisterz:
The above video was upload by YouTube user yetanotherwyrdo who writes:
May 12th 2012 peaceful protest against global economic injustice outside Bank Of England, women targeted, pulled from peaceful assembly, arrested and being man-handled by 8 x City Of London Police, arms handcuffed behind back, 4 on top of her, Police kneel on her neck and then neck braced by 4 x City Of London Police, she unsurprisingly has an anxiety attack.
Another video, below (via occupylondon.org), includes an interview with a woman who was threatened by the police with having her children put into the custody of social services because she was a protester.
If you were involved in or witnessed any of these incidents please contact the Green and Black Cross legal team at gbclegal@riseup.net.
Tim Hardy is a software engineer, activist and writer from London with a particular interest in the role of technology in driving social and political change. He is the founder and editor of beyondclicktivism.com and can be found on twitter at @bc_tmh.