by Greg Palast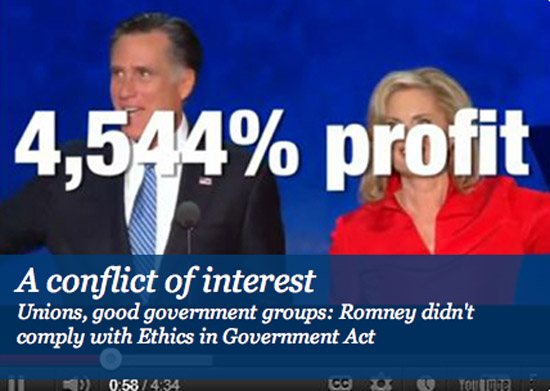 For Mitt Romney, it's one scary Halloween. The Presidential candidate has just learned that tomorrow afternoon (November 1) he will be charged by the United Automobile Workers (UAW) and other public interest groups with violating the federal ethics in government law by improperly concealing his multi-million dollar windfall from the auto industry bailout.
At a press conference in Toledo, Bob King, President of the United Automobile Workers, will announce that his union and Citizens for Responsibility and Ethics in Washington (CREW) have filed a formal complaint with the US Office of Government Ethics in Washington stating that Gov. Romney improperly hid a profit of $15.3 million to $115.0 million in Ann Romney's so-called "blind" trust.
The union chief says, "The American people have a right to know about Gov. Romney's potential conflicts of interest, such as the profits his family made from the auto rescue. It's time for Gov. Romney to disclose or divest."
"While Romney was opposing the rescue of one of the nation's most important manufacturing sectors, he was building his fortunes with his Delphi investor group, making his fortunes off the misfortunes of others," King added.
The Romneys' gigantic windfall was hidden inside an offshore corporation inside a limited partnership inside a trust which both concealed the gain and reduces taxes on it.
The Romneys' windfall was originally exposed in The Nation magazine – see "Mitt Romney's Bailout Bonanza" – after a worldwide investigation by our crew at The Guardian, the Nation Institute and the Palast Investigative Fund.
The full story of Romney and his "vulture fund" partners is in the New York Times bestseller, "Billionaires & Ballot Bandits," available from Truthout with a contribution by clicking here.
According to ethics law expert Dr. Craig Holman of Public Citizen, who advised on the complaint, Ann Romney does not have a federally-approved blind trust. An approved "blind" trust may not be used to hide a major investment which could be affected by Romney if he were to be elected President. Other groups joining the UAW and CREW include Public Citizen, the Service Employees International Union (SEIU), Public Campaign, People for the American Way and The Social Equity Group.
President Obama's approved trust, for example, contains only highly-diversified mutual funds on which presidential action can have little effect. By contrast, the auto bail-out provided a windfall of over 4,000% on one single Romney investment.
In 2009, Ann Romney partnered with her husband's key donor, billionaire Paul Singer, who secretly bought a controlling interest in Delphi Auto, the former GM auto parts division. Singer's hedge fund, Elliott Management, threatened to cut off GM's supply of steering columns unless GM and the government's TARP auto bailout fund provided Delphi with huge payments. While the US treasury complained this was "extortion," the hedge funds received, ultimately, $12.9 billion in taxpayer subsidies.
As a result, the shares Singer and Romney bought for just 67 cents are today worth over $30, a 4,000% gain. Singer's hedge fund made a profit of $1.27 billion and the Romney's tens of millions.
The UAW complaint calls for Romney to reveal exactly how much he made off Delphi – and continues to make. The Singer syndicate, once in control of Delphi, eliminated every single UAW job – 25,000 – and moved almost all auto parts production to Mexico and China where Delphi now employs 25,000 auto parts workers.
A version of this story originally appeared on Buzzflash. Forensic Economist Greg Palast's investigative reports can be seen on BBC Television. His latest New York Times bestseller, Billionaires & Ballot Bandits: How to Steal an Election in 9 Easy Steps, contains a comic book by Ted Rall and chapters by Robert F. Kennedy Jr.

Related Posts
How "Son of Detroit" Mitt Romney Shipped 25,000 UAW Jobs To China
SG Interview: Greg Palast – Billionaires And Ballot Bandits
Debate 2012: What The Hell Happened?
Billionaires And Ballot Bandits: Manchurian Candidates
The Worst Teacher In Chicago
BP Deepwater Horizon Settlement Sells Out Gulf Victims: Deal Buries Evidence Of Oil Company's Willful Negligence
SG Interview: Greg Palast – Vultures' Picnic
Vultures' Picnic: We Figured Out Who Murdered Jake
Uber-Vultures: The Billionaires Who Would Pick Our President
Tokyo Electric To Build US Nuclear Plants: The No-BS Info On Japan's Disastrous Nuclear Operators
Stick Your Damn Hand In It: 20th Birthday of the Exxon Valdez Lie
Obama is a two-faced liar. Aw-RIGHT!
Why An Asshole Is Always In Charge
The Steal You Won't See
SG Interview: Greg Palast – Steal Back Your Vote
SuicideGirls Steal Back Your Vote